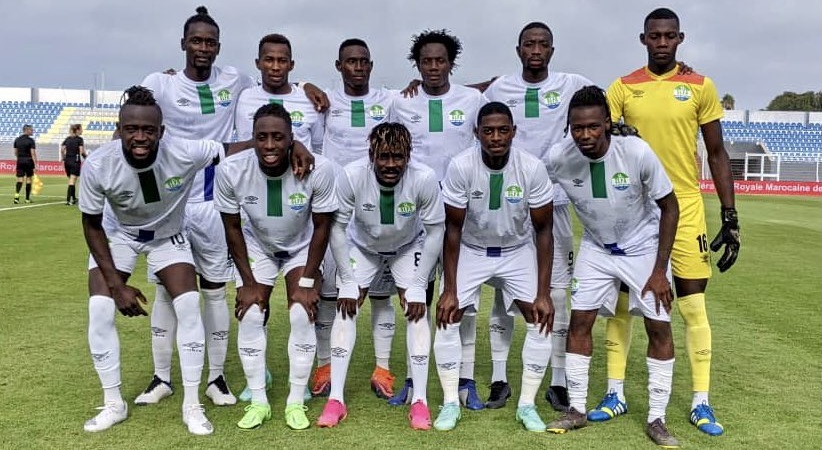 SLFA Gives Leone Stars' Injury Updates Ahead of Morocco Friendly Match
Leone Stars and Spanish side R.B LINESE player Alhassan Koroma is gradually recovering from a thigh injury he picked up on the 6th October 2021 in Leone Stars 1-1 opening friendly match against South Sudan in El Jadida City, Morocco.
Koroma who was stretched out of the field by in the 44th minute was initially scheduled to have traveled back to Spain for medical attention on the 8th October.
After proper examination however, the Team Doctor, Dr. Songor Koedoyema requested from the FA for an MRI scan on the player while putting him on anti inflammatory and therapeutic treatments.
According to the Team Doctor, the results showed that Alhassan Koroma's injury was less severe (grade 1) than earlier expected. "The MRI appearance suggesting a tear in the adductor magnus muscle of the right thigh grade 1", he quoted from the MRI results on a scan conducted in El Jadida Morocco.
Alhassan who could barely stand on his right leg, has this morning confirmed progress in his recovery process. "I'm fine. I can now walk on both legs (about 90% accuracy). The Team Doctor has been attending to me in helping me recover fast," Koroma told me.
However, his travel arrangements back to Spain remain the same as his colleagues, that is, he will be traveling after Leone Stars final friendly match against Morocco on Tuesday 12th October 2021, a match the forward is set to miss.