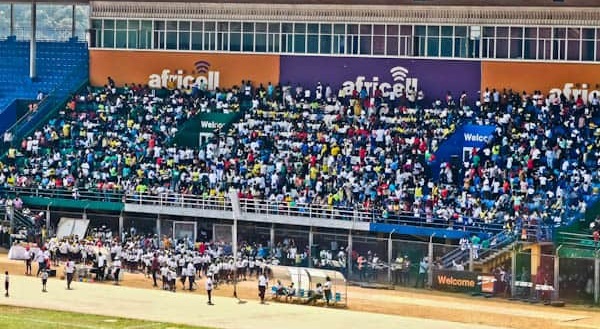 Updates on Weekend Matches in The Sierra Leone Premier League
East End Lions had a disappointing start in the second round of the Sierra Leone Premier League as Central Parade held a gun to their head for a 1-1 match hosted at the Siaka Stevens Stadium on Friday.
The Killers were up for an opening victory, but the venerated charm had little impact on the Central boys who drowned their rebellion before stoppage time. The battle was a non-starter for the angry Lions.
In this foggy configuration, Bo Rangers have much to worry about about as they suffered a humililating defeat in the hands of Minnows, Sierra Leone Police, fate keeping the Killers second with 35 points. It was shocking the underdog, Sierra Leone police defeated the big money spender 1-0 at the Sierra Leone Siaka Steven Stadium
In the frontline, Central Parade cannot be left off the competing hook, sitting third in a 18-team league with 31 points as held the East End Lions to a draw
Of the three first-timers, SLIFA FC have put up a brave fight to keep their heads above troubled waters. From a poor start right at the bottom to the 11th place with grace of its kind, the Aureole Climbers have come from a distance, dancing over five big names: Mighty Blackpool, Old Edwardians, Port Authority, Diamond Stars, and Anti Drugs. However, SLIFA played host to the Waterfront Boys of Port Authority on Sunday at the Approved School. They were Shockingly defeated by 2-1.
The Nothern Rock of Makeni were doing the parallel walk, trying to muzzle their Visitors East End Tigers for a bulldozing three-point fight at the Wusum Stadium. However, Wusum Stars suffered a humiliating defeat by 1-0.This league is a conglomeration of surprises.
Bai Bureh Warriors, newcomers indeed, welcome RSLAF at the Port Loko field yesterday. the Northern Warriors defeated RSLAF 1-0, whilst Freetown City Council played host to Mighty Blackpool Football Club on Sunday and the Marketers forced the Tiss Tass Boys to a 0-0 draw. The May park Boys, Old Edwardian also drew 2-2 with Fc Johansen.
This and many more justify the comeback of the historic 18-team league.