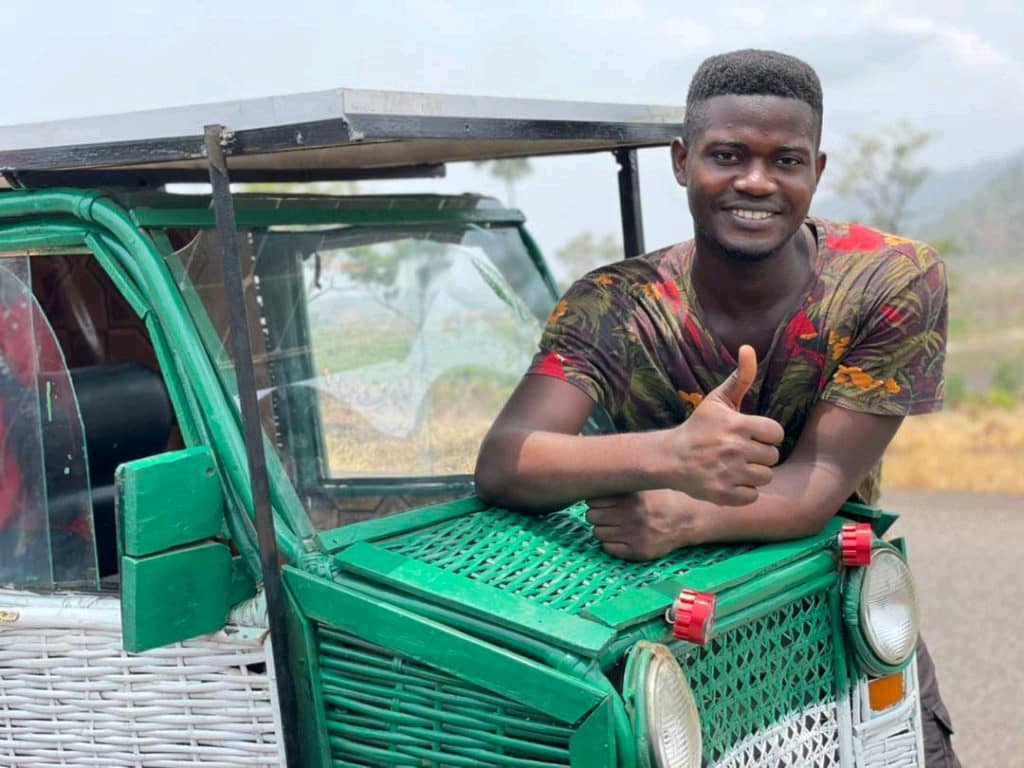 24-Year-Old Sierra Leonean Student Invents First Ever Solar-Powered Car
Emmanuel Alieu Mansaray is a 24-years-old Geology student at the University of Sierra Leone and a self-thought inventor, who has brought his idea to life by building the first-ever solar-powered car in the country made from trash and scraps.
The invention took him three years of hard work, but the car is now up and running even though most of its parts were picked from the scrap yard and trash.
Mansaray named his invention "The Imagination Solar Car" as his love for the environment and how he could solve the social issue of air pollution in his community and the country as a whole drove him to the final result.
Imagination Solar Car is Sierra Leone's first locally made solar-powered car built from trash. It's an Eco-friendly car, which does not use any fossil fuel to power it. The body of the car is built with bamboo (cane stick).
This car can cover a distance of 15km per hour on a tarred road. The 'Imagination Solar Car has a large solar panel at the top of it which powers the engine and also acts as its canopy.
The car has a self-made engine which is different from all other cars with three gears attached to it for both back and front movement. It has a left and right traffic light, a horn, four headlights, and an accurate brake system. It has two doors and two mirrors attached to its left and right flanks.
"The reason behind inventing the solar-powered car is that I want the world to use cars that don't use fuel. Because those vehicles that use fuel emit poisonous gas to the atmosphere which affects the oxygen that we inhale which hurts the human body causing respiratory illness. Also, people with disabilities do not benefit from the environment; meaning the environment they're living in is not friendly, some disabled people have cars that they can't drive unless they pay individuals to drive them because their feet can't reach down the clutch, brake, and accelerator, which is challenging. But for my Imagination solar-powered car, all the features are installed in the steering including the clutch, brake and accelerator, and all other necessary features. With all this, every disabled person can drive with less to worry about. These are some of the main reasons I invented this solar-powered car."
He wished for his invention to be able to reduce the risk of contracting incommunicable and respiratory diseases like lung cancer, asthma, etc. caused by inhaling hazardous fumes emitted by cars using other types of fuel (fossil, gaseous and liquid).
Mansaray said he started inventing when he was very young as he would collect tin cups and make toy cars and he would at times collect old battery assemble them and get electricity from them.
He added that during his invention period he faced so many trials, ranging from not having the finance to carry on such projects to the unavailability of the necessary parts which most of the time leads him to the scrap yard or the trash or the lack of opportunity for young innovators.
Air pollution occurs when gases, dust particles, fumes (or smoke), or odor are introduced into the atmosphere in a way that makes it harmful to humans, animals, and plants. It is a major problem in Sierra Leone that causes illness.
Outdoor air pollution is a mixture of chemicals, particulate matter, and biological materials that react with each other to form tiny hazardous particles. It contributes to breathing problems, chronic diseases, increased hospitalization, and premature mortality. The concentration of particulate matter (PM) is a key air quality indicator since it is the most common air pollutant that affects short-term and long-term health in the country.
Sierra Leone is rated as the 17th most vulnerable country in terms of air pollution. The causes of air pollution are multiple. Because many households use charcoal or wood as a source of fuel for cooking and other related activities, this has led the amount of carbon dioxide produced in the cities to be on the rise.