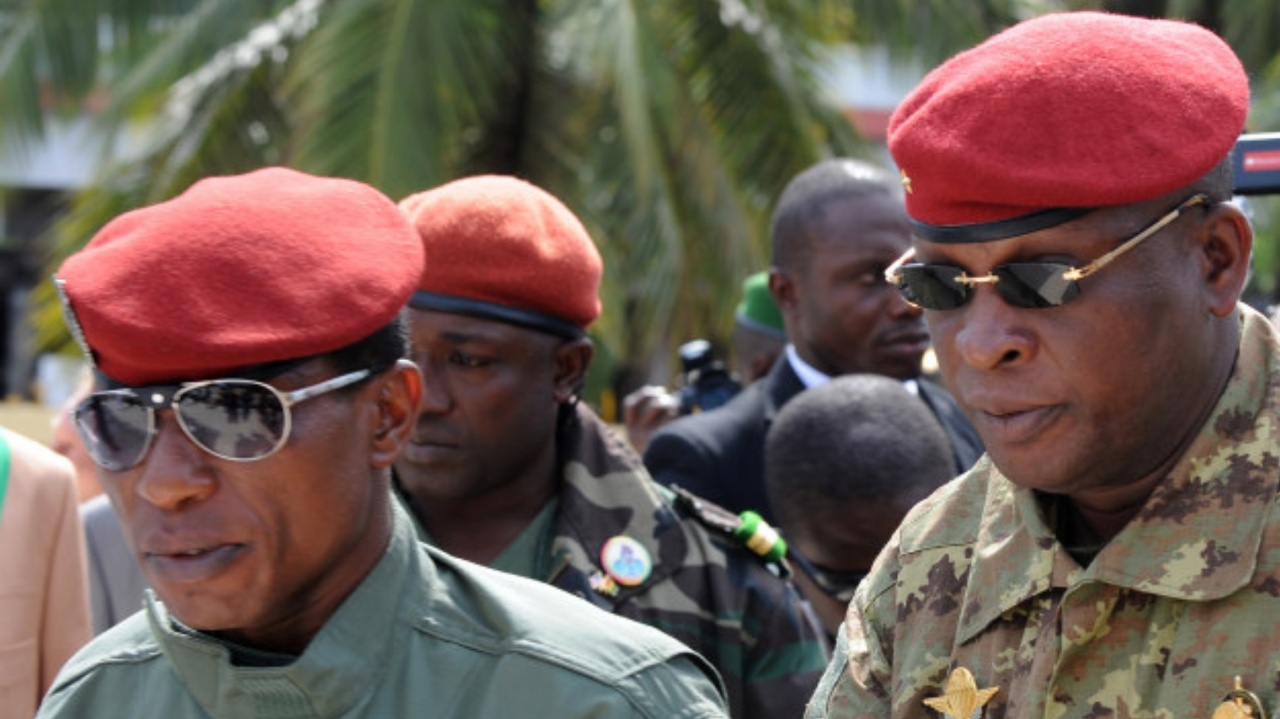 Guinea's Junta Hires Ex-war Crimes Prosecutors in Sierra Leone — and Gets a Favorable Report
Two former war-crimes specialists were recently hired as consultants for Guinea's military junta after it was accused of massacring civilians — and produced a secret report downplaying the violence, Foreign Policy has confirmed.
David M. Crane, the former U.N. prosecutor for the Special Court in Sierra Leone, and his chief investigator, Alan W. White, were once on the front lines of the international effort to hold war criminals accountable for their misdeeds, securing an indictment in 2003 against the former Liberian warlord and president Charles Taylor.
The two American war-crimes specialists, who now run a consulting firm called CW Group International, LLC, recently used their expertise on behalf of the government of Guinea's former military leader, Moussa Dadis Camara (above left), who stands accused by a U.N. commission of inquiry of responsibility for the Sept. 28, 2009, murder and disappearances of more than 156 civilian protesters in the country's national soccer stadium.
CW Group signed an agreement with Guinea's military junta on Oct. 15, three weeks after the massacre, to "conduct a confidential investigation into recent allegations of shootings and sexual assaults, including gang rapes, that occurred on September 28, at the national stadium." The findings of the investigation were first published early this week by the newsletter Africa Confidential, but Turtle Bay has independently obtained a copy of the secret report and secured the first interviews with Crane and White.
The report confirms that an elite Guinean presidential guard — known by their red berets — opened fire on opposition demonstrators at the national soccer stadium, and sexually assaulted women inside and outside of the stadium. But the death toll — 59 — and the scale of the violence described by Crane and White is lower than that described by international human rights investigators. The report also downplays the role of the Guinean leadership in the killings or the abduction of scores of civilians and makes no mention of a coverup of the crimes, which has been claimed by the U.N. commission and Human Rights Watch. "Simply stated it appears from the facts extant that a crime against humanity was not committed by government forces on September 28th," the report states.
On the contrary, CW cites the efforts of key military commanders to defuse the standoff and to protect the opposition leaders who had gathered in the national stadium to protest Camara's effort to run for president in 2010. CW places some of its greatest emphasis on criticizing the country's opposition movement, Le Forum Des Forces Vives, for carrying out its demonstration in defiance of President Camara's wishes.
The report places most responsibility on the unit's commander, Lt. Aboubacar Cherif Diakite (a.k.a. Lt. Toumba), noting that President Camara had instructed the military to stay out of the stadium. "Those military personnel who responded to the stadium were in violation of a direct order issued by President Camara," the report stated. Lt. Toumba later told Radio France International that he shot President Camara in retaliation for seeking to place the blame for the killings on him. Toumba is in hiding and Camara is receiving medical treatment in Burkina Faso.
"The CW report is a dishonest and misleading report, and it is shameful that persons formerly associated with the Sierra Leone Special Tribunal authored it," according to an international human rights researcher who investigated the massacre. "It is absolutely clear that they ignored evidence that was widely available to them, both in terms of the scale of the atrocities and the responsibility for the massacre. Their motives in writing a white-wash report for the Guinean authorities have to be questioned."
Crane and White deny that their report was a whitewash. But it stands in stark contrast to the U.N.'s investigation, which is based on nearly 700 interviews with witnesses and government officials and concluded that forces under the command of President Camara launched a "widespread and systematic attack" against the demonstrators, killing more than 100 civilians in the stadium, including 40 whose bodies have never been recovered. The U.N. report — which said the assault constituted crimes against humanity — says at least 109 women were sexually assaulted, including several who were held for days by soldiers in sexual slavery, and hundreds of others were tortured. The U.N. commission found that "there is a prima facie case that President Camara incurred direct criminal responsibility in the perpetration of crimes."
An investigation by Human Rights Watch echoed those findings, concluding that Guinea's military rulers unleashed a premeditated massacre of more than 150 people in an attempt to silence the political opposition. It also documented an effort by the Guinean military authorities to cover up the crimes.
Crane acknowledged in an interview with Turtle Bay that his firm carried out the investigation in order to assess what had taken place in the national stadium, but that the intent was not to clear Camara of responsibility. He also said that his firm's report was merely a preliminary assessment of events that could change as further evidence came to light, including that provided by the U.N. and Human Rights Watch. He noted that the report called on Guinean authorities to set up a 15-member task force to conduct a more extensive investigation, and to interview the more than 1,350 people his report claimed were treated for injuries.
"There were no punches pulled," Crane said. "It was clear to us that crimes were committed against the Guinean people and had to be dealt with under domestic law and possibly international law. We certainly want to see justice for the Guinean people and particularly the victims."
While the report does not hold Camara personally responsible for the killings, Crane and White both insisted that the firm privately warned Camara that he bore ultimate responsibility for the crimes and had to prosecute those responsible for them. "Even though there's no direct evidence in the preliminary assessment that links you directly as commander and chief you are ultimately responsible," White recalled telling Camara. "We told him to his face if you do not take appropriate action and hold those responsible for what happened you could be held criminally responsible: plain and simple."
The two war-crimes experts first appeared on the international justice scene in 2002, when they were appointed to lead the U.N.-backed investigation against Charles Taylor on charges that he provided financial and political support to a ruthless rebel movement, the Revolutionary United Front, that was known for mutilating its victims.
The two men had previously served in the U.S. government for more than 30 years. Crane, now a professor at Syracuse University College of Law, rose within the Pentagon to become a senior inspector general in the Defense Department, and an assistant general counsel of the Defense Intelligence Agency. White served as the director of investigative operations for the Defense Criminal Investigative Services before joining the U.N. court.
Crane and White said their firm is committed to the same principles that drove its two founders to champion the cause of human rights in Sierra Leone. Their consultancy work in Guinea focuses on promoting human rights and the rule of law. In Guinea, the company proposed a plan in December to provide Guinean troops training in the laws of armed conflict, and to promote a series of good governance policies that would lead the country toward "free and fair elections," Crane said. The proposal was dropped after the assassination attempt against Camara. "We were pursuing international justice to ensure that impunity did not continue in Guinea."
Crane and White were paid for their confidential report, but wouldn't reveal how much. White said the amount was "inconsequential."
The two men also insisted that their work on behalf of the Guinean military junta did not constitute lobbying, which would require that they register as agents of a foreign government. "We are not lobbyists," said White. "They try to prop you up publicly. We didn't do that.… At the end of the day, our integrity and ethics and moral standards will never be compromised. We do believe in Africa and know they lack capacity."