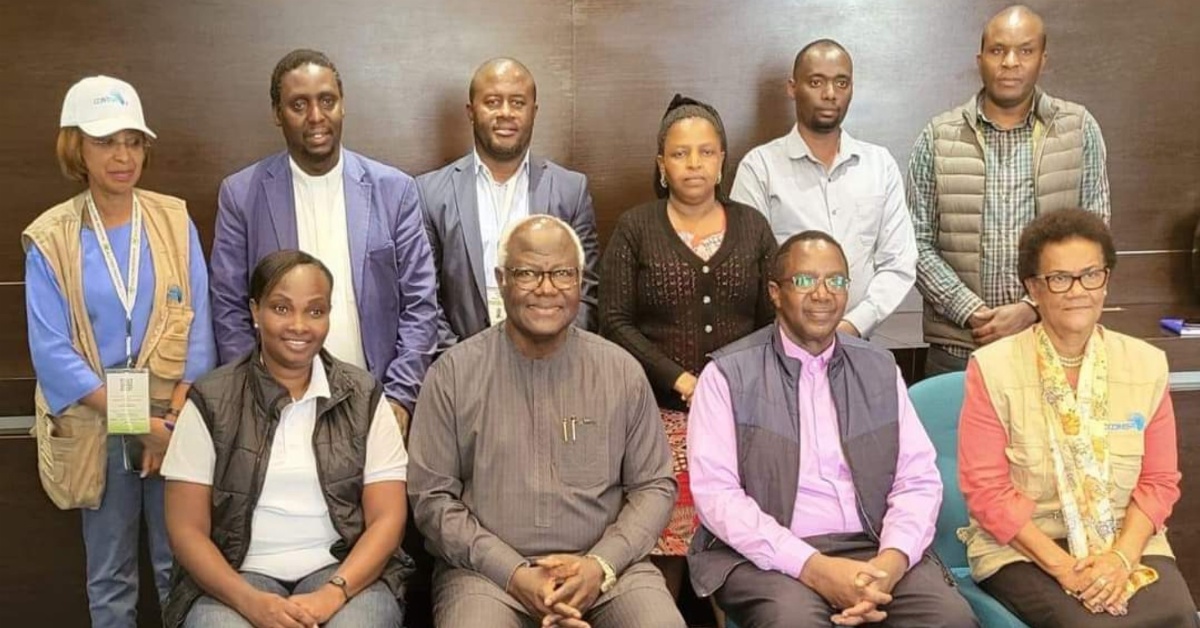 Former President Koroma AU-COMESA Elections Observer Mission Scales Up Consultations
The head of the joint African Union and the Common Market of East and Southern Africa (AU-COMESA) Elections Observer Mission (HoM) to Kenya, former president Ernest Bai Bai Koroma, along with his assistant HoM, Madam Marie-Pierre Lyold, has on Saturday, 6 August 2022 held consultations with former Ethiopian President Mulato Teshome and delegation. Teshome is the head of the Inter-governmental Authority on Development (IGAD) Observer Mission to Kenya.
President Koroma and Madam Lyold also held discussions with the delegation of the East African Community (EAC). The EAC is headed by Jakaya Kikwete, former President of the United Republic of Tanzania.
The AU-COMESA mission heads further met with Mr David Mwaure Waihiga, leader of the AGONO political party, and a cross section of its executive as well as the heads of the coalitions of Kenya leading civil society organizations. They include Dr Sarah Bireete of the Center for Constitutional Governance (CCGEA), Anne W. Ireri of the Elections Observation Group (ELOG), and political analyst Professor Karuti Kanyinga. These consultations are part of the observers mandate to ensure that they grasp the dynamics around the electoral processes and possible grievances. This way, they would be in a good position to identify possible flash points and take actions that would support the overarching objective of free, peaceful and credible elections.
Generally, from the interactions so far, there is commitment by all stakeholders to a peaceful and credible electoral outcome.
According to Kenya's Independent Electoral and Boundaries Commission (IEBC), there is tremendous local and international goodwill for Kenya not to relapse into the electoral violence of 2017. The IEBC said a total of 18,000 observers, 1,000 of whom are internationals, will be observing the August 9 polls. Even more profound, a record number of ten former heads of states are in the country, heading various elections observer missions.
From the consultations, there is consensus that the IEBC has successfully completed the registration of 22 million voters, published the voter's roll, subjected it to independent audit albeit through a court decision. Ballot papers have also been printed with satisfactory political party participation, and while non-sensitive materials were distributed on August 1, sensitive materials are being distributed across the country.
Stakeholders also agree that there is a commendable level of inclusiveness and transparency in the electoral processes. On polling day, media and observers will witness the final stages of sorting, counting, collation, certification, and party agents will be allowed to use their phones in polling centers to take images of certified results and transmit them to their parties.
As the head ofthe EAC, former President Kikwete noted, it is refreshing that the judiciary is held in high esteem for its independence and fairness and as of this moment, disagreements have been channeled to and arbitrated by the courts. And that despite the intense and highly spirited campaigns, so far, there is general calm and quiet.
However, few challenges have been identified in the designated position of party agents at polling centers. Some stakeholders are concerned that, according to the IEBC layout, the distance between the party agents and the voting booths could cause suspicions and complaints of impropriety on the basis that the agents could not necessarily vouch for what would be transpiring around the distant voting booth.
There is also growing concern that the sheer numbers of polling centers could pose considerable constraints to IEBC's capacity to transmit the final certified results within the expected timeframe. It is a throwback from 2017 that delays in announcing, especially the winner of the presidential election, could result in suspicion of wrongdoing and that if not well- managed could result in violence. This is particularly true if the commendable practice of resolving disagreements in court shifts to the use of the streets as the theater for the expression of dissatisfaction.
The AU and the regional trading block, COMESA, believe that in handling such complexities, everyone is important. In a tweet this afternoon former President Koroma said: "We believe that every political actor is important, including the 'minor' parties. We are, therefore, pleased that Mr David M. Waihiga, leader of the AGONDO party, and delegation could find time to share with us their views and concerns. I urge for continued dialogue, peaceful resolution of disagreements."
Former President Koroma also tweeted about his meeting with leaders of Kenya's CSO coalitions – ELGIA, and ELOG, along with Professor Karuti. He said the civil society actors shared with their Mission rich insights on the entire electoral processes and that he was impressed with the scope of their involvement, depth of their analysis and determination to ensure an electoral outcome that represents the will of the people.
In view of this, and as polling day draws nearer, the Joint AU- COMESA mission will continue such exchanges with local authorities and international observer missions in order to keep taps on developments on the ground to avoid any surprises.
"I've had consultations with the HoMs of IGAD and EAC elections observer delegations respectively. As Kenya gets closer to its 9 August polls, we will remain engaged in support of peaceful, free and credible elections," the AU-COMESA HoM assured and urged all players to sustain such positivism.