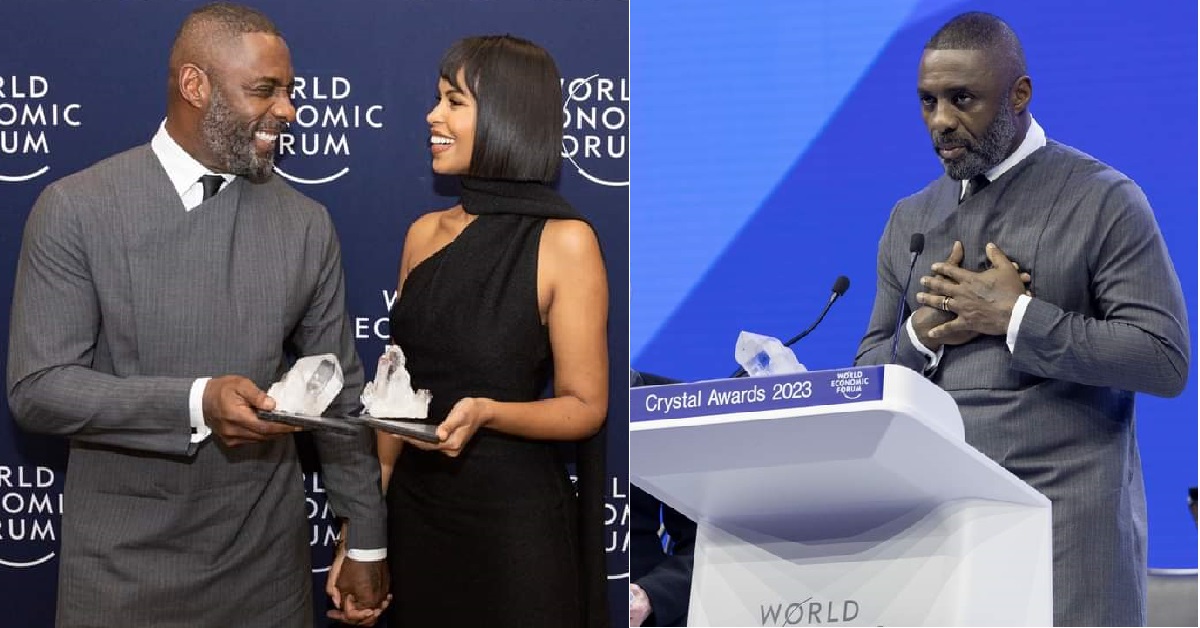 Idris Elba and Wife Win Prestigious Award For Supporting Rural Farmers in Sierra Leone
Hollywood actor and musician, Idris Elba and his wife, Sabrina Dhowre Elba have become the first couple-ever to win the Crystal Award for their advocacy work as UN Goodwill Ambassadors for International Fund for Agricultural Development (IFAD).
Reacting to their win on social media, Idris Elba states, ''Three years ago I met with a rural community in Sierra Leone to learn the challenges these farmers faced due to climate change. The trip moved me.''
Elba, who was born in London to a Sierra Leonean father noted that, their work has moved the needle on agriculture, food security, youth empowerment and environment conservation respectively in the country.
The couple, who were appointed UN Goodwill Ambassadors for the International Fund for Agricultural Development (IFAD) in April 2020, received the award for their leadership in addressing food security, climate change and environmental conservation at the opening session of the World Economic Forum's (WEF) Annual Meeting 2023 in Davos-Klosters in Switzerland.
The WEF said the pair recently visited an IFAD-supported project in Sierra Leone, where they met farmers who received support for rice production and rural finance after the Ebola crisis, in their roles as UN Goodwill Ambassadors.
During her speech, Sabrina shared a message about the overlooked role of small-scale farmers all around the world and said she felt "privileged" to be able to speak at the WEF meeting "not as a voice for, but as a voice with, shouting for change".
She said: "It's such a privilege to be honoured in your company…this is unbelievable for me. It's actually my second award ever, so I'm really excited.
"I also want to thank the World Economic Forum for this tremendous honour.
"Idris and I are obviously both extremely grateful and extremely humbled by this joint recognition for our work championing causes that not only have great importance to us, but all of which are inextricably linked and should matter to everyone in this room.
"I am so proud to say that to recognise us and the work that we do, is to recognise all that we must do to continue to address and improve food security, gender equality, youth empowerment and glorious, glorious nature."
Meanwhile, Sabrina has promoted gender equality and the empowerment of women and girls worldwide over the years and worked with a number of civil society organisations including, Conservation International on environmental issues, the WEF said.
The Crystal Awards celebrate the achievements of leading artists who are "bridge-builders and role models for all leaders of society", it said on the WEF website.