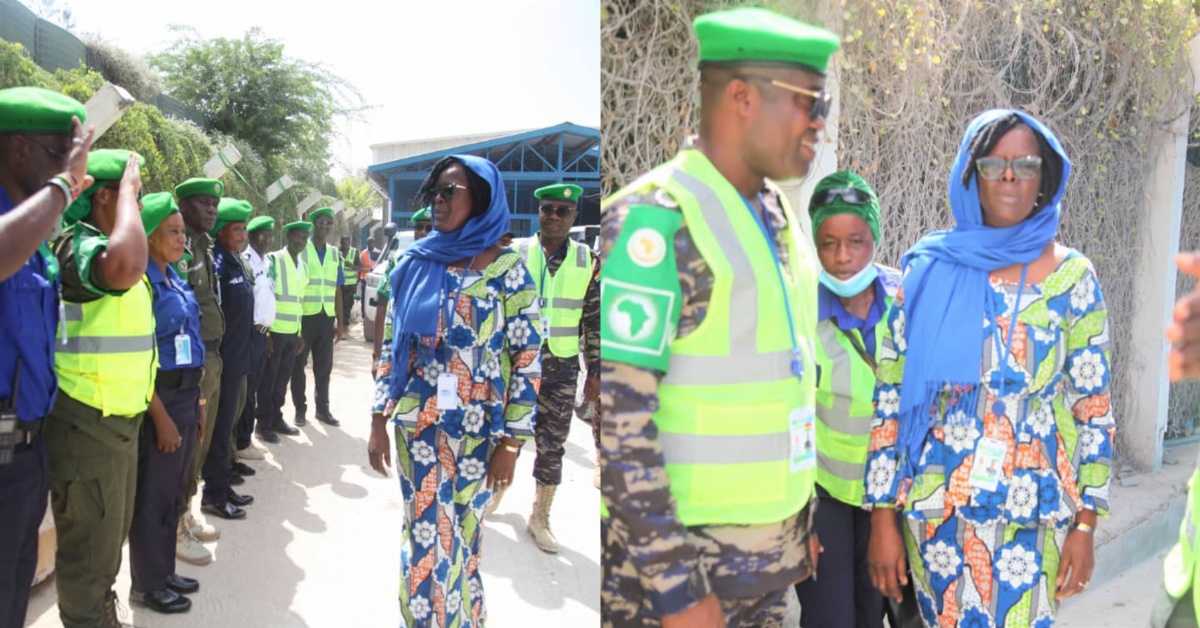 Hillary Sao Kanu Arrives in Somalia to Head ATMIS
The newly appointed ATMIS Police Commissioner – CP Hillary Sao Kanu has arrived in Somalia to take up her duties as the Head of the African Union Transition Mission in Somalia (ATMIS) Police Component on 2nd March 2nd 2023.
On arrival at Aden Abdulle International Airport in Mogadishu, Commisioner of Police Hillary, was received by the ATMIS Police Chief of Staff DCP Lanre Ogunlowo accompanied by the Training and Development Coordinator – ACP Asiedu Okanta Samuel and the Operations and FPU Coordinator – ACP Ahmed Lateef.
The ATMIS Police Commissioner was delighted and pleased to also have other Team leaders of the ATMIS Police Component awaiting her arrival at the Airport. She exchanged pleasantaries with the officers, after which she was escorted on her departure to the Mission Headquarters in Mogadishu.
Present at the Airport were: Sierra Leone Contigent Commander- CSP Edison Vandy, SP Siaka Kamara, Inspections and Control team leader – SP Shamwale Pedator, DSP Murtala Ibrahim, JOCC team leader – DSP Yusuf Barrie, DSP Margaret Gbassa, DSP Martin Egbenda, P.A to P.C ASP Musa Ibrahim Logistics team leader – ASP Osman Kamara, Logistic and Planner team leader – ASP Fidelis Luwawa, MTO team leader ASP Joseph Kamukwamba, ASP Ibrahim Adamu, MOVCON team leader – CIP Martha Micheal, CIP Tity Conteh, Induction and Training team leader IP Hellen Conteh and Sgt. Tresford Himwiinga.