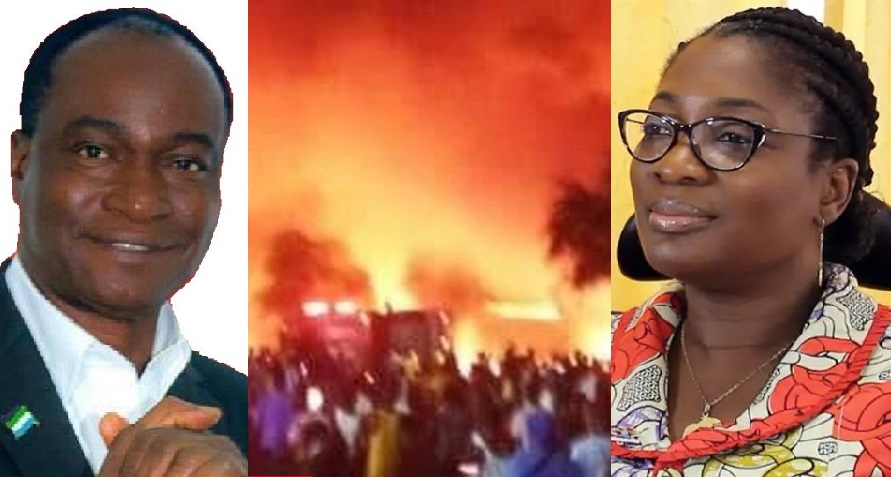 Wellington Fire, Samura' ACC Case, Auditor-General's Suspension And Other Events That Shocked Sierra Leoneans in November 2021
From a heart wrenching tanker tragedy to shocking Auditor General's suspension and backlash over Bank Governor's bribery statement, here is a flashback of six key events that hit headlines in November last year, Concord Times reports.
November 4 – Violent Protest as Samura Kamara Enters ACC Net
The Anti Corruption Commission (ACC) summoned Dr. Samura Kamara, former Minister of Foreign Affairs, and 2018 presidential hopeful for the main opposition All People's Congress (APC) over allegation of misappropriation of public funds meant for the renovation of the Sierra Leone Chancery in New York.
The meeting sparked violent protest, leaving three police officers hospitalized and 9 protesters in police custody.

Later on the 25 , ACC informed the public that it has indicted Samura Kamara on two count charges – one count charge of deceiving a principal and one count of misappropriation of public funds amounting to two million, five hundred and sixty Thousand United States Dollars ($2,560,000) meant for the construction of the Sierra Leone Chancery Building in New York. Samura is standing trial alongside six other officials who are facing related charges on the misappropriation matter. They made their first court appearance on 14 December, and were granted two billion bails. The matter which was adjourned is expected to resume
th on Wednesday 5 January 2022.
November 5 – Wellington fuel tanker explosion
On Friday evening, a heart wrenching news broke out when a fuel tanker exploded in Wellington killing and injuring dozens of people.
The explosion occurred some minutes later after the fuel tanker collided with a lorry. The Fuel spilled from the tanker after the collision and engulfed people gathering the leaking fuel, bystanders, and vehicles waiting in the heavy traffic. So far, 153 people have been reported dead with two still in critical condition.
Lack of awareness among other factors is widely believed to have contributed to that greater number of deaths.
November 10 – Sierra Leone student grabs global prize
Sierra Leonean student, Jeremiah Thoronka clinched a $100,000 Global Student Prize for clean energy invention. The Sierra Leonean student won the prestigious prize for inventing a device that uses kinetic energy from traffic and pedestrians to generate clean power.
Thoronka beats 3,500 other students who had also entered the competition to win the coveted prize.
November 11 – Lara Taylor Pearce sent home on outrageous suspension
November 11 saw the shocking suspension of the Auditor General, Audit Service Sierra Leone, Lara Taylor Pearce who has been handling audit service for a decade.
President Julius Maada Bio indefinitely suspended Pearce and later set up an inquiry to investigate her for professional misconduct. She has denied any wrong doing, and her suspension has received wide condemnation. Taylor was sent home pending a hard-hitting Audit Report against the government that was later released.
November 22 – Backlash over Bank Governor's bribery statement –
Prof. Kelfala M Kallon, Bank Governor of Sierra Leone appeared on the headline for the wrong reason. The learned professor came down under heavy criticism for clumsily confessing to MPs that the bank had 'wasted' over 68 million dollars to 'bribe' people hoarding the Leones.
He made the controversial statement while speaking to parliamentarians in a committee meeting, meant for public education on the need to redenominate the country's currency.
And finally, November 26 – Finance Minister present 2022 Financial Year Budget
The Minister of Finance, Denis K Vandy on the above-mentioned date disclosed content of the Le9.94 trillion 2022 Financial Year Budget to MPs in the Well of Parliament, and outlined government spending plans for the Financial Year 2022.
Building Resilience for Inclusive Green Recovery, he said, was the theme for this year's budget.