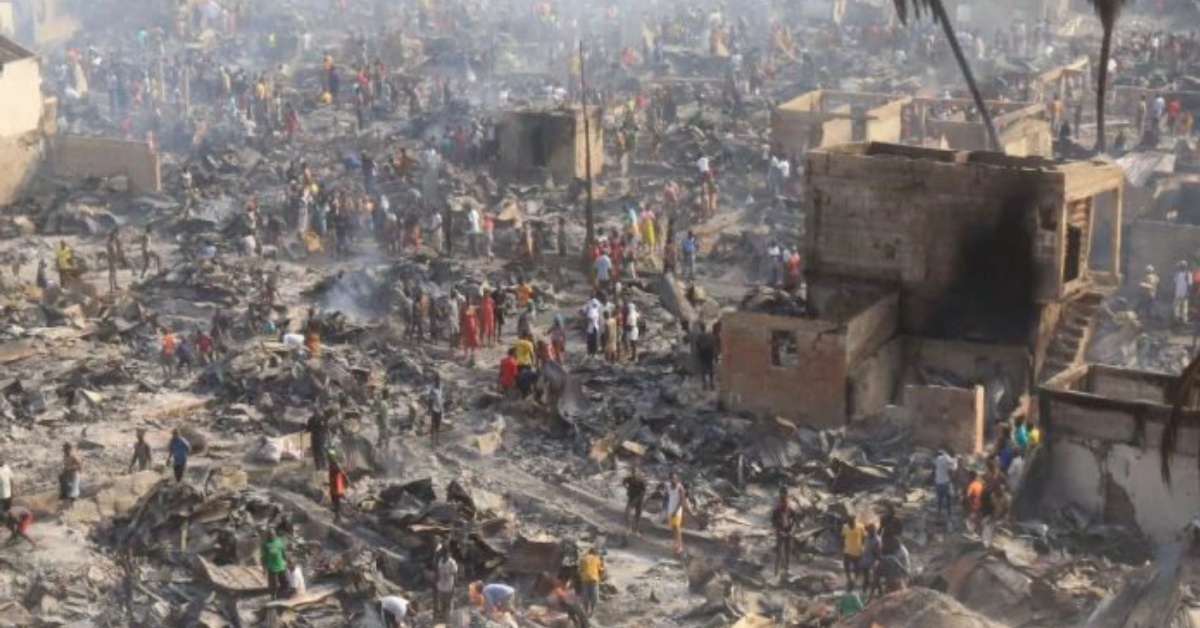 Susan's Bay Fire Leaves Thousands Homeless
Thousands of Susan's Bay Community residents have been rendered homeless as over 100 houses were reportedly burnt down and properties worth millions of Leones destroyed.
According to reports, the fire broke out in the morning hours of Monday 9 January, 2023, due to electrical failure or poor electrical connection, which eye witnesses said was the caused of the fire incident.
Most of the people we spoke to said they heard the warning of fire and were able to move to a place of safety. A few managed to snatch a few things from their houses, most were not.
Some residents described sprinting and screaming as they fled the flames, some carrying whatever belongings they could and others only the clothes they wore.
"I couldn't do anything, I just grabbed all the children to secure their life. It was commotion," said Isatu Kabia.
"I have no idea what caused the fire. Fire Force couldn't get down here and it burnt for hours," she added.
Mohamed Kabba, a father of four and a petty trader said that he had lost all of his properties and money in the fire.
"I have no clothes. I am trying to ask for help from the government. I never imagined something like this would happen," he said.
Fire outbreak is not unusual in the highly densely populated and overcrowded communities where houses are made of pieces of timber and metal sheets, and many households using poor electricity wiring and illegal tapping into the national electricity grid.
This incident is the second major fire outbreak in Susan's Bay communities within the last two years. In the evening hours of 24 March 2021 another fire hit the slum community and left thousands of people homeless.
Sinneh Bangura, Director of Relief and Response at the National Disaster Management Agency said the situation of fire incidents in the country is one that is crucial especially in some of the areas where these incidences take place.
Cluster houses with makeshift structures and lack of access for the national fire force is a normal phenomenal that makes response difficult.
"We want the government to help us. Fires keep happening. They should move us to a conducive atmosphere where I can live a happy life. A community where our children can grow up, get the basic facilities," Mariama Sankoh, a cookery seller and a mother of six said.
"Where I'm presently standing is my house," said Idrissa Turay, who lived next door to Sankoh with his wife, brother and child. He was on a cement floor surrounded by ash and metal. He said he had lived there his whole life.
"I have nothing now. I can't do anything unless someone helps me," Turay said, adding that, "I think the government should do something but they won't."
Apart from Susan Bay, fire disaster has been one of the challenges faced by other communities in the country. Overall, 650 fire incidents were recorded across Sierra Leone, according to the National Disaster Management Agency.
Last month, Funkia, a fishing community situated along the Goderich peninsular was engulfed by fire leaving over one hundred houses completely burnt down, hundreds of people homeless and properties worth millions of Leones destroyed.
Eye witness said the cause is electrical failure, just the same as in Susan's Bay Community. The community is also popular for business people like fishermen and petty traders living in clustered zinc and makeshift houses.
Meanwhile, the Directorate of Relief and Response of the National Disaster Management Agency (NDMA) in collaboration with key partners such as UNICEF, UNDP, FCC, CONCERN, SLRCS, CARITAS, and the Sierra Leone Police (SLP) has been conducting needs assessment and registration of the affected victims at the scene.
NDMA's Director of Communications, Mohamed L. Bah, disclosed that the assessment and registration process is a critical component of the entire response circle.
"The assessment process will help the NDMA record credible data of the victims and share it with partners, and enable them to prepare better with respect to the needs of the victims," he said.
The Director of Relief and Response, Sinneh Mansaray admonished the local leaders, victims, and other community stakeholders to be vigilant in helping the NDMA identify the actual victims.
He warned that anybody who is caught trying to impersonate or giving wrong information will be handed over to the Police for investigation.