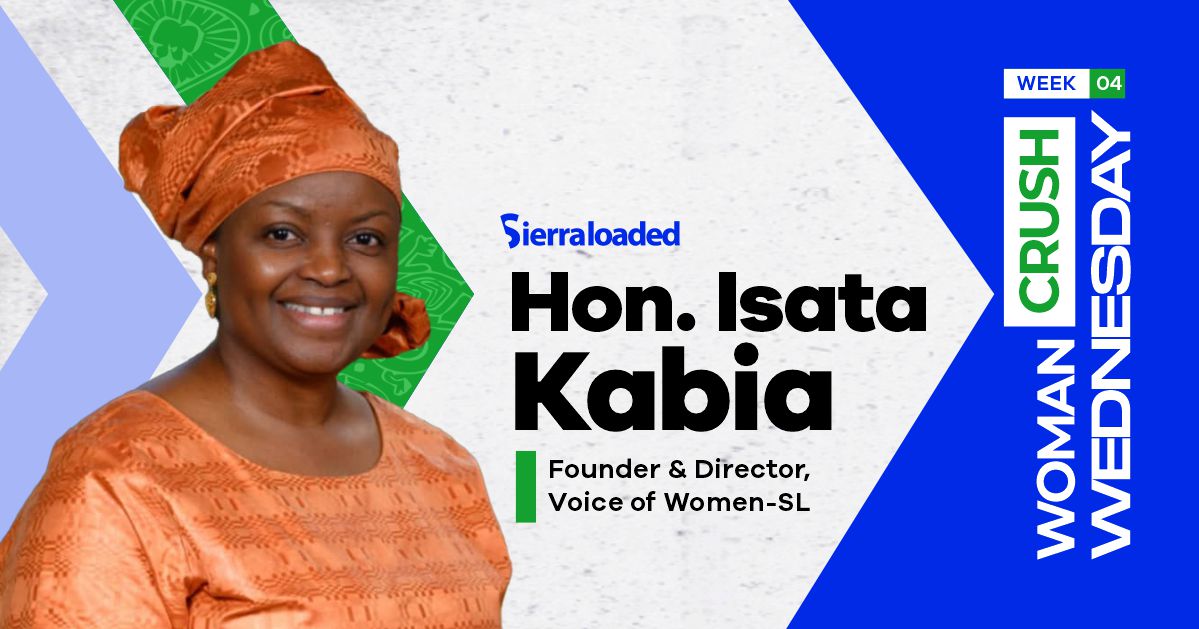 Meet Hon. Isata Kabia, Sierraloaded Woman Crush Wednesday
Meet our Woman Crush for this week, Hon. Isata Kabia.
Meet a Statewoman whose mission is to see that women in the country are independent, their voices are heard, and are resourceful to themselves and the country at large.
Holding an Honors degree in Biochemistry, an MBA in Global Business and Impact Entrepreneurship, Hon Isata is a woman who is so passionate about the females being held in the society. She educates the women about women empowerment in order to be independent and resourceful.
She started serving her country at a very young age, developing over the years to become an beacon of hope and icon worth of emulation to young girls and women in the country. Due to her passion about woman empowerment, she has made it her life mission to see that every girl can dream, can be strong, be provided a strong platform to be resourceful to all.
To further help the women, after resigning her position as special advisor on Diaspora Affairs in the Office of the President in 2012, she ran for office and was elected as the first female Member of Parliament from the Port Loko district in Northern Sierra Leone represent constituency 050 in the district of Port Loko between 2012 – 2017.
She most recently served as a government Minister of Social Welfare, Gender and Children's Affairs (2018) and as the Minister of State II at the Ministry of Foreign Affairs and International Cooperation. She also served as a member of the Pan African Parliament.
Hon. Kabia is the Founder and Director of Voice of Women-SL (VoW-SL), an organization working to increase women's political participation and leadership, encourage women to vote and support a record number of women running for office in Sierra Leone. VoW-SL aims to increase political participation and leadership by building an intergenerational community with an inclusive national membership of women to mobilize and build lasting infrastructure for sustained action.
Hon. Isata Kabia is also the founder and CEO of AFRiLOSOPHY, a social impact training and manufacturing company focused on creating jobs through the manufacturing of cosmetics, hair and body products, and assisting women and youth in starting and managing their own enterprises through skills and financial management training provided by the AFRiLOSOPHY Foundation. The AFRiLOSPHY Foundation currently works within Port Loko district on a Rural Education Program (REP) building schools within the community.
She was selected as a Fellow for the 2019-2020 VV Engage Cohort.