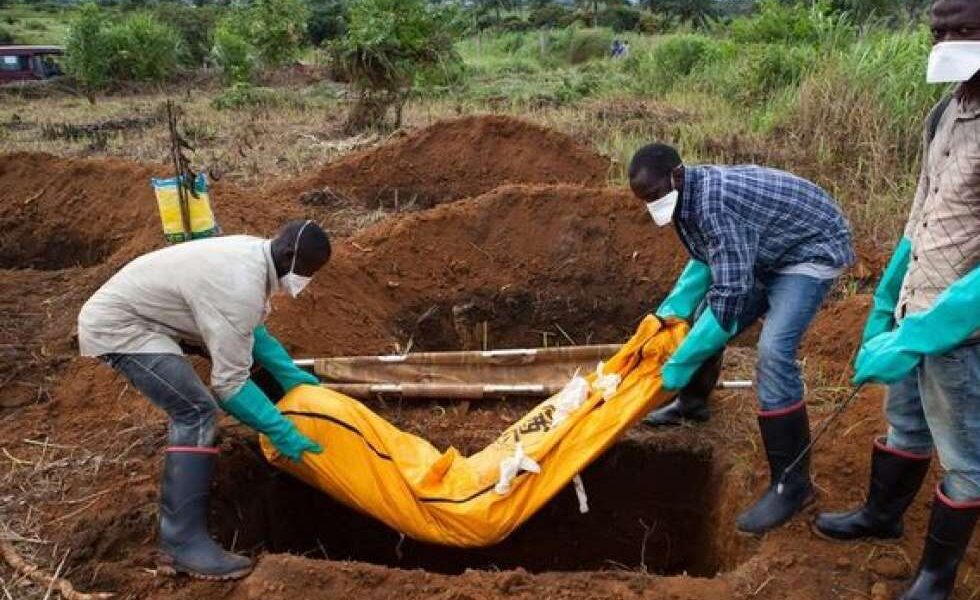 'The Deaths at Kalia' – An Ebola Diary From Sierra Leone
The other bones crying out there:
Gentle victims…they did not die easy!
I knew some of them; the sea sings of their unnecessary death
After we buried them without priest and Imam.
Now that they are dead, time will honour them:
Intrepid souls…
From Syl Cheney-Coker's, "Lake Fire" (2008)
On my way from Kenema (eastern Sierra Leone) in May 2015, I made a stop at Kalia. It is a small village amidst fetid mangrove swamps about eight miles from Bo, the country's second largest city. Kalia had been in the news, briefly and often only obliquely referred to in the generally etiolated newspaper accounts, in August 2014 at the height of the Ebola Virus Disease crisis. Ebola struck there, suddenly and unexpectedly, killing 37 people out of a population of fewer than 500. Of 53 (family) households in the village of 28 houses, 29 were struck by the disease. The disaster left 52 orphaned children in an impoverished community which had, adhering to a set of protocols imposed from the district medical office in Bo, burnt down clothes, towels, beddings, mattresses, and destroyed even kitchen items and cutleries as the full dimension of the catastrophe unfolded.
The aftermaths of Ebola's catastrophe is not like the aftermaths of war: a village can die out, but the physical infrastructure, the houses, huts, the small market stalls, the blacksmith's hut and anvil at the edge of the town, the sullen dugout that ferries farmers across the river, will remain intact. A general sense of foreboding, a sense of primal terror, was palpable at Kalia when I visited nearly a year after the calamity, however: something as real as that which took hold of Guernica – so memorably captured by Picasso's extraordinarily haunting portrait – in the wake of Nazi bombings in April 1937.
I had known the outline of the story before I went there, but the version I had gotten from published reports, as well as from medical officers I had spoken to in Bo (two days earlier) and Kenema, seemed abbreviated and too pat. I wanted to find out for myself.
Though very close to Bo, Kalia seemed rather distant. That's because it is not located on the highway: a dirt 'feeder' road, harassed on both sides by untamed bush and clogged by potholes, leads to it from the Bo-Kenema highway. I arrived there in the early afternoon. The village was half empty. Perhaps many of the remaining young people, women as well as men, had gone about their business – which meant either to their rice farms or diamond mining sites. The few people remaining were mostly the elderly and children; and in the house belonging to the Chief, I found a group of them in a huddled, almost hermetical state.
The Chief, a wiry man approaching middle age who gave his name as Sharka Jacob, described to me what happened: I later confirmed the account in Bo and Freetown.
A 'Sage' Dies
His account of how Ebola got to the village and quickly spread to kill so many people reveals many of the factors that make Sierra Leone and its neighbours so tragically vulnerable to this kind of viral outbreak: the lack of medical infrastructure, the great dereliction of rural areas perpetuating ignorance and crippling poverty, and the ramshackle reaction by the government to the engulfing crisis.
Ebola arrived in the village in the form of one Mwalimu Ibrahim Goba, an Islamic pedagogue of great local re-known. He had gone to Jembeh in Baoma chiefdom for the burial of a woman who had arrived there from Kailahun, gotten sick and died. Kailahun was then the main locus of the Ebola outbreak – it is where the first cases of Ebola were diagnosed, in May 2014, after the outbreak had already killed dozens in Guinea and Liberia. But few were aware of how Ebola is transmitted even in those areas – which is mainly through bodily contact with someone who is sick from the virus or killed by it – as there was hardly any public awareness campaign by the government at the time. Mr. Goba had previously visited the woman and provided her with herbal medication. After the burial, he returned to Kalia. A few days later, in early August 2014, he fell ill. Kalia does not have a single nurse, clinic or health centre, and since its most famous sage needed medical help, the villagers decided to take Mr. Goba via pillion ride on a motor bike to the Bo Government Hospital for treatment. He was diagnosed there with having typhoid fever. On his return to Kalia, his condition worsened despite taking the medication that had been prescribed for him at the hospital. Many in the tightly knit community, which revered Mr. Goba as an important cleric, paid him visits and interacted with him as with any typhoid or malaria patient. As his condition further worsened, the villagers once again decided to ferry Mr. Goba to Bo, this time on a hammock since he did not have the energy for a pillion ride. He died on the way; and his body was returned to the village and buried in the appropriately Islamic way: carefully washed and dressed and prayed on before deposited into a grave.
Several of the community members, aspiring Islamic clerics, washed themselves with the water in the large basin in which Mr. Goba's cadaver had been washed – a most assured way of getting infected by the virus. Their reason for their doing so, as the Chief explained it, is perplexing. It was believed that the great wisdom which Mwalimu Goba had acquired during his years on earth, as well as his natal genius, would be vicariously transferred to the eager disciples who partake of that ritual. It is an odd belief, for it is neither Islamic (which emphasizes personal responsibility on earth and execrates miracles and magic) nor is it indigenous to the area. The Chief did not know where the belief came from, though he understandably felt – like perhaps those who partook of the ritual – that it was derivative of Islam.
"Everybody is not normal. We are traumatized by Ebola"
A couple of weeks later, several people, many of them part of Mr. Goba's household or who had partaken of his burial ritual, were seized by spasms of high fever, in some cases followed by diarrhea. The viral incidence was so dramatic and widespread that the Chief, unable to arrange transportation for the afflicted to the nearest health centre about 8 miles away, decided to alert medical authorities in Bo. On 22 August 2014, a team from Bo District Council headed by William Alpha, from the District's Ebola response team headed by Aiah Foyoh, from the Bo District medical team headed by Dr. Alhaji Sayni Turay, and a sturdy team of security personnel headed by the Assistant Inspector General of Police, David Sesay, arrived at Kalia.
Three weeks earlier, on 31 July 2014, Sierra Leone's President Ernest Bai Koroma had declared a state of emergency, deploying thousands of troops to seal off a large part of the country (mainly the southern and eastern provinces), and empowering health and security officers to conduct house-to-house searches in order to trace and remove Ebola victims and people who might have been exposed. At the time, the Ebola crisis – first identified in Guinea in March 2014 – had killed 672 people in Liberia, Guinea and Sierra Leone combined.
The team from Bo went from house to house picking up anyone with fever of any sort, anyone who had complained of an ailment of any sort, and bundled 25 of them into vehicles and took them to Bo. The team sprayed the villagers with chlorine in the vehicle. At Bo Government Hospital, the victims were all herded into an outpatient ward, an enclosed place where, once again, they were sprayed with chlorine. Two people died in the ward within a few hours. Later, blood samples were taken from the survivors in the ward and taken to Kenema, which had the only facility for Ebola-related tests. It took several days for the test results to be brought back. In the meantime, two more people had died in the ward, and others had become very sick, with some vomiting, potentially infecting others who might not have been Ebola positive at the time they were picked up at Kalia.
The test results, when they arrived, showed that about half of those picked up were Ebola-positive. Those who tested negative were released and went back to their homes in the village. The Ebola-positive cases were taken back to a school in Kalia, where they were in effect imprisoned, with security guards placed at the school to prevent anyone leaving.
The test results so alarmed the authorities that they decided to quarantine the entire village. "We made the entire village a triage area," Stephen Gaojia, at the time coordinator of the National Ebola Response Committee, told me in May 2015.
In the event, more people tested positive in the subsequent weeks, including some of those who had initially tested negative in Bo. There was almost zero effort at treatment – there was no such facility available – and the victims remained in the bare school building under guard, receiving food and water, and waiting to die. (What image that brings to the mind: the cramped little school building, human beings wasting away one after the other, 'health' workers in biohazard gear of whole-body suit, nitrile gloves and rubber boots, removing dead bodies as loved ones helplessly looked on.) In the end, there were only seven survivors among those who had tested positive. They were: Hannah Jacob, 45; Mammy Daddy, 25; Baby Swaray, 25; Mariama Jacob, 31; Mariama Kailie, 35; Mariama Goba; 26; and Abdulai Goba, 9.
"Everybody is not normal," the Bo District Task Force Team Coordinator, Joseph M. Bindi, was quoted by a Freetown paper at the time, "We are traumatized by Ebola."
A 'Hero' Emerges
To the authorities, the operation at Kalia was an immensely successful Ebola containment effort – perhaps the most successful undertaken thus far. Ebola was stopped in its track: it did not spread to Bo from Kalia – which would have been an immeasurable disaster, for Bo is populated with tens of thousands of people to Kalia's 400 plus. (The city would have only one significant, and isolated, case: in October 2014, a woman from Tikonko, a few miles away, who had not been properly diagnosed, was admitted at the Bo Government Hospital and there infected a nurse, who then later spread the virus to a house on Baimba Road, inside the city. Authorities once again acted with brutal dispatch, quarantining the house, effectively preventing anyone entering or exiting the house except health authorities all covered up in Ebola gear: 14 people died and 10 survived in the compound.)
The medieval method at Kalia, in other words, worked – but at a steep price. Was it necessary? It is a difficult question, especially for anyone who, after-all, wasn't there during those vertiginous moments. Mr. Gaojia, the senior National Ebola Response official who hailed from Bo, entertained no doubts. He spoke to me proudly of Dr. Ajhaji Turay, the chief medical officer in the district, for leading those efforts. To him, Dr. Turay is the true hero of the Ebola containment effort in the district, someone to be spoken of only in exalted terms. I demurred; and Mr. Gaojia appeared horrified when I described the almost indiscriminate herding of villagers in a tight ward and spraying them with chlorine as an atrocity. He is a deeply sensitive man, Mr. Gaojia…
A Postscript
I had traveled to Sierra Leone from Liberia about two weeks after Liberia was declared Ebola-free (in early 2015 May). Liberia had by that time lost 4806 people to the disease; Sierra Leone 3908; and Guinea, where it all started but which was best equipped of the three with respect to medical facilities and state capacity, 2001: the figures included hundreds of health workers, doctors, nurses, and hospital and ambulance workers. On my return to Liberia, I met with a veteran doctor who had battled Ebola in the Democratic Republic of Congo and Uganda, and was brought to Liberia by the African Union to help fight the outbreak (the AU deployed over 1000 experienced medical staff to Guinea, Liberia and Sierra Leone for that purpose). He told me that the key to keeping Ebola under control was faster tests, contact tracing, isolation and quick treatment. Once faster tests were introduced in Liberia (mainly the result of equipment brought by the United States) cases were almost instantly reduced by half, and then to two-thirds. In other words, over half of the deaths might have been prevented if the three countries had invested in their health systems, and were better prepared for such a viral outbreak.
The outbreak has now abated, and the United Nations has closed its Ebola mission in the region (end of July 2015). Experts, however, predict that there will be occasional outbreaks, and that Ebola – which was probably already present in the forested areas bordering Guinea, Sierra Leone and Liberia by the Moa or Makona River before the 2014 outbreak – will likely become endemic in some of those remote parts, flaring up from time to time (much like Lassa fever). Has the lesson of the region's unpreparedness for it in 2014 been learnt by the regional governments?
To memorialise some of the victims of this dismal state failure, I publish here the names of those who died in Kalia and Bo: anonymity will suggest complicity in their untimely deaths.
Kalia Deaths:
Ibrahim Goba
Alaymatu Goba
Baby Goba
Vandi Goba
Sadie Goba
Fanta Goba
Anta Goba
Ansu Lamboi Junisa Goba
Senya Goba
Ibrahim Goba Jr.
Steven Goba
Bundu Goba
Musu Goba
Musa Smart
Mbaimba Gberie
Peter Amadu Kailie
Ibrahim Lebbie
Mamie Sheriff
Kinnie Sesay
Hawa Jacob
Nurse Jacob
Sallay Jacob
Seinya Jacob
Mamie Jacob
Thomas Jacob
Marie Jacob
Mamaturma Jacob
Yayah Jacob
Amidu Semenda
Mamadi Lebbie
Bendu Saffa
Kadie A. Semenda
Fumba Kosia
Adama Kosia
Yatta Semenda
Yawa Smart
Philip Semenda
Bo Ebola Deaths
Sallay Conteh
Kemoh Conteh Jr.
Mariama Sesay
Mariama Conteh
Moses Conteh
Mohamed Sannoh
Mary Conteh
Fatmata Massaquoi
Isata Parmah
Kinny Parma
Jebbeh Sesay
Moinina Kanneh
Foday Gibrilla
Mary Amara