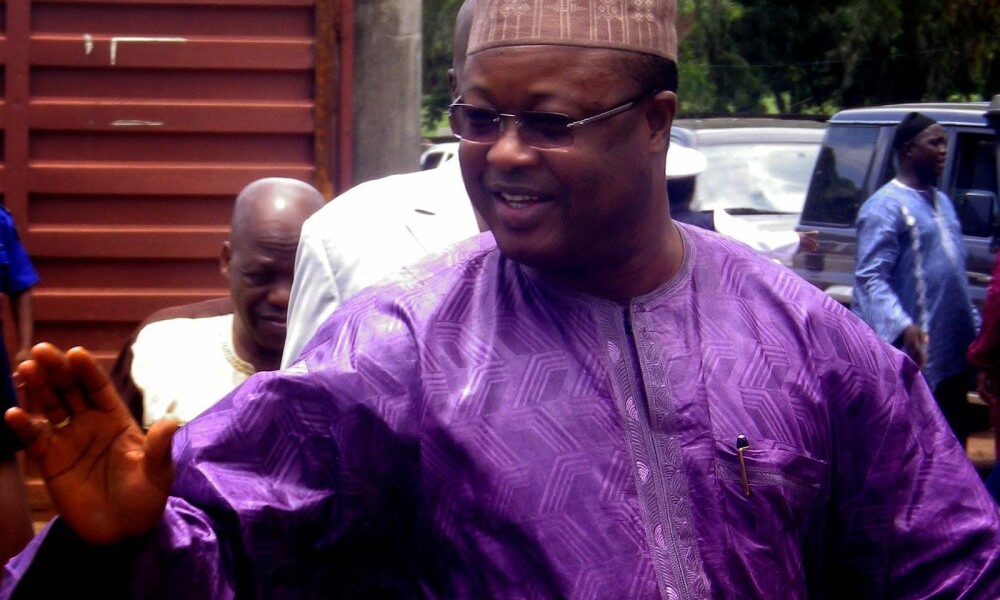 "The Road to Damascus" – How Vice President Sam-Sumana Was Shown The Red Card
The plot to remove Alhaji Chief Samuel Sam Sumana from office as the elected Vice President of Sierra Leone was hatched long before the 2012 elections were held. His reappointment as running mate, in 2012, had everything to do with vote winning and nothing to do with trying to help the suffering people of Kono.
VP Sam Sumana did not join the APC. He was born, bred and buttered in the Party. His late father, Chief Sam Sumana of Yomandu, in the Kono district was a well-known supporter and one of the many financiers of the APC under Siaka Stevens. He was a very good friend of Stevens.
By the time the young Sam Sumana was born, his father was in prison in Koidu Town. He was arrested and locked up by the SLPP led government for his open support for the APC Party in Kono. The rest as they say is history.
Investigating Committee
After the APC Party's five year mandate in power was extended in November 2012, Sam Sumana retained his position as Vice President. He was in office but not in authority.
This is part of what VP Sam Sumana told a special committee set up in 2014 primarily to hound him out of the Party and eventually out of office. "I remember that the last time I received a call from my boss was in 2012…I am completely excluded from major functions…I am not attending any meeting of international visitors; Ministers don't attend to my calls neither meetings… No job schedule…This is too much for me".
The conspirators were carefully chosen from Kono (the birth place of VP Sam Sumana). They were the ones who brought down their own brother. In the course of doing that, they have destroyed the chance of the Kono People from having a potential APC flag bearer and, perhaps, Head of State in 2018.
Balogun Logus Koroma, Diana Konomanyi, Karamoh Kabba and Francis Penepani Gbondo will forever be remembered as the enemies of progress in Kono District.
Sam Sumana's Expulsion And Sacking
After the committee had concluded the assignment given to them by the leadership of the party's NAC, the Honourable Vice President was expelled from the ruling party.
Even before he could officially contest his expulsion from the party, he was again sacked as Vice President of the Republic of Sierra Leone in March 2015.
As a law-abiding citizen, VP Sumana went to the Supreme Court to challenge his "illegal and unconstitutional" dismissal from office. The Supreme Court listened to arguments from both sides (the Plaintiff lawyers and the Defendants' legal team).
On Wednesday 9th September, six months after the Hon. VP was sacked, all the five Supreme Court Judges unanimously agreed that, President Koroma had authority under the current 1991 Constitution to sack his Vice President even though they were both jointly reelected by the electorate in November 2012.
Supreme Court Ruling
The ruling delivered by Justice Valecious Thomas and his four other colleagues has undermined all the achievements we have made as a nation state since 1996, when the country returned to Multi Party democracy. Some of us fear that, these five Supreme Court Judges have created a room for dictatorship to thrive in our beloved country. They have undermined democracy, by delivering a totally flawed interpretation of the Constitution of Sierra Leone.
The framers of the 1991 Constitution did not leave Sections (40) and (41) of the national Constitution hanging. They made them very explicit. They wanted to avoid a situation where the President can assume powers that they do not have.
Now, these Judges have unanimously agreed that, the President does not need any Parliamentary approval to dismiss the Chief Justice, the National Electoral Commissioner and even an elected Member of Parliament. That is what Supreme Executive Authority now means. Plain and simple!
TRC Report
I am glad that, Andrew Keili, in his widely read column; "Ponder My Thoughts" quoted the section of the TRC Report which deals with some of the causes of the eleven year civil war in Sierra Leone.
"The Judiciary was subordinated to the Executive, Parliament did little more than 'rubber-stamp…non state actors that ought to ensure accountability-like media houses or civil society groups-were thoroughly co-opted and lack of courage on the part of Lawyers and Judges over the years paved the way for the desecration of the Constitution, the perpetuation of injustice and the pillaging of the country's wealth". This is a direct quote from the TRC Report.
The Road To Damascus
When President Olusegun Obasanjo realised that, he did not have the constitutional authority to remove his Vice President, Atiku Abubakarr from office, he decided to retire with him in 2010. Atiku was expelled from the PDP but was never sacked as Vice President of the Federal Republic of Nigeria.
Although Atiku did not lead the PDP, he has become a major power broker in Nigeria. He is now one of the movers and shakers in the new government of President Muhamadu Buhari.
In future, we must be careful the way we handle issues that bother on national security.
The unconstitutional removal from office of a sitting Vice President can easily lead to a civil war in some countries. Look at what is happening now in South Sudan. When the Vice President, Dr. Riek Machar was removed from office, he went to the bush and staged a violent comeback.
We as a young democracy must avoid doing anything that will take us back to civil conflict. About fifty thousand people died in Sierra Leone between 1991 and 2002 just because some people felt marginalised by the state machinery, and they went to the bush to make their grievances felt.
People in authority have to be careful the way they treat their citizens. Afterall, they will one day leave office and want to retire peacefully in their country.
Look at what happened to Charles Taylor, Laurent Gbagbo, Saddam Hussein and Muhamar Ghadafi! Look at what is happening to Hissene Habre of Chad! Nothing last forever!
We should not allow few people (just because of selfish reasons) to plunge this country into another round of civil conflict.
We don't want to go back to civil war in Sierra Leone. Many prominent people who sacrificed the security of the state of Sierra Leone for their personal aggrandizement are today burning in unmarked graves at Rokupa, in the far East of Freetown.
A former US President (I can't remember the name now) once said, "I live in a house owned by all the American people and that I have been given their trust". I hope President Koroma is reading this piece!
Justice Valecious Thomas and his four other colleagues on the Supreme Court bench will now be judged by their conscience. Afterall, they are also Sierra Leoneans!
If you have tears, prepare to shed them now! We are heading for Damascus.
Thank you!