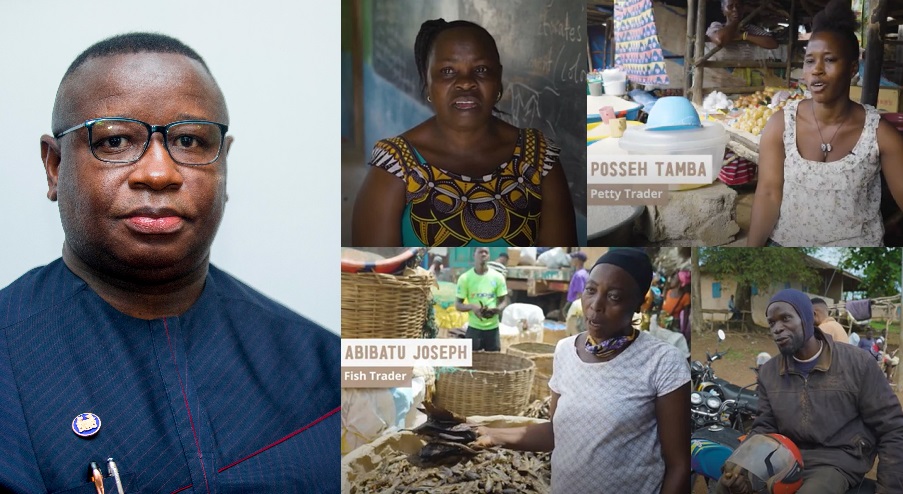 "We Are Suffering" – Sierra Leoneans Lament as High Prices of Food Escalates Hunger
Sierra Leoneans from various sectors of life are continuously lamenting that they are suffering and this is due to the continuous escalation of food prices in the country.
A video obtained from the World Food Programs (WFP), shows people from various sectors of life complaining about how badly they and their families are suffering due to the prices of food in the country.
"When our children cry, we the women have to console them. I often return home very tired, unable to eat, I will give my portion of food to the children. I don't eat, I will give them the leftover for breakfast the next day. I am suffering,", an Elderly Woman said.
The statement identifies with the struggles that most women face daily in order to be able to provide for their children.
Since 2019 rice cost has risen by 38 percent and 36 percent for other food items like cassava.
Posseh Tamba, a petty trader said they used to sell rice five thousand leones (Le5,000/$5cent) for 3 cups before but now the rice is being sold for two thousand eones (le2,000/$2cent) for a cup.
"Not everyone can afford the le 2,000 to buy rice," she said.
She also added that the food situation with her family was the same as any struggling family as the cost of living has made them reduce the food they consume.
"Last year (2020) my children and I managed with 5 cups of rice, but this year, we are coping with 3 cups because of the cost of living", she said.
Mariama  Konneh, a housewife said she has to share food with another family because they did the same for her when things were hard for her family.
Abibatu Joseph a fish trader said the fish that cost le20,000 last year was not the same amount this year and this she said was due to the Corona Virus.
As a result of the continuous rise in prices and with COVID-19 in the country, several sectors are complaining due to the increase in prices and the stagnation of salaries.
A teacher Martina Haa Tommy said since last year April their salaries have not been increased and as a parent, she is finding it very difficult to feed her family and teach well.
"When you are in the classroom and your child approach you to say they are hungry, that will traumatize you, and you will not able to teach", she said.
According to the 2021 report done by the World Food Program, 4.7 million people in the country face extreme hunger.
Unfortunately, only 2 percent of farmers in Sierra Leone can produce enough food that will last for the whole year to feed their families.
Bockarie Thomas Musa, a local farmer said he can only practice subsistence farming due to lack of farm machineries, and at the end of the day, there won't be enough food to last his family the whole year.
"I only produce a very small amount of food for my family, so I get a very small amount of yield," he said.
Musa said he and other farmers do subsistence farming and they are not doing mechanized farming and as a result, the food will finish before the year runs out.
As a fertile country, Sierra Leone is expected to be able to feed its people but the farmers that grow the crop sadly can not even feed up more than 2 perfect of its people, and the cost of living continually rises.
However, food commodities are not the only thing being affected by the price increase.
The fuel price increase affects market prices while the inflation of currency decreases the purchasing power of individuals.
A commercial bike rider, Valicious Katta said with the rise in fuel prices from le 7,000 to le8,500 and them adjusting their prices due to the rise has made it very difficult for them to get passengers.
Malnutrition is also have said to be on the increase and all this could be attributed to the shortage of food in some family.