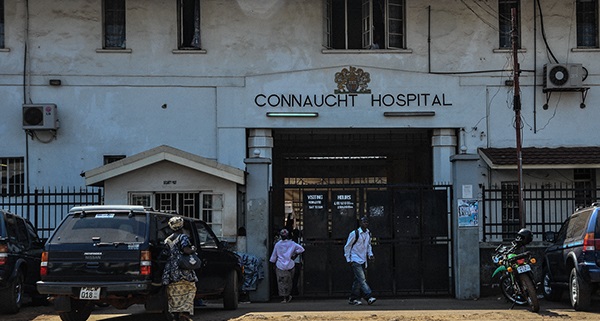 Tears And Bloodshed in Freetown as 9 People Die Mysteriously at Connaught Hospital
According to reports reaching The Times SL, last Thursday, at least nine (9) patients have mysteriously died in one go at the Connaught Teaching Hospital's Observation Ward (Ward 4), due to what has been described as grave administrative blunders on the part of the hospital management.
Sources who spoke to The Times SL said 9 patients died as a result of power outage that has continued to rock that facility and the capital quite recently. It was disclosed by the administration that though they had a stand by generator, there was lack of funds to buy fuel. Our investigation further revealed that there has been an increase in the death rate at the hospital due to poor management.
The failure of the hospital management to provide adequate fuel for the standby generator, the lack of medical equipment and drugs are all reasons for the current state of affairs at the hospital.
While the lack of electricity supply remains an impediment to operations, there seem to be a general absence of basic hospital equipment. What is alarming is the fact that whilst people are dying at the wards, those at the Incentive Care Unit (ICU), where the critical cases are managed, where the use of oxygen is necessary, the frequent power outage adversely affects them and patients in that facility are more prone to die than those in the wards.
As things stands, situation at the hospital is nothing to write home about as there appears to be no life-saving equipment, drugs and money in the coffers of the hospital to buy fuel and other much-needed care services.
In another instance, a doctor at the Connaught Hospital who was involved in an accident, while rushing to come see his patients, died as a result of lack of oxygen and electricity supply at the hospital. When he was brought in, investigation reveals, there was no oxygen at the time to help save the doctor's life.
Judging from what is unfolding at the Connaught Hospital, it is clear that most of the deaths occurring there are as a result of poor management.
Speaking to this writer via phone, the Acting Manager of Mortuary Service, Dr. Amin Sesay, confirmed the death of the nine patients but said their death was as a result of the terrible conditions they were in before they were brought to the hospital. He also confirmed the lack of fuel in the hospital's standby generator, but maintained that it was a normal administrative lapse, which may have been caused by absence of some key staff among other factors.
On his part, the Chief Medical Officer, in response to our enquiries, said that he could not deny or confirm the allegations of the deaths, but maintained that they were also investigating the issue.