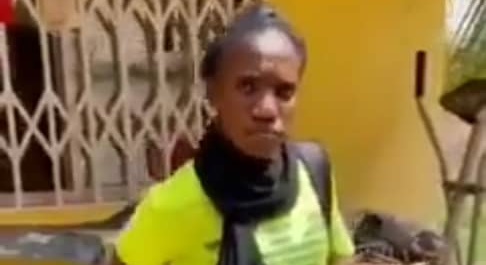 Alleged Thief Arrested And Disgraced After She Was Caught Sneaking Into a Compound in Freetown
A strange woman, claiming to be an employee of BRAC has been caught sneaking into a compound in Hastings, the eastern part of freetown, after she had jumped over the fence at the back of the compound. 
According to the landlady, Aminata Bangura, the strange woman when asked why she was in their compound, told them that she is working for BRAC and that she was looking for some people whom had run away with her money. 
But when they ask her to produce her identification card to prove her claim, she could not provide one. The Landlady added that, they also asked the strange woman where she came from and she told them that she is from the western part of Freetown but refused to tell them her exact location. 
They immediately suspected that she could be a thief so, she was then taken to the police station, according to the video.  Police searched her and found with her four different phones, iron, bunch of keys from which one of the keys was identified as a master key by a man in the police station. 
See video below: