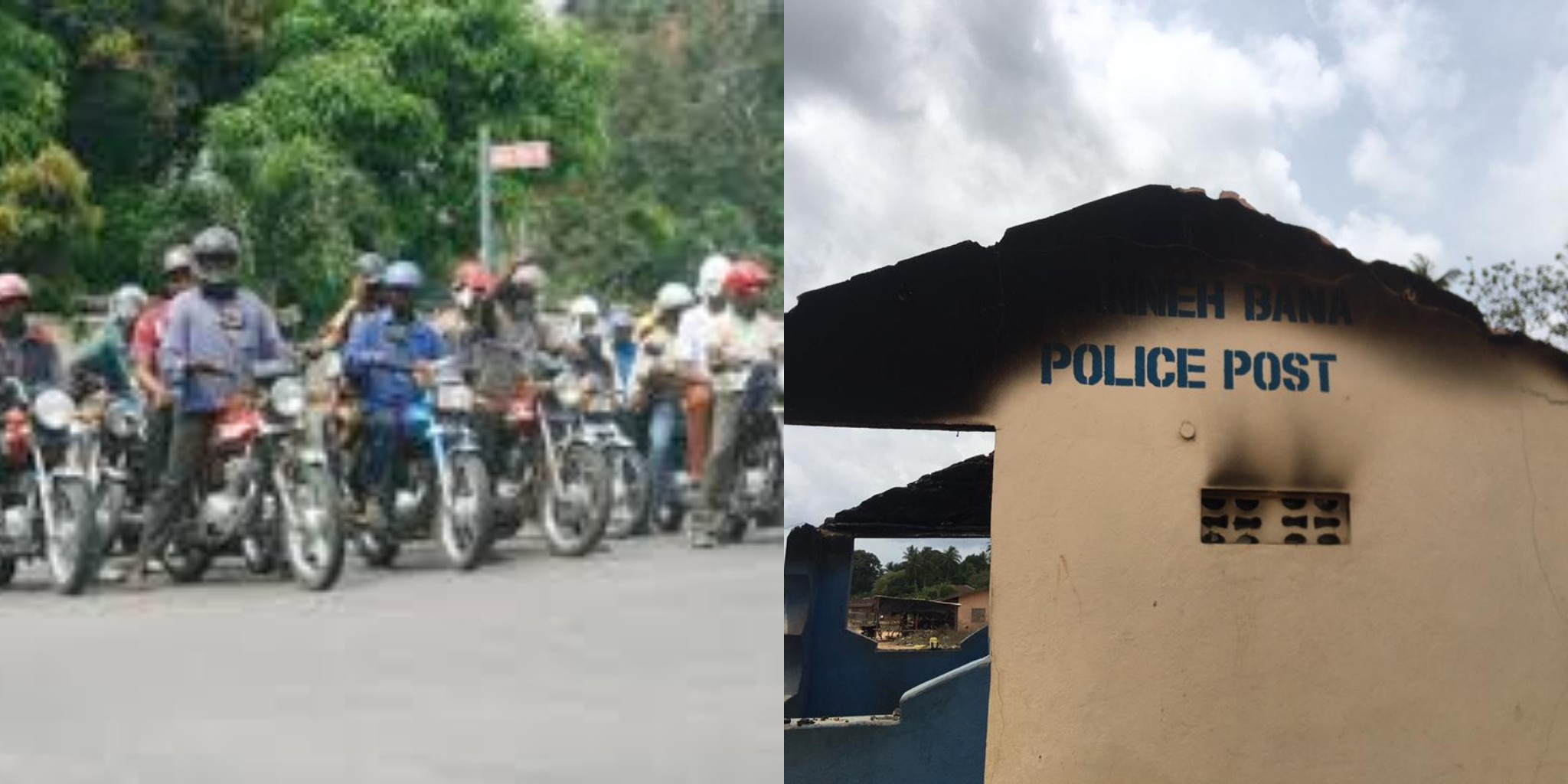 Sierra Leone Bike Riders Jubilate as Police Check Point Catches Fire in Port Loko
Bike riders in the Port Loko Districts were in their boisterous celebratory mood after a great inferno engulfed Gbanneh Bana check Point in the early morning hours of Sunday 15th April 2022 which left properties worth thousands of Leone's burnt down.
This is according to report by Kadiatu Hayles for AIM Network News.
In an interview with one of the bike riders at Ganneh Bana, Santigie kamara told AIM Network News that the cause of the fire is not known.
He added that he saw the burnt building on Monday the 16th while carrying out his work as a rider.
He continued that they as bike riders are happy that the check point is no more because they were facing a lot of problems with the security personnel at the checkpoint whether a bike has proper documentation or not a bike has to pay Le 2,000 daily for bucking.
Pa Adekalie Conteh N'soila is the town chief of Gbanneh Bana, he told AIM Network News that the cause of the fire is unknown. He noted that his head man told him about the incident in the morning hours of Sunday that the check point is on fire. He added that he later went there to see and made some calls to the appropriate authorities.
He explained that although there had been complaints by bike riders on issues of licensing or registration, the checkpoints was important because it was serving as a security for stolen items or goods from Guinea or the Freetown international Airport.
The Chief said sometimes smuggling goods from Guinea through Babara waters are apprehended at the Gbanneh checkpoint.
"There had been an incident of bike theft at the Freetown International Airport those bikes were discovered at the old railway in Gbanneh by the security personnel at the checkpoint", he said.
He also maintained that another importance of the checkpoint was that young women were making there livelihood through trading at the checkpoint when a vehicle stops or bikes of which the women will sell their goods to passengers.
He concluded by craving the indulgence authorities concern to come together to restructure the checkpoint. He said the new checkpoint should ensure that the traffic management is separated from the security personnel for the sake of sanity.