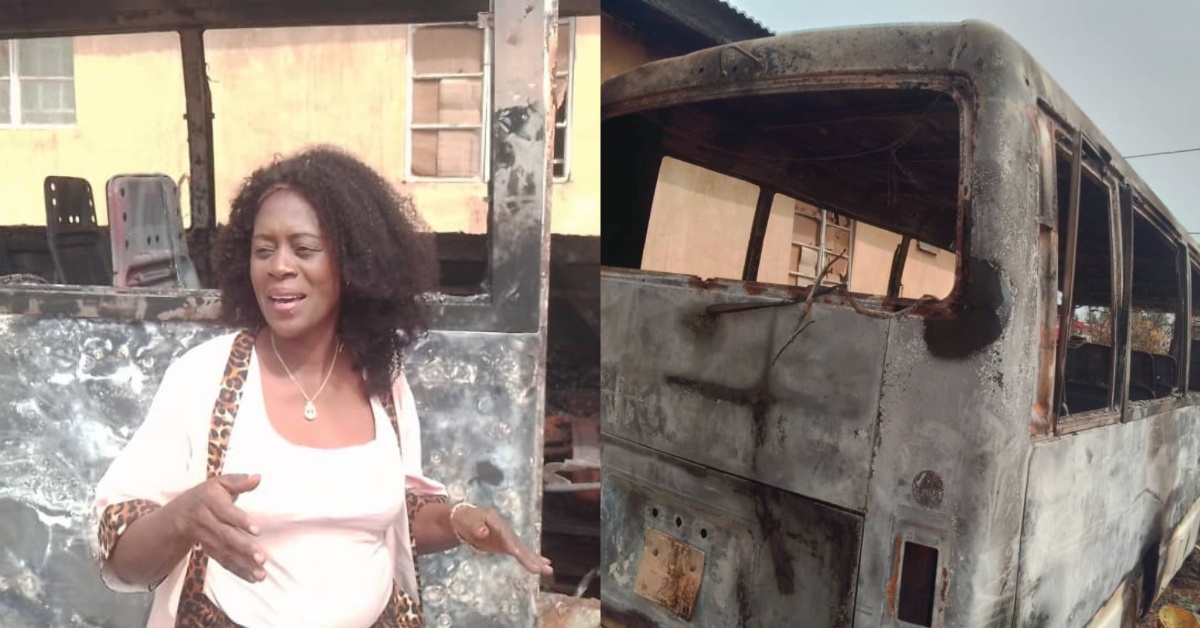 "The Burning Of My School Bus Is An Intimidation" – Neneh Turay
Founder and Director of the Amazonian Initiative Movement (AIM-SL), Madam Rugiatu Neneh Turay has described the burning of her school bus as one of the highest intimidatory and unreasonable thinking by any group of people.
Speaking to journalists at the scene, Madam Rugiatu Neneh Turay said the school bus was bought by a humanitarian and donated to AIM-SL, adding that since the donation of the bus six years ago, it has been used to transport students to and from the three miles School constructed by AIM-SL for mostly the orphaned children as a result of Ebola.
'Most of the children attending the school are Ebola orphans and victims of gender based violence.
Apart from being a school bus , according to Madam Rugiatu Neneh Turay, the bus is also largely used for free by the community especially religious organizations for their programs.
She maintained that her organization has been using the police station for almost six years as a safe parking place for the bus adding the suspects she identified had initially sent an audio threatening her because she is supporting her husband's political aspiration.
"This school bus burnt by hooligans was also used by the people in and out of Port Loko District to attend marriages, religious gatherings and other activities free of cost. She noted that not only the poor orphans or students have been deprived but all of us as a nation because some of the people in Kailahun had one point in time asked for this bus and I gave it to them'," Madam Neneh Turay said.
What is more heartrendering, Madam Rugiatu Neneh Turay explained is that the people making threatening remarks against her because she supports her husband's political aspiration are said to be supporters of Dr Samura Kamara leading flagbearer aspirant of the APC.
"The opposition is a government in waiting. We should not be seen doing bad things among ourselves. I came to know and associate with Dr Samura Kamara when he was Minister of Foreign Affairs, that time I was Deputy Minister of Social Welfare, Gender and Children's Affairs. Dr. Samura is a decent politician who does not condone recklessness. He needs to disassociate himself such barbaric acts against poor orphan children and communities," she said.
She said the act of burning properties belonging to educational and poor orphan students is the most unreasonable behavior someone should be thinking of.
"I feel frustrated and intimated but not discouraged . Why would people even thought of destroying properties belonging to educational institutional of their children. Your children, cousins, brothers are attending my school and they used this bus for free, why targeting my property. This act has nothing to do with politics and it is not done as a show of support for Dr Samura Kamara. It is an act of terrorism," she said.
Madam Turay said Dr Samura Kamara is surrounded by people with bad track records especially those in the Port Loko District who were suspected of forging former President Koroma's signature for their selfish endeavor.
"Don't use Dr Samura Kamara's name to perpetuate violence. The pupils including their teachers are using this bus on a daily basis. Where would we get such an opportunity to hsecure another bus she asked. This is heartbreaking for us," Turay said.
Aminata Koroma a beneficiary said they were very sad when they received news that their school bus had been burnt down.
"All of us were trumatized upon receiving this sad news. We cried the whole of the night," She said.
The pupils are therefore calling on humanitarian organizations and individuals to come to their aid.