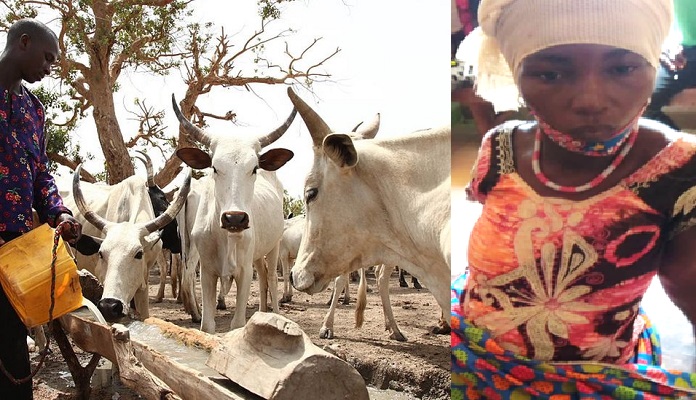 Cattle Rearers Beat Pregnant Woman to Coma in Makeni
Hawa Turay, a pregnant woman in the Northern city of Makeni, Sierra Leone is currently battling for her life following an attack that has left her in a more critical state by two cattle-rearers.
The Gleaner reports that Hawa Turay was at her farm in Makrimu Village, close to Batkanu, when the cattle rearers came with their cattle. After some time, the cattle tried to enter her farm to eat up the plants but she drove them away. Upon driving the cattle, the cattle-rearers felt offended and warned her against it.
Hawa said she ignored them and continue to drive the animals to protect her crops. She said suddenly one of the cattle rearers ordered the other one to beat her with the cattle tail.
"He advanced towards me and started hitting me with the tail. I began to run and at the same time shouting for help until I fell on my belly," she explained.
Hawa said her husband later came to the scene and called for help because her condition was critical. With the help of a good Samaritan, her husband rushed her to the nearby hospital but she was quickly referred to the Makeni Government Hospital because of the severity of her condition.
The Sierra Leone Police investigator in Makeni, Gibrilla Koroma confirmed the incident and said they have obtained a statement from the victim and that a Police medical report was issued to her for further medical attention. Koroma said they intended to invite the alleged perpetrators and obtain a statement from the witness.
Hawa's husband, Alimany Conteh, said he refused to take the law into his hand that is why they reported the matter to the Mena Police Station in Makeni. He alleged that the perpetrators carried two cutlasses while beating her wife.
Alimany said he was in the bush when he had his wife shouting from afar.
"When I came to the scene I first took her to the Mabamba hospital which was very close to us, they referred us to the Makeni Government hospital," he recalled.