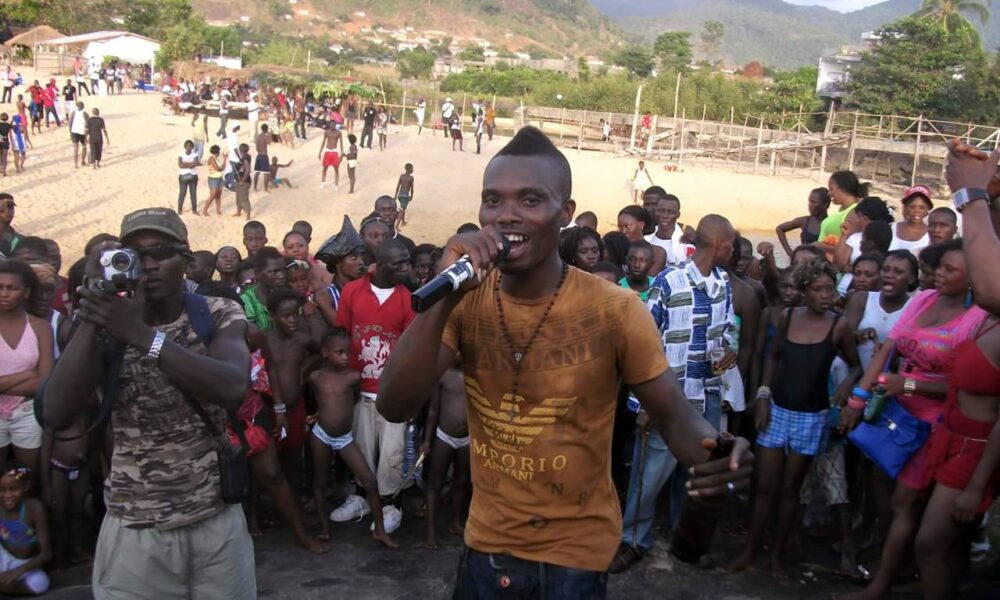 Court Announces Judgement Day For DJ Clef's Murder Case
Justice Alusine Sesay of the Freetown High Court has set 8th September 2016 as Judgment day for Baimba Moi Foray alias LAC, Foday Amara Kamara alias G-Fag and Avril Oreh Renner for the alleged murder of David Sydney Buckle Jnr alias DJ Clef in 2015.
Justice Sesay made this pronouncement after listening to addresses and mitigation pleas from both defense Counsels representing Foday Amara Kamara and Avril Oreh Renneh whom were charged to Court on allegations of conspiring to murder DJ Cleff during a party organized by the 3rd accused Oreh at the premises of LAC in Aberdeen, Freetown.
Prosecution's case against LAC, G-Fag and Oreh was based on circumstantial evidences, which according to the Director of Public Prosecution (DPP) Sulaiman Bah directly linked the accused to the murder of DJ Cleff.
The Prosecution in their onus to prove their case produced 17 witnesses and 26 exhibits in Court and among the exhibits it was alleged that they are properties missing from the premises of LAC after the party.
However the defense tried to contradict the facts of Prosecution and informed the court they were mere stories.
On Friday defense Counsel Mustapha Pius Sesay and Hindolo M Gevao addressed the Court on behalf of 2nd and 3rd accused and in their address stated that the accused cannot be found guilty based on circumstantial evidences.
According to Pius Sesay his client G-Fag was an employee of LAC and when he learned about the arrest of his boss, went to Aberdeen police station to enquire and upon his arrival he heard the youths saying that they will kill any acquaintances of LAC, "he had to run away in fear of his life."
As he was running away the Counsel added that Foday Amara lost his sim cards which prosecution alleged was a deliberate attempt by the accused to hide, but after a month he surrendered himself to Police in Koidu, Kono District.
He further argued that none of the circumstantial exhibits implicate his client therefore he should be set free as he is innocent of the crime "being an associate of a person does mean you are guilty of conspiracy to commit a crime", defining conspiracy as an agreement between two or more people to commit an unlawful act.
Lawyer Sesay also noted that the call log presented by prosecution was not able to ascertain the last person to speak to the deceased before his death, which is fundamental in law and essential to help police in their investigations.
"No nexus was formed to link the death of DJ Cleff to the 2nd accused as there was no motive proved by prosecution and also the 2nd accused had never known the deceased before" Pius submitted.
H.M. Gevao on behalf of Oreh submitted that the only crime she committed was to organize a party during an emergency period "she must have learnt her lessons" but that is not enough evidence to convict her of murder.
Gevao said Oreh had known LAC for a short while before the incidents and also argued that the exhibits in court does not incriminate her of murder because none has been alleged to belong to her.
He maintained that the behavior of the 3rd accused depicts that she was innocent of the crime because she helped the parents of the deceased to investigate when he went missing after her party. He pleaded with the Judge and Jurors to look into the evidences and exhibits in Court before making a decision and encouraged them to discharge judgment with a clear conscience.
On that note Justice A Sesay admonished the Jurors to be steadfast in their deliberations and advised them not to listen or be influenced by anyone to make their decision. "Justice must be dispensed with all clarity based on the evidences before the Court" noting that he will ensure Justice is administered fairly. 8th September 2016 was pronounced by Justice Sesay as the 'Day of Judgment' for LAC, G-Fag and Oreh.