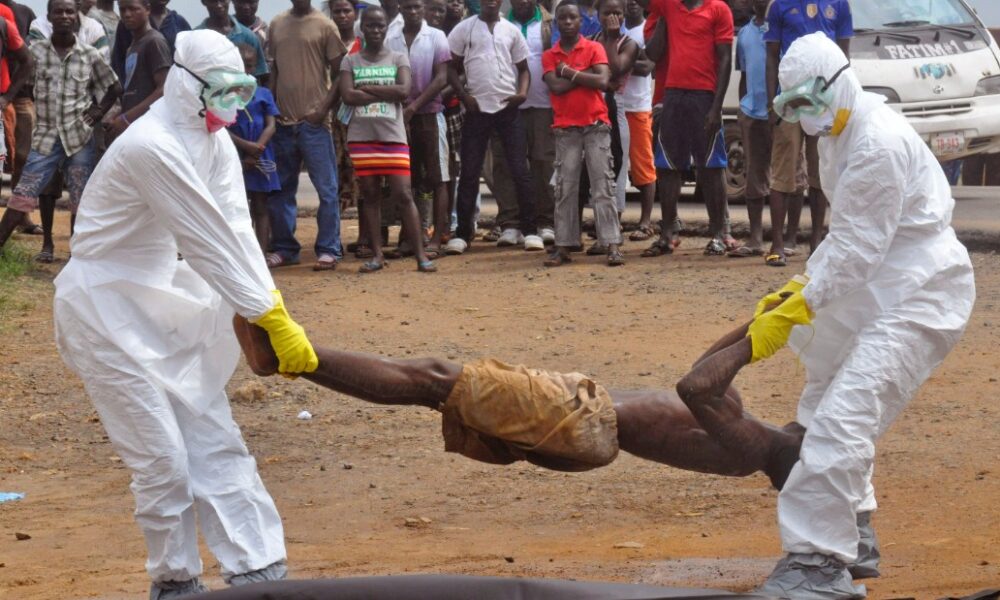 Panic in Freetown as Man With Ebola Symptoms Collapses on The Road
There was a mild drama in Freetown, Capital of Sierra Leone on Thursday October 29th when at about 7 am, one Michael Kabba was found lying and vomiting around the Aberdeen Women Center (AWC).
The event was said to have caused panic among passers-by, patients and staff of the center.
According to Santigie Tarawally, a mechanic and driver at the AWC, he saw the man vomiting and becoming restless as he could not stand, he therefore reported to the securities at the gate and they too reported to the authorities at the center.
He said they immediately cordon the area with ribbon to prevent patients from stepping on the vomits and they also chlorinated the area.
Dr. Michael Bryant, Paediatric Physician and Infection Control Screening Coordinator of AWC, said the moment they got the information from their staff they called the Command Center on the usual number 117 since the man was vomiting bright red blood and was almost unconscious.
He said the man is not a patient of the center since they work mainly on pregnant women, Under-five children under and fistula patients, but they had to put mechanism in place by isolating the patient and gave him enough space as they have to be very careful with such people, adding that even the staff manning the area wore complete PPE.
Dr Bryant said they were extra careful by putting all those measures in place to ensure the safety of their patients, staff and even the Aberdeen community where they are operating and have a good relationship.
However, Dr Bryant said from the file which the man had they saw that he has ulcer and epileptic and that few weeks ago he was discharged from the 34 Military Hospital and that he was ebola negative, but they had to isolate him because he will be seen as danger to the community as the country is counting to zero case.
Infection Control Screening Coordinator of AWC further disclosed that it took them some time to get 117 to collect the patient and conduct test so that they will know the result within 24 hours but it's very unlikely that he is negative.
Arthur Nicole, a staff at the centre assured the public that this is a known case, even by the Command center and that the community should not view this as a threat since it is a non-infection case as test from his previous admission at the 34 Military hospital has proved negative as it is a case of epileptic.
However, one wonders why it took the ebola response team about three hours before they could arrive at the scene after several calls were made by the Center.