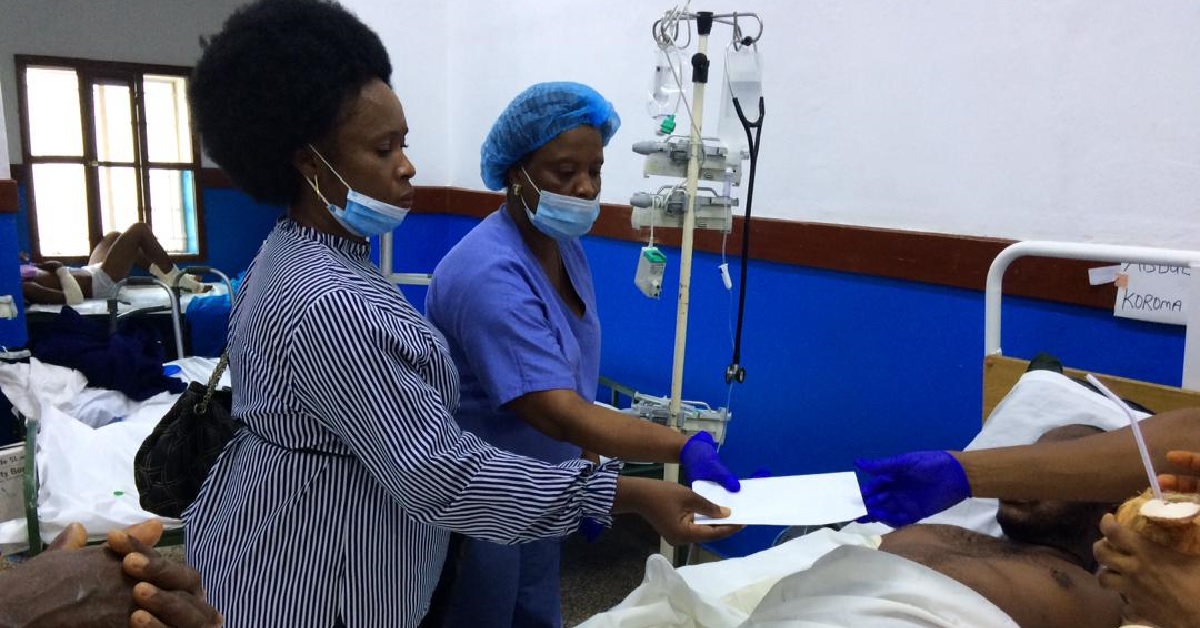 Pastor Mrs Kadiatu Baimba Supports The Wellington Fire Victims With Financial Aid
Pastor Mrs Kadiatu Baimba popularly known as Pastor K paid a courtesy visit to the affected fire victims at Connaught Hospital in Freetown where most of the victims are sustaining medical care.
Through the administration, she was able to visit all victims that are currently undergoing medical treatment.
The visit according to Pastor Mrs Kadiatu Baimba on 16 November 2021 was to give her financial support and pray together with them.
Speaking to some of the affected fire victims of the November 5th inferno disaster at Wellington, Freetown about their experiences and the donations made by the Woman of God.
They were first of all happy to have received such and the money will help them get things they want. They also express thanks and appreciation to the honourable Woman of God for such a bold move that makes them feel belong.
Pastor Mrs Kadiatu Baimba engage nurses in different wards to continue their interest in saving lives and appreciate their work so far, "saving lives is a God's job and I appreciate you all in this fight as a nation"
Speaking to Pastor Kadiatu Baimba as to why such a move and how she feels.
"I think we as Sierra Leoneans Whenever we faced with such drawbacks we shouldn't have to wait for international donors, we should work together as a family and doing so our problems will be solved as a nation. I feel relief in executing God's command and the moment you enable someone that has been afflicted with tragedy the more they feel belong"
Pastor Mrs Kadiatu Baimba continue to thank the robust step by the Government and the Doctors and Nurses.
"I would like to thank the Government of Sierra Leone, the Nurses and Doctors who have been working tirelessly to see that our brothers and sisters recover from this impediment"
Pastor Mrs Kadiatu Baimba is calling on all concerned Sierra Leoneans to come on board and render their support.
"Sierra Leone is all we have"