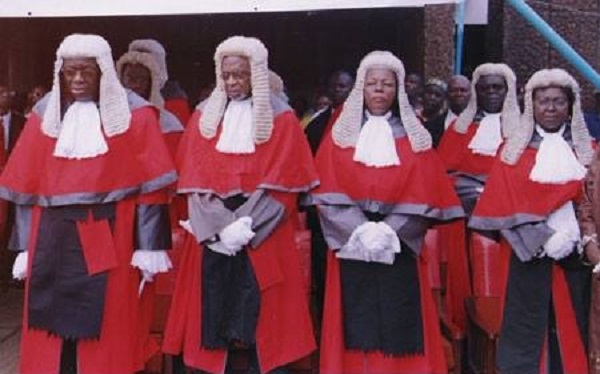 Man Writes President Koroma, Narrates How Chief Justice Stole His Land
Mr. Ibrahim Essa Kamara, a Telecommunications Engineer resident in Virginia, USA has written to President Dr. Ernest Bai Koroma, claiming that the Acting Chief Justice, Justice Valesius V. Thomas had claimed ownership of a piece of private land, which he bought since 1981.
Mr. Kamara said that, the matter was taken to court by the Acting Chief Justice and Hon. Justice Alusine Sesay ruled infavour of him (Chief Justice).
He claimed that his efforts to appeal the judgment have been frustrated because lawyers are afraid to file an appeal against their Chief Justice.
Meanwhile, Mr. Kamara has confirmed that, he intends to fight this matter with the last drop of his blood. The Police are currently investigating report that, Mr. Kamara threatened the Acting Chief Justice.
See letter below.
---
Ibrahim Esa Kamara
Alexandra, Virginia
USA
Tel: 099 719 464
11th September, 2015
His Excellency Dr. Ernest Bai Koroma
President of the Republic of Sierra Leone
State House
Freetown
Dear Sir,
INTRODUCTION
I am Ibrahim Esa Kamara from Alexandra Virginia, USA though currently in Freetown at No. 3 Edward Street, Off Krootown Road, to make an appointment to see you. I am a member of the All Peoples Congress (APC) in the diaspora. Before my departure to the States I was an active member of the APC in Central II Krootown Road area.
Purpose-Land Issue With Ag. Chief Justice
I have a serious land issue with the Acting Chief Justice Valesius Thomas. He is claiming ownership of a private land which I had bought since 1981, from one Abayomi Tejan Cole. My documents show that the land was duly registered at the Office of the Master and Registrar after being fully surveyed by Licensed Surveyors.
Mr. President, the Ag. Chief Justice came to claim the land in 2007. He challenged me to court and the case was heard by Justice Alusine Sesay who ruled in favour of Valesius Thomas without examining or cross examining my Surveyors and witnesses. All efforts to appeal proved futile on the grounds that the Lawyers are afraid to file an appeal against their Chief Justice. Furthermore, Mr. Thomas has been stifling my efforts to pursue this matter in court where he wields so much influence.
My Dream
Mr. President, since I bought the land in 1981, no one has ever questioned my ownership except Mr. Thomas who appeared in 2007 to claim ownership of the said land.
I will be retiring in Two years and my dream is to build a Telecommunications Institute to train fellow Sierra Leoneans as I am a Telecommunications Engineer of long standing having worked at SLET now SIERRATEL for 19 years before proceeding to the States and gaining more experience in a related field.
MY LAST HOPE
Mr. President, I remember in our Town hall meeting in the US, you appealed to us to come home to rebuild Sierra Leone. I took a bold step to go into Telecommunications investment in Sierra Leone but I was duped and had to go back to pick up the pieces again. I still want to realise my dream and you are my last hope on earth. God being my final judge as all efforts to talk to key people in our society on this issue have proved futile-ACC Commissioner, Joseph F. Kamara, Hon. Leonard Balogun Logus Koroma, Captain Allieu Pat Sowe and the Ombudsman, Justice Edmond Cowan.
Please Mr. President, I would really want to meet with you to explain things in detail to prove the veracity of my claim and to help me get what rightfully belongs to me as you are my last hope.
While anxiously waiting for a positive response, I remain your humble servant and an ardent admirer.
GOD BLESS YOU Mr. President
GOD BLESS THE APC PARTY
GOD BLESS MAMA SALONE
Best regards,
Ibrahim Esa Kamara