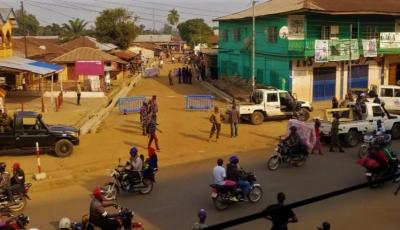 Kenema is Most Populated District in Sierra Leone – Says Latest Census Figures
Kenema is the most populated district in Sierra Leone, according to the preliminary report of the final result of the Mid-Term Census report released by Statistics Sierra Leone (Stats SL) last week.
The district has the highest percentage, a total of 10.2%, making it the most populated in the country.
Bo is closely behind Kenema with 10.0%, whilst Western Rural, Kono and Western Area Urban with 8.8%, 8.2%, and 8.1% are third, fourth and fifth respectively.
The three least populated districts are Karene, Falaba, and Koinadugu with 3.8%, 2.2%, and 2.7% respectively of the total population.
The report indicated that the country's just-concluded first digital census proves that the nation's population is Seven million, five hundred and forty-eight thousand seven hundred and two (7,548,702).
Highlighting the specifics, the report shows that women still make up the majority of Sierra Leone's population at three million, eight hundred and twenty thousand, nine hundred and fifty-five (3,820,955) which is 50.6% of the total population.
Men continue to be the lesser population with a total of three million seven hundred and twenty-seven thousand, seven hundred and forty-seven (3,727,747), comprising 49.4% of the total population.
According to the report, Sierra Leone's population has increased by 6.4%, since the last census in 2015. In addition, it stated that: "The population size of Sierra Leone in 2021 has more than tripled since the first modern census that was conducted in 1963. In other words, the population of Sierra Leone has grown almost three and half times it was in 1963 (2,180,355)".
Statistics Sierra Leone in its report said the country started recording its population in 1963, then numbering two million one hundred and eighty thousand, three hundred and fifty-five (2,180,355).
After 11 years, the country conducted another census in 1974, in that headcount, the population grew to two million, seven hundred and thirty-five thousand one hundred and fifty-nine (2,735,159) and after another 11 years in 1985, the census report recorded a population of three million five hundred and fifteen thousand, eight hundred and twelve (3,515,812).
Since 1985, the nation did not conduct any census for 19 years. 2004 saw a population of four million, nine hundred and seventy-six thousand eight hundred and seventy-one (4,976,871) and in the 2015 census Sierra Leone recorded a total population of seven million and ninety-two thousand, one hundred and thirteen (7,092,113), the last census before the latest mid-term population and housing census which indicated a total of eight hundred and forty-three thousand two hundred and fifty-four (843,254) residential buildings, whilst for non-residential a total of seven thousand five hundred and three ( 7,503).