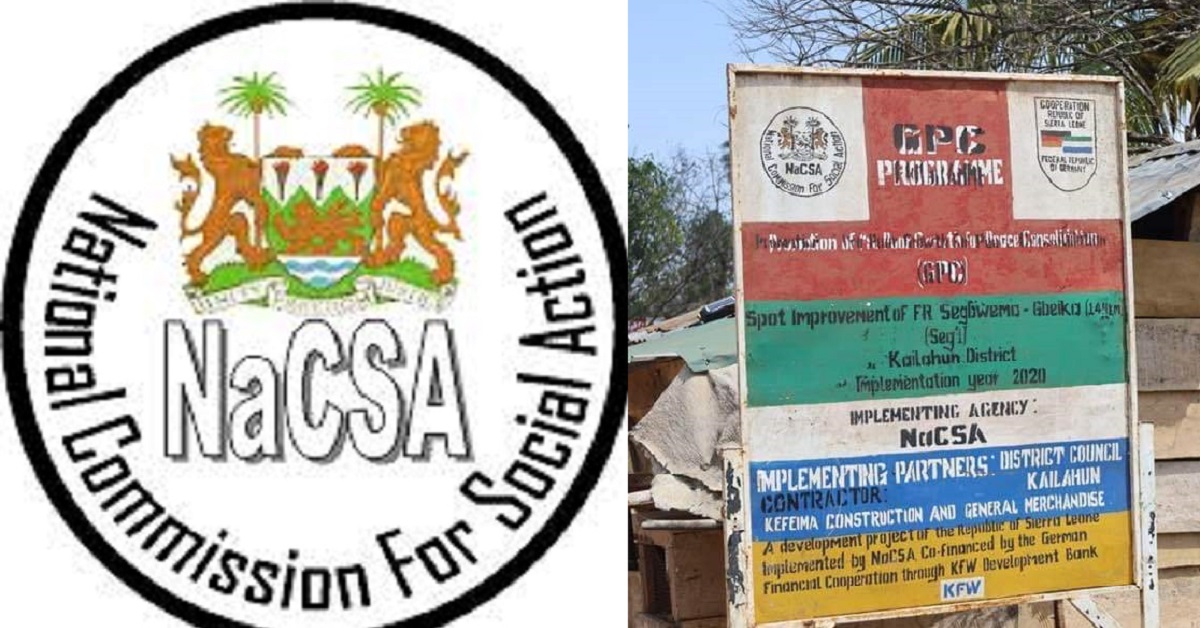 NaCSA Monitors GPC Projects Implementation in Three Districts
The National Commission for Social Action (NaCSA) has commenced monitoring of the Pro Poor Growth for Peace Consolidation (GPC) projects implementation status in Kailahun, Kono and Kambia.
The Overall objective is improving the employment and income situation especially for youth in rural communities by providing enhanced economic infrastructure (feeder roads and bridges, grain stores with ancillary facilities, cattle paddocks and water wells) along selected agricultural value chains, constructed by using labor-intensive approaches.
The Pro Poor-Growth for Peace Consolidation Project (GPC) is a Financial Cooperation Agreement between the Government of Sierra Leone (GoSL) and the Government of the Federal Republic of Germany represented by the German Development Bank (KfW).
An active team of experts from the Commission has commenced an 'on the spot' monitoring of all GPC projects in Kailahun, Kono and Kambia in order to ensure the sustainability and assess the impact of these projects,
Speaking to stakeholders on behalf of the Commissioner, Raymond Bob Katta, the Senior Director of Programmes gave a special thanks and appreciation to stakeholders for providing the enabling environment and necessary support needed to complete all projects.
''As a Commission, stakeholders are a critical part of the project we implement because we want to ensure value for money, quality and sustainability. Rehabilitation of field road from Gbeika Town to Tagbama , construction of 4NR twin box culvert from Gbeika town to Tagbama and the construction of cocoa and coffee processing centre and its ancillary facilities at Gbeika  is only possible through a solid inclusion mechanism. It must be on record that we are working tireless to build the human capital of this country…'' he stated.
From the point of the beneficiaries, Edmond Mansaray being a commercial bike rider with more than seven years riding experience across Segbwema town, Njaluahun Chiefdom thanks the government and donor partners for the rehabilitation of these roads which has eased economic activities as well as linking different communities together to generate income that will help the people of those communities.
'These constructions have changed even the way and speed of doing business. Personally, my earning has increased from seventy Leones to two hundred Leones daily and I know it is getting better,'' he maintained.
Several road users gave similar testimonies on the importance of the construction and how it has greatly ease prevailing stress on their side.