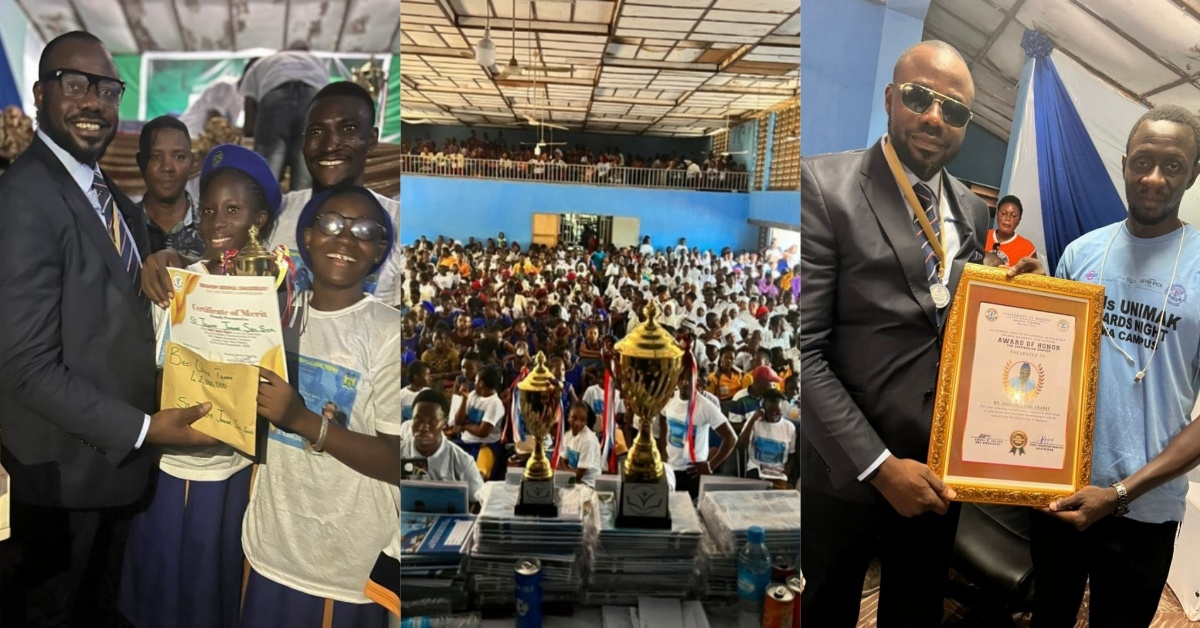 NPPA Boss Speaks Tough in Makeni
"All those who are saying you can't have a job in Sierra Leone because you're not SLPP are not serving their conscience."
These were the words of Chief Ibrahim Brima Swarray in Makeni at the Ernest Bai Koroma University of Science and Technology, Makeni on 26th November 2022.
The Chief Executive of the National Public Procurement Authority (NPPA), Chief Ibrahim Brima Swarray has during the Ibrahim Brima Swarray's Foundation's first Inter-secondary School Quiz and Debate Competition in the Northern Province at EBK University, Makeni campus registered his dissatisfaction about the way some politicians have been and are still badly brainwashing the children of this country, more especially in Makeni that they can't get a job even if they are educated as long as they are from Makeni and are not members of the Sierra Leone People's Party.
Chief Swarray made this statement based on his observations of the Children's arguments on one of the debating topics "Employment and Under-employment is entirely Responsible for Illegal Migration in Africa."
"It is not a mistake for organizing a debate in Makeni. It's not a mistake for the Government of President Julius Maada Bio to make Free Quality Education a mantra. If we want to see a better future for this country, it's deliberate that the President wants to see every child being educated. Today, I have witnessed a lot of debaters discussing requirements and political interference in the awards of jobs. It manifests why we have Free Quality Education. The discussions, I have heard clearly show that even the kids would be brainwashed that Sierra Leone is divided. And that particular message to children, and especially for kids in Makeni is not good for this country," Chief Swarray expressed.
He furthered that, "Free Quality Education is given to every kid in this country to ensure that jobs are awarded on a level playing field because nobody will get a better job if they are not carefully educated; hence the Free Quality Education by the President is to mitigate against inequality in this country."
The NPPA emphasized and pleaded with the kids of Makeni that they should not listen to anybody who says even if their educated, they wouldn't get a job in this country because of their socio-political, regional or tribal orientation.
"Let me use this opportunity to admonish my younger brothers and sisters here today, all those who are saying you can't have a job in Sierra Leone because you're from Makeni because you're a Temne, or because you're not a member of SLPP are not serving their conscience. Therefore, please don't allow them to negatively brainwash you. It is only political ineffectiveness that is making people preach tribalism in Sierra Leone. Chief emphasized and admonished the kids.
The NPPA Czar, Chief Ibrahim Brima Swarray committed that year in and year out, Makeni will continue to enjoy the Quiz and Debate Competition, and concluded that we have just one country and one people.
Chief Ibrahim Brima Swarray also admonished the children, especially the girl child to take advantage of the opportunity the Government has accorded them through the enactment of the Gender Empowerment Bill. Chief briefly educated the kids on the Bill that in the award of jobs in every sector now, a 30% quota should be reserved entirely for women. A justification that President Bio wants everybody in this country.
Speaking to the gathering, the Deputy Director of Education, Makeni District, Joseph Ishmael Kargbo suggested to teachers and other education stakeholders in the educational sector to rejuvenate or reintroduce the Literary and Debating Societies (L&DS) into the School Curriculum as they have done with the Civic Education. The reason he said was to equip our children to master public speaking skills.
D.D. Kargbo applauded the President of Sierra Leone for his continued commitment to ensuring that every child from everywhere in Sierra Leone has access to quality and affordable education.
St. Joseph (Convent) Junior Secondary School Makeni won the Best Quiz Team, and Alberta M. Kovoma bagged home the Best Quizzer's award.
Every Nation Junior Secondary School Makeni secured the Second Best Quiz Team and Abdulai Tholley won the 1st Runner-up prize.
The Dwight International Senior Secondary School clinched the Best Debate Team, and St. Joseph (Convent) Senior Secondary School won the Second Best Debate Team.
The Ibrahim Brima Swarray Foundation is committed to making sure that children of Sierra Leone have mastered the art of Literary and Debating tactics in Schools.
Credit: Media and Communications Team, Ibrahim Brima Swarray's Foundation