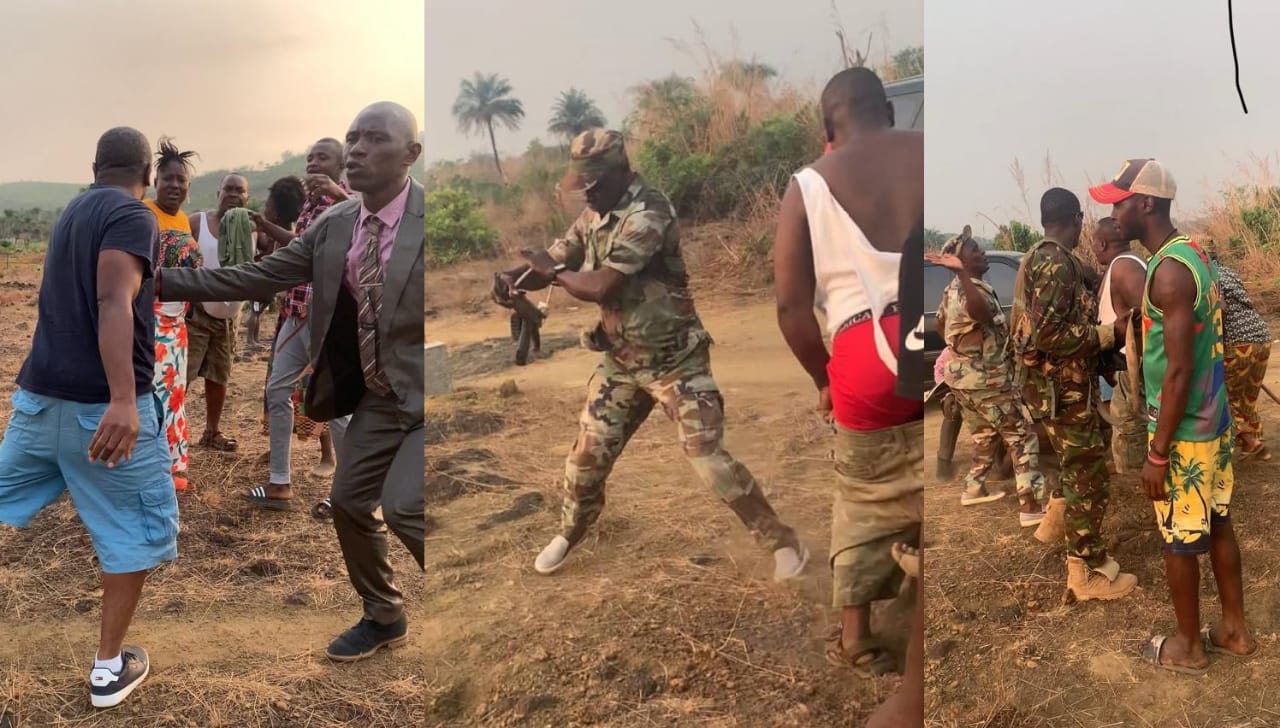 3 Military Officers Beat Civilians to Coma in Kerry Town After Orders From Above
Three military officers who have abandoned their official duties in the barracks and currently recruited by one Olu John at Kerrytown to unleash terror on peaceful civilians in the Western Area Rural District are helping the Waterloo Police in their investigations of thuggery and assault on peaceful civilians.
It must be noted that Section 165 sub section 2 of the 1991 Constitution of Sierra Leone Act No.6 states, 'The principal function of the Armed Forces shall be to guard and secure the Republic of Sierra Leone and preserve the safety and territorial integrity of the State, to participate in its development, to safeguard the people's achievements and to protect this Constitution.'
The actions of certain military officers of late have negated this provision by going around forcefully grabbing lands from peaceful civilians, maliciously beating them up and inflicting injuries on them. These officers could be easily identified as they always appeared in full military uniforms boasting of working on the instructions from above, and a typical case is the incident that occurred on the 17th April at Kerry Town where three military officers behaved in a thuggery manner and assaulted civilians at will depriving them from their lands.
According eyewitnesses, on that horrible day, one Olu John and his son Jessy were always spotted with these three military officers intimidating peaceful civilians. On several occasions, there are allegations of them using their connections with certain officials at State House to marshal their diabolic plans.
In one of their most brutal activities, it was alleged that Olu John alongside Sullay, Siaka hired the services of these military officers to beat, snatched phones and undressed members of the Alie Samu family in broad daylight.
According to investigations, on this sad day, Mr. and Mrs. Alie Samu, with their son were beaten by both Olu John and the military officers working under the leadership of Olu John.
Mr. and Mrs. Samu were travelling around the Peninsular area when they made a stop at Boama town. All of a sudden, Olu John then appeared at the scene and requested that they move their jeep from the area. As a peaceful citizen, Mr. Samu attempted to talk to Olu, but to no avail as Olu wasted no time but to attack Mr. Samu.
As if that was not enough, he (Olu) then called the Staff Sergeant and team stationed at Kerry Town, who drove in a black Jeep with Registration Number ASL 545 with other Military Officers onboard a motorbike came to the scene in a forceful manner.
As professional soldiers, they were expected to have investigated and ascertain whether their response would be in line with the military code of ethics. Unfortunately, as alleged, they (Military officers) upon the instruction of Olu John attacked the couples (Mr. and Mrs. Samu) and beats them with the waist of their guns and belts.
Realizing that Mrs. Samu and kid were videoing the brutality by these officers, they were also beaten mercilessly and their mobiles confiscated.
The family reported the matter to the Police Station at Waterloo where a medical report form was issued to them.
In a bid to get the side of Olu John, instead of answering to the question whether he ordered the military officers to beat the couples and the motive for such actions, he harshly threatened to go to the Independent Media Commission (IMC) if there be any publication of the said issue.