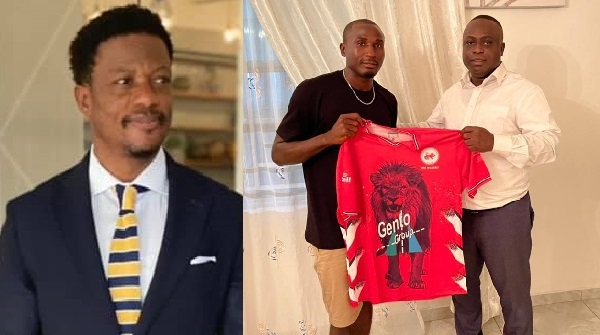 Mohamed Kallon Blasts East End Lions For Signing FC Kallon Captain, Kenewa Stevens Without Club Agreement
The CEO of FC Kallon, Mohamed Kallon, has dismissed report of East End Lions buying its club captain.
The came following the official publication on East End Lions Facebook page that East End Lions has successfully signed FC Kallon's Captain, Kenewa Stevens, for a fee of 150 Million Leones.
While reacting, Mohamed Kallon described the act as wrong and unprofessional.
"How can you sign a player without reaching an agreement with his club", Mohamed Kallon lamented stating it is disrespectful act to the highest degree.
According to the social media report, the player was pictured in a Lions Jersey, sitting on a table with two officials signing a document which was believed to be his agreement and also with a cheque in his hands.
The report further stated that Lions officially signed the FC Kallon captain for LE150 million. But officials from Kallon FC has questioned the illegibility of the transfer and the money in question which they said they never receive for the said player.
It was understood that East End Lions FC approached Kallon FC for Stevens, but they couldn't wait to strike an agreement or finalize the transfer with the Cavaliers before they announce the deal.
This is not the first time FC Kallon has suffered the sting of an illegal transfer of their players who joined other clubs without finalizing a proper deal.
The management of East End Lions FC is yet to release an official statement on the said issue.