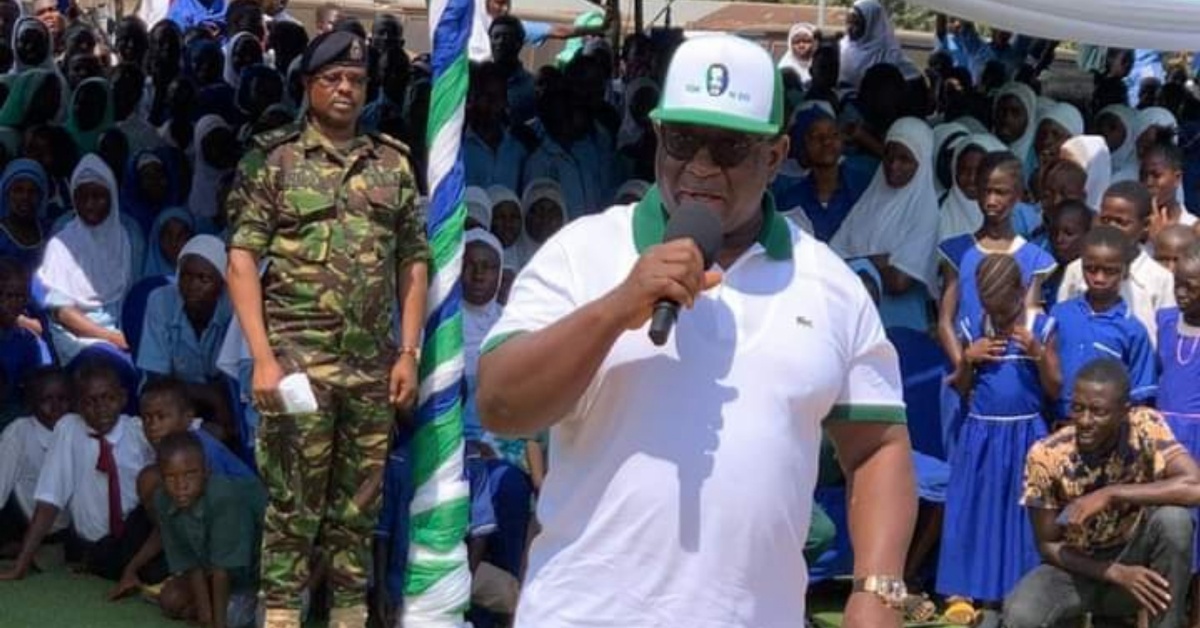 "A President Cannot Know The People's Problems Unless You Visit Them" – President Bio
Sierra Leone's President, Julius Maada Bio has told residents of Timidale Chiefdom that a president can only know his people's problems by paying regular visits to them, instead of sitting down in his office.
The president visits Bomotoke village, Timidale Chiefdom on Saturday 21st January 2023, as part of his four days tour of the Moyamba District in order to get first-hand information about their challenges and find a lasting solution to them.
This Chiefdom is said to be the smallest and most deprived in the Moyamba District, Southern Sierra Leone with mostly Mende, Temne, and Sherbro inhabitants, who are mostly farmers and fishermen.
One of the main concerns of the people was the issue of bad roads network which the president said his government will address.
"I have heard your complaints. It's mainly about the road network. I have seen and experienced it for myself. My government had identified the Moyamba Shenge Road as a priority. We have to construct it with tarmac. Once that is done, it will open up the economic potential of this chiefdom," he said.
He furthered that his government has provided electricity through the solar mini-grid for the people of Timidale Chiefdom, adding that there use to be no boreholes that supply water to the people.
"I heard that you used to climb trees to get telecoms network service to communicate through mobile phones but that has now been a thing of the past. We have ensured that telecommunications poles were erected here to avoid the risk of climbing trees to get telecoms network service. This is what a caring government does for its people," he said.
The president talked about the importance of education and the reasons why his government introduced the Free Quality Education program.
"Education is the best way to kill poverty. We are heavily investing in the education of all Sierra Leonean children. I have been paying school fees for the children not because I want them to vote for me. They have not yet reached the voting age. But because they will be the leaders of tomorrow, they should be given a very solid foundation which is education," Bio noted.
He encourages parents to send their children to school, especially the girls and not to send them to early marriage.
First Lady, Mrs. Fatima Bio, said the president has been paying school fees for all Sierra Leonean children because he wanted to secure a better future for them.
She cited the recent presidential assented Gender Equality and Women's Empowerment (GEWE) Act 2022, which emphasizes women's inclusion, representation, participation, and a more gender sensitiveness, as a relief for women, noting that women have now gotten peace because President Bio is in governance.
She urged the parents to make their daughters their best friends, adding that they should monitor where they sleep every night.
Chairman, of Moyamba District Council, Joseph B. Bogba, said even though Timidale has been the smallest and most deprived chiefdom in Moyamba District, they have made immense efforts to enhance development there.
"Before President Bio came to power, there were only two schools that were approved by the government here. In the last four years, this government has approved 10 schools. They were not having a center to take the National Primary School Examination (NPSE) here but we have established one now which has removed the economic burden on parents and the risk of girls becoming pregnant," he said.
He disclosed that President Bio's government has constructed five peripheral health units (PHUs), two brand new staff quarters, and done 21 free surgeries in Timidale Chiefdom, adding that President Bio's social safety net through the National Commission for Social Action (NaCSA) has benefited 500 poor people in Timidale Chiefdom.
He said there were cases of waterborne diseases within the chiefdom but with the provision of industrial boreholes, they have solved those cases.