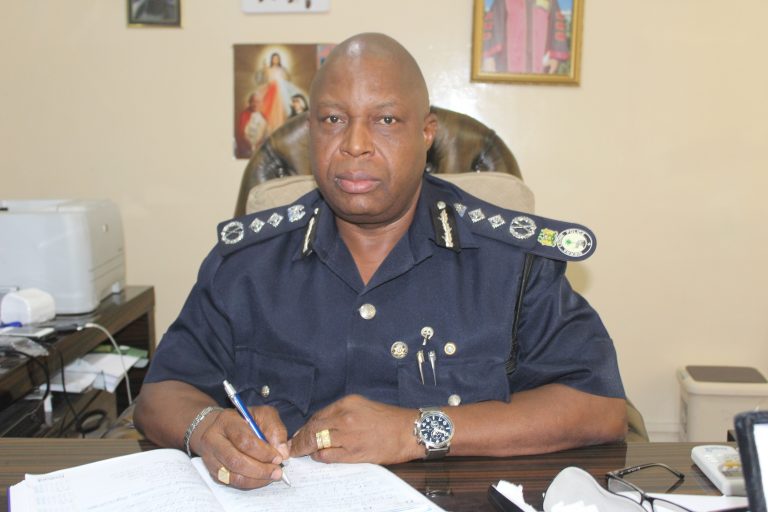 Six Sierra Leone Police Officers Arrested in Connection To Justice Biobele Robbery
Head of the Discipline and Internal Investigations Department (CDIID), Detective Assistant Superintendent Christiana Davis Cole, has told reporters that the Nigerian Judge, Justice Biobele Georgewill, was not much 'particular' about his missing laptop and hard drive, but that 'he was more concerned about his security'.
Justice Georgwill is one of the three Commissioners presiding at the Commissions of Inquiry set up by the government of Sierra Leone to investigate past government officials.
On Sunday night, thieves broke into and entered his Goderich residence and carted away his laptop, hard drive and shoes.
At a press conference yesterday at the Police Headquarters on George Street, ASP Cole said according to the evidence they have gathered so far, the thieves went through his (Biobele) room to steal his laptop, a situation that has left the judge 'jittery' about his security.
"When I visited him that day, he was not so particular about his missing laptop, he was very furious, I would say high tempered. But I was able to calm him down. He is not so much jittery about the laptop that was taken away, but he was more concerned about his security. I can understand that because going through the evidence and seeing where the thieves actually accessed his place, it could be clearly seen that they went through his room," she said.
She added that the police officers failed to protect the room window at the back and that one of the securities deployed at the residence supposed to be at the back, but was not there, which gave  leeway to the thieves to access the place.
The head of CDIID said when they visited the scene, they only met the General Duty (GD) officer, who had worked from morning and the Operational Support Divisional (OSD) officer who came in that night to augment the GD officer, while the intelligent officer and the other OSDs were not present.
She disclosed that so far six police officers were in custody helping them with investigation and that there was a possibility for more arrest to be made as the investigation progresses.
She said one Inspector, who is the evening shift commander, two OSDs, one general duty police officer, one Intelligent Integrated Service Officer and another police officer, who was on duty next door, were arrested.
"We also have the shift commander in custody because we want to know how these shifts are regularised. The morning and evening shifts are both manned by inspectors. So, we have caused to arrest the evening shift commander and we took as well four police personnel. Interestingly, I will tell you that we are going to add to this number," she said.
She noted that the other police officer that was picked up close to the residence of the judge was as a result of his 'failure' to prevent crime. She said that police officer must have been aware of what was happening next door, more so when on duty.
"As police officers, either involves or not, if you are posted at premise A and something happens right in front of you, not even adjacent, you have to check. As police, it is your duty to prevent crime to happen, so failure for that particular officer to have checked is also an offence. He should be charged for that," she said.
She added that all police officers were thought about the routine duties at the Police Training School before postings, and that if for any reason 'you are not fit for the day, you must communicate it to your commander, failing to do that is prejudicial to the group order and discipline'.
She cited other offence- neglect of duty, which has to do with the other officers that were not on duty and that they meant to understand that the absentee officers might be working with 'whosoever that is involved in the said racket, but that is subject for investigation'.
Meanwhile, Director of Crime Services at the Criminal Investigations Department (CID), Brima Jah, said they were jointly investigating the incident together with Cyber Unit, CDIID, and OSD and that they would soon get back to the public with their findings.
He pleaded with the public to help them with vital information that would aid them in their investigations.
He maintained that security has been beefed up for all the judges and that they have been reinforced with eight military personnel.
"We added two soldiers to the four securities at justice Biobele's residence and three each to the other commissioners. So, we have reinforced. We have put police patrol. But those who were on duty and those not, have been arrested," he re-echoed.
However, Head of Media and Recordist at the Commissions Secretariat Mohamed Sulaiman Massaquoi, noted that they were not affected by what he described as 'minor theft' and that it would have no negative impact on the work of the commission.
"In terms of any negative impact of the work of the commission of inquiry especially, Justice Georgewill's commission 64, I want to assure you that all materials, including electronic recordings of the proceedings since the commission commenced work in February are intact. They are electronically stored," he said.
He explained that the hard drive that the commission's secretariat sent to the judge on Friday was just copies of some recordings that he had requested for and that the originals of what was on that drive, which the thieves carted away are intact at the commissions headquarters.
In recent times, there has been series of armed robbery attacks on residents in Freetown. Before Justices Biobele's attack, two students coming from Fourah Bay College were robbed in a broad day light. Also, another person was attacked within the same vicinity of Justice Biobele and the issue goes on and on.