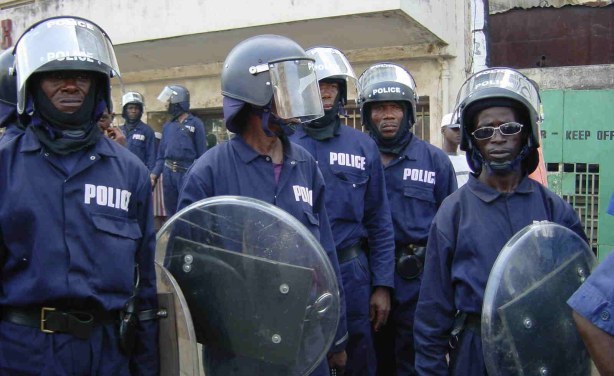 Court Orders Police Officers Who Beat Man to Death to Pay Le700Million Bail
Magistrate Komba Kamanda of the Siaka Steven street court #1, Today granted bail to seven Police officers in the sum of seven hundred million Leones in like sum plus 14 sureties and have their matter committed to the High Court for proper trial.
The Police officers who were released on bail were alleged to have unlawfully killed Francis Haffner on the 29th May 2015 at Common ground off Roberts street in Freetown.
The prosecution led by Lawyer Tommel A. T. Q Harding while leading the wife of the deceased in evidence, she informed the court that while her husband was leaving Church service to his home, he was arrested, beaten and bundle in a police vehicle and subsequently taken into detention at the Central police station.
She told the court that her husband told her how he was maltreated in detention which led to his death after he was released on bail at the police station in the sum of one hundred and fifty thousands Leones.
The officers were charged with the offence of manslaughter.
Before they were released on bail Magistrate Kamanda discharged the seventh accused Alpha Conteh and further dismissed the charge against him on the grounds that the prosecution did not adduce sufficient evidence connecting Alpha Conteh to the offence charged.
He ruled that the evidence against the remaining accused persons including:Inspector John Bai Sankoh, Mohamed Bangura, Gebril Bangura, John Karimu, Issa Sankoh, Mohamed Kamara, and Mary Nallo is overwhelming.
"I have considered very seriously the statement of offence, particulars of the crime including the statement of the accused persons plus the testimonies of the prosecution witnesses particularly the pathologist who revealed the caused of death of the deceased during his autopsy. And i am satisfied that the prosecution has produced enough evidence connecting the 7 officers to the alleged killing of Francis Haffner warranting the committal of this matter to the High Court for proper trial", he ruled.
However, during the committal proceedings, the accused officers asked whether they wish to lead evidence in the High court, answered in the affirmative and informed the court that they also wish to call witnesses to lead evidence on their behal and further signed their respective committal warrant.
Meanwhile, Magistrate Kamanda granted bail to each of the accused persons in the sum of one hundred million Leones each with two sureties each.
He ruled that each of the sureties for the accused persons must be property owner and ordered that the said property must be situated in the Western Area Urban.
Its unclear whether they were able to fulfill the bail conditions as of press time.