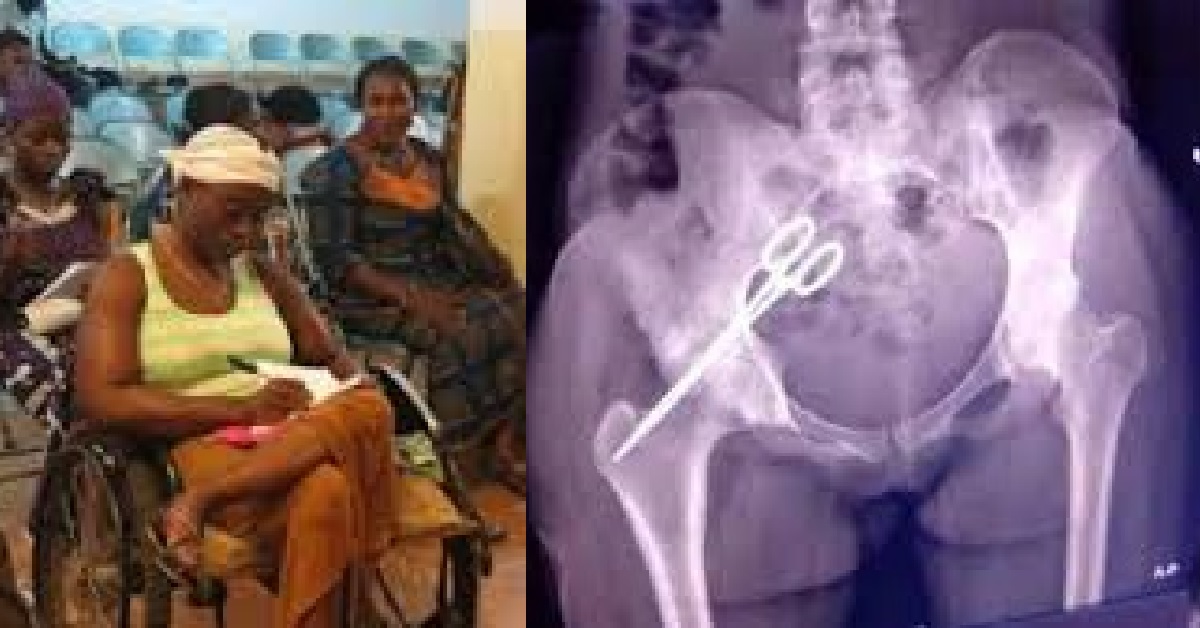 Disabled Sierra Leonean Woman With Scissors in Her Abdomen Cries For Help
Months after we broke the story about the 28-year-old partially disabled woman who had for the past seven years been partially paralyzed after doctors allegedly left forceps in her abdomen following a cesarean section, we can now authoritatively report that she is still yet to undergo a procedure to remove the instrument from her body.
Zainab Kamara only knew she had the instrument in her abdomen at the Kambia Government Hospital after a pelvic X-ray was conducted but could not withstand having the surgery there because according to her, she identified one of the doctors that conducted her original surgery in 2014.
Her attempts to have the scissors removed have failed with apparently no hospital willing to take her in.
Ms. Kamara was first admitted to the Mabasseneh hospital but we later learned from her and the head of the society for Disabled Welfare Organisation that she was then rejected by the hospital after she was taken to the theater for the surgery citing "high temperature".
A senior official at Mabasseneh Hospital told Politico then that they were concerned that there had been litigation over the botched surgery that had left the forceps inside the patient. "So, we were concerned that we might to have to testify against a colleague doctor in court".
Politico has neither seen nor heard of any evidence indicating the matter had been taken to court. Nether Zainab nor the organization campaigning on her behalf is aware of any such litigation.
The Executive Director of the Society for Disabled Welfare, Joseph Allieu Kamara told Politico that Zainab was later admitted to the Massanga hospital in Tonkolili after she was turned away by the Mabasseneh hospital where she spent about a month waiting for the surgery to be performed.
However, Kamara said they have been told to wait till October this year for the surgery to be performed when the expert doctors arrive in Sierra Leone and "this is a real worry for us because the woman continues to suffer in pain".
Kamara said: "we are constrained that we don't have the necessary resources to do her surgery. They just informed us that she will be discharged this Monday and we don't have resources to support her. We are appealing for help to deal with this serious matter".