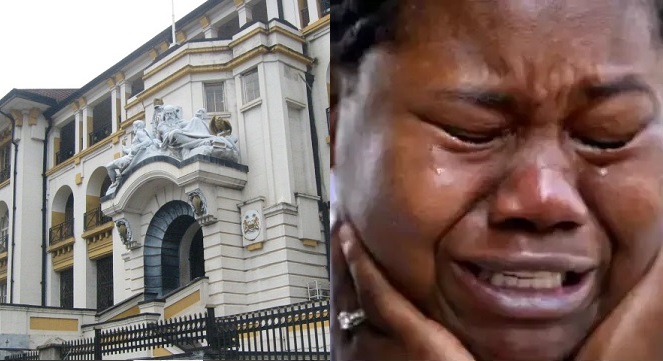 "He Threatens to Kill Me" Sexual Victim Testifies in Court
Narrating her ordeal in court, fourteen years old victim has yesterday told Justice Alhaji Momoh Jah Stevens, of the Sexual Offence Model court, that the accused, Abdul Mansaray, threatened to kill her if she tells anyone what transpired between them.
She said recognized the accused person as a friend to her uncle and she recalled the day of the alleged incident, explaining that on the 26th November,2021 she was getting prepared for school when she asked her mother for her lunch and she later referred her to the accused person whom she said were resident of the same compound but different apartments.
She went on that, she got to the apartment of the accused and informed him about what her mother told her, but the accused replied that she would not be attending school that day because he did not have money with him.
She said after some time, the accused closed the door, grabbed her, removed her uniform and stripped her pants off and inserted his penis into her vagina and had sexual intercourse with her, adding that after the intercourse, she felt pain and later fell asleep immediately after the incident.
She continued that the accused went out and upon his return, he woke her up and asked her to go home. The victim said she told no one about the incident, but upon arrival, she encountered with her aunt who inquired of her whereabouts and told her that she was back from school.
The fourteen years old further said her aunty told her that she was not truthful because she never went to school on that day and her aunty immediately called her elder brother also asked her for her whereabouts and he later took her to her friend's house whom she said they attend the same school together to find out if she was in school, but upon arrival at her Friend's house, they found out she was in school.
" When the accused heard that we are going to my friend's house, he followed us and threatened to kill me if I tell anyone what had happened between us, but I confessed that it was the accused who had sexual intercourse with me." She said.
She added that the matter was later reported at the Eastern Police Station and she was referred to an hospital for treatment and check up.
Defense Counsel A Kargbo, during his cross examination on behalf of the accused inquired of the witness duration of her relationship with the accused to which the witness replied that she had known the accused for a year now and that the accused's apartment was closer to her mom's apartment.
After his cross examination, Justice Momoh Jah Stevens remanded the accused to the Male Correctional Center and adjourned to Friday, 30th September for further hearing.
The accused was before the court on one count charge of Sexual Penetration of a child. The matter was prosecuted by State Counsel J.B Kamara