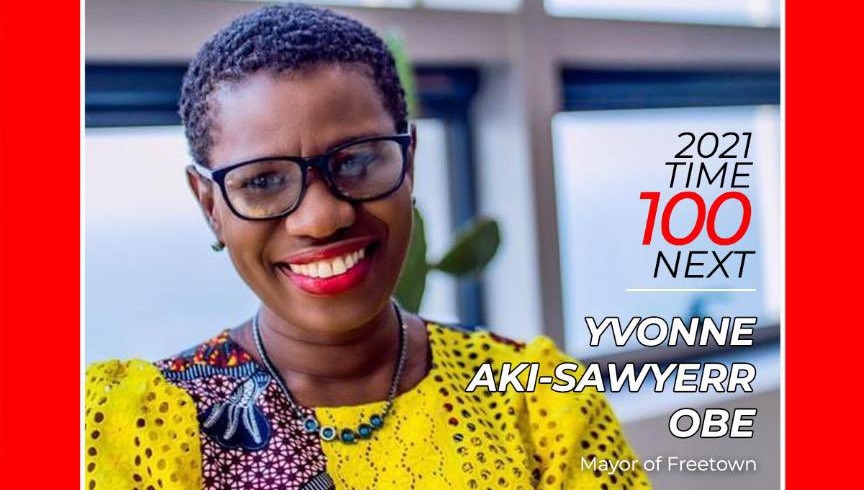 Mayor of Freetown, Yvonne Aki-Sawyerr Named in TIME's 100 Most Influential People in The World
The mayor of the Freetown – Sierra Leone's capital, Yvonne Aki-Sawyer has been named by TIME magazine as one of the 100 next most influential people in the world.
The others include the prime minister of Finland Sanna Marin, the young US poet laureate Amanda Gorman, CNN anchor Abby Phillip, newly elected Georgian Senator Jon Ossoffand Manchester United's Marcus Rashford.
Honored to be featured in the 2021 #TIME100NEXT list. Thanks @idriselba for the tribute https://t.co/7cIB1H0Q5K pic.twitter.com/e8JB53BbtC

— Yvonne Aki-Sawyerr OBE (@yakisawyerr) February 17, 2021
The citation by Idris Elba recognizes the mayor's Transform Freetown project and also cites her "energy, genuine dynamism and can-do spirit".
I got to witness Yvonne Aki-Sawyerr's energy firsthand when I met her on my first visit to Freetown, Sierra Leone's capital city, in 2019. I'm a son of the soil, and during my stay, she gave me a lot of time and a lot of information about her work and vision as the mayor of Freetown. I was taking notes because, you know, Yvonne has plans.

Yvonne is the first female mayor to lead the city in decades, elected in 2018 after more than 25 years working in the public and private sectors. In January 2019, she launched the Transform Freetown initiative, a three-year, multi-pronged plan for the city's development. Whether it's in her efforts to clean up Freetown's streets, fix its drainage systems, plant a million trees or implement property tax reform, Yvonne comes to her work as someone with a practical perspective on how to reinstate the glory of Freetown. Her young energy, genuine dynamism and can-do spirit are inspiring.