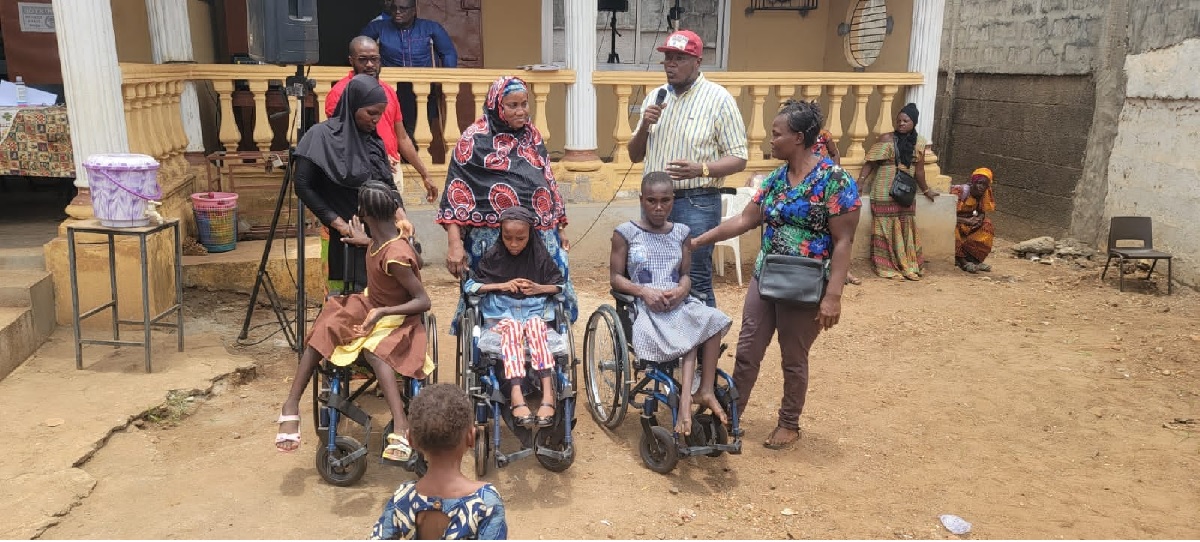 106 Disable School Children in Sierra Leone Gets Financial Support, Crutches And Wheelchairs
The Dorothy Springer Trust (DST) in collaboration with One Family People(OFP) supported by Lillian Foundation (LF) have supported106 disable children for Quarter 1 at the DST Opportunities House in Clinetown, Freetown.
The donation  is geared towards fulfilling commitment to service CYwDs every quarter under the Child Employment Program (CEP), on Tuesday 12th April 2022
DST provided toiletries; home-care support, school materials, vocational learning materials, assistive devices (crutches and wheelchairs) and transportation to 106 out of the 170 CYwDs.
The event hosted dignitaries from different institutions, parents and children. Dignitaries from Social Welfare (MoSW), One Family People(OFP), Enable the Children(ETC), National Rehabilitation Centre (NRC) and a representatives from the Counsellor and Local Chief were also in attendance.
In his opening statement, the Program Officer of the Dorothy Springer Trust (DST), Sahr Sandi Gbetuwa welcomed all the parents and CYwDs to the first quarter servicing in 2022. He said DST is supporting CYwDs in five components of the Community Based Rehabilitation (CBR) strategy under the CEP; which cover Health, Education, Social Inclusion, Livelihood and Empowerment.
A keynote speaker from OFP, Samuel Macauley welcomed the parents and also recognised the great work they are doing in taking care of these CYwDs. He said this year his organisation OFP and other partner organisations will embark on a full-time CBR approach in implementing the Child Empowerment Program ( CEP). He also noted that Medical Doctors are now available to assess all CYwDs to determine their health and wellbeing as well as to understand the specific needs of the CYwDs that should be addressed.
The CEO of The Dorothy Springer Trust, Dr Abdulai Dumbuya said the implementation of the Child Empowerment Program will focus more on CBR. In order words, it has to do with the engagement of the community people, organisations and integration of CYwDs in society. He also encouraged parents of the CYwDs not to focus on the money but rather concentrate on the impact the money given will create on the lives of CYwDs.
Representatives from the MoSW, ETC, NRC and the counselor's representative also made statements on the relevance of the servicing and encouraged the parents to take good care of the items provided and support given to the CYwDs. The event was chaired by Edward Solomon Campbell. Media houses like SLBC and Politico Newspaper were in attendance to cover the event.