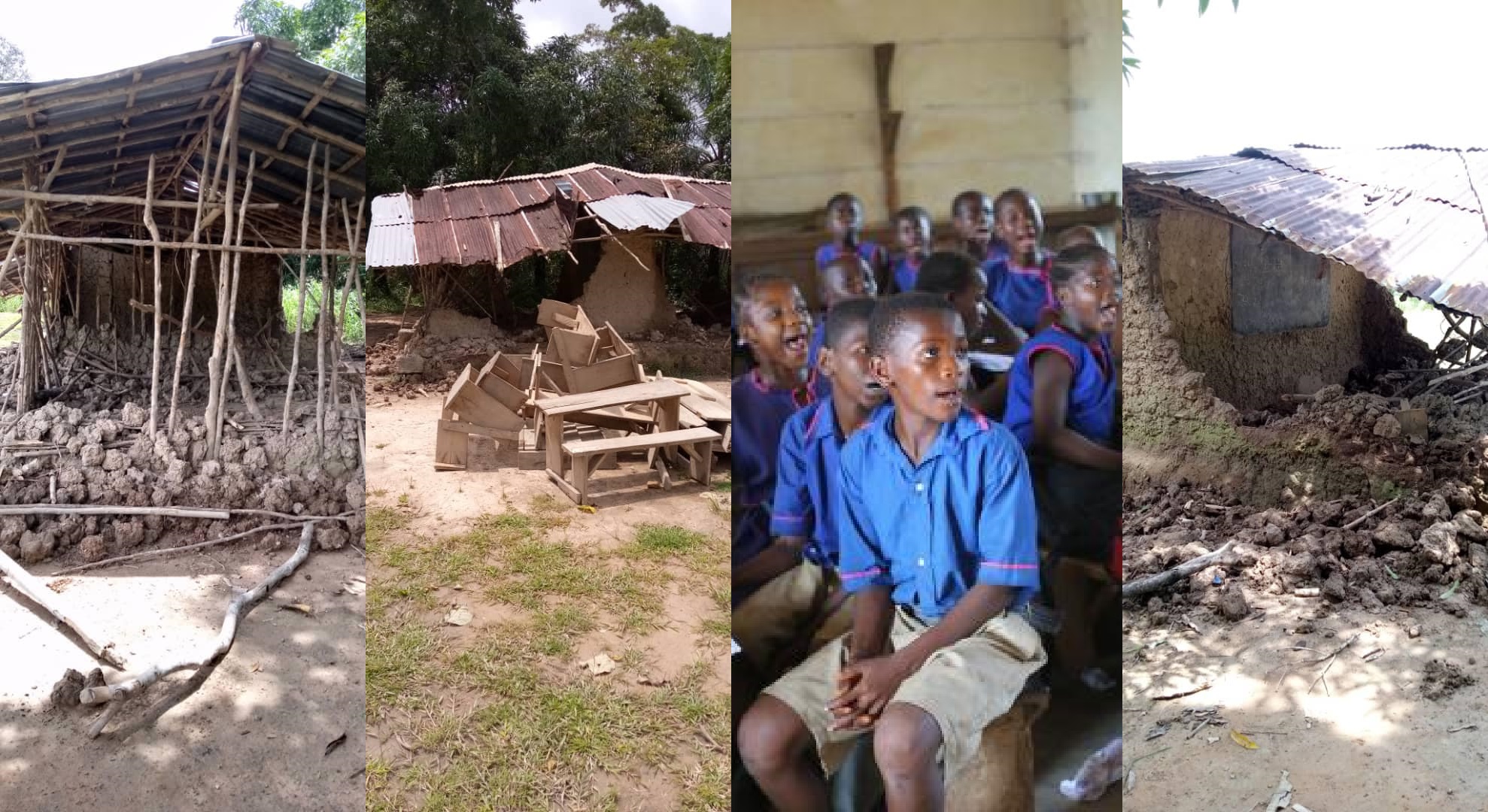 150 Sierra Leonean Primary School Students Becomes Schoolless in Tonkolili as Only School Building Collapses
More than 150 primary school-going children in a remote village in northern Sierra Leone, will likely be out of school for the entire period of first-term, after their school building collapsed weeks ago, school officials say Tuesday.
Unite Methodist Church primary school is in Yoni chiefdom, Tonkolili District – and the only school at Rogbongbang village. UMC has only one school building as well.
And officials tell TV-News24 that if efforts aren't made to rebuild the school building, it will be worse for the community – and the children.
Schools around the country have reopened for the 2021-22 academic year; and since, students at UMC haven't been able to attend classes at school – because of the collapsed building.
"The school was founded in the 70s, and the building, locally built with sticks and mud, was erected by the community," Ishmael Koroma, School Management Committee chairman, says.
Koroma said classes range from 1-6, and meanwhile, students will not be able to attend school until after the community finishes the construction of a new school building…which started several months ago.
"We have over 150 pupils in the school, and they will all miss school for the meantime, until we complete the new building," the SMC chairman says.
Koroma said they anticipated this problem especially, that the building was built more than 40 years ago. Therefore, he says, they decided to construct the building that they're presently working on.
But though yet unfinished, "we're almost in wall height," he said. Koroma said the monies used to finance the current project, was provided by the community.
Head teacher Daniel Fornah told TV-News24, the news of the collapse of the only school building, of the only school in the village, was devastating.
Therefore, he says, they need support really fast.
"We're calling on government and other NGOs to intervene," Fornah said. He said though they're constructing the new building, it might be too late for children to catch-up with other school going children around the country – when that school building is ready.
Considering, he says, the time they'll have to wait at home before the building is completed. This, Fornah says, will adversely affect students' education especially, those in classe six; who'll be taking the National Primary School Examination.
Aminata Gbla, a parent, said the collapse of the school building will negatively impact their children's future – and calls for authorities to intervene.
Gbla said they'll move their children to other towns – if the issue isn't resolved.
Several calls and a text message to the District Education Officer at the Ministry of Basic and Senior Secondary Education SL in Magburaka, weren't responded to. Likewise, Tonkolili District Council was also not available for comment.