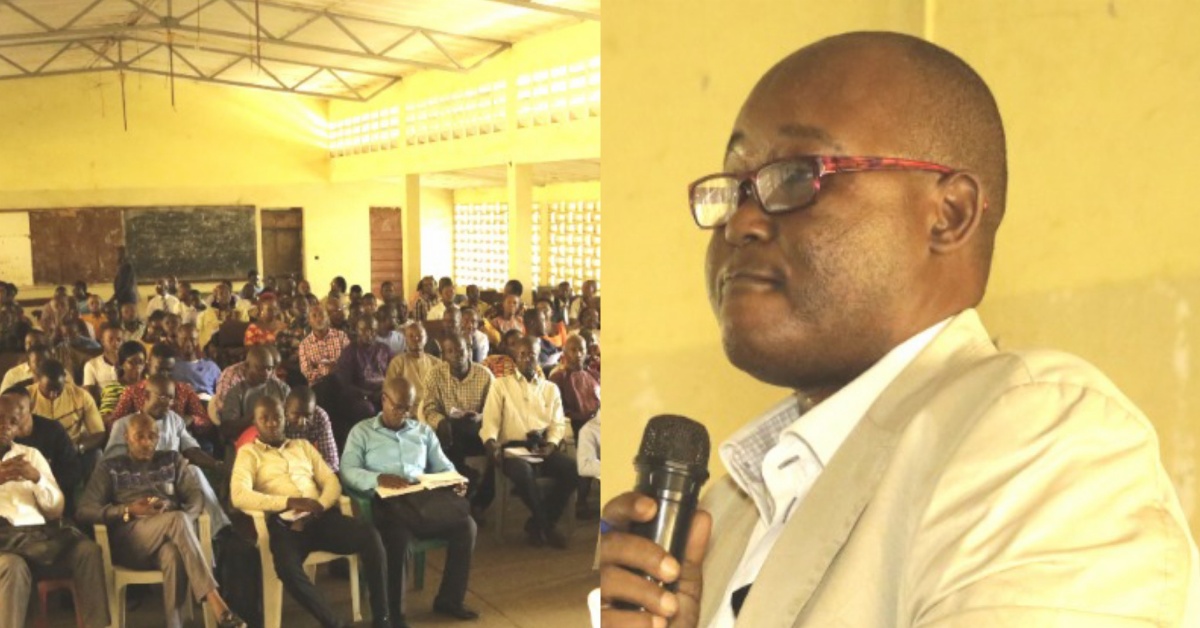 ACC Engages Conference of Principals
As part of its mandate, the Anti-Corruption Commissioner(ACC) of Sierra Leone has on Tuesday 17th January 2023 engaged members of the Conference of Principals of Secondary Schools (CPSS), Western Region at its Regular General meeting at the Government Rokel Secondary School Hall, Freetown.
While addressing those present at the conference, the Head of the Outreach Unit at the ACC, Musa Jawara reveals the reason for ACC's presence at the meeting, which he said is under section 7 of the ACC Act of 2018 as amended in 2019 which demands the commission to take all steps necessary to eradicate corruption.
He explained some of the consequences to take if someone is found engaging in examination malpractice which is not less than 50 million (old) Leones fine at a term of not less than five years or both.
Mr. Jawara informed them that as key stakeholders in the development of Sierra Leone, meeting like this, to remind them of their sacred roles and responsibilities in improving on the educational system, which is the engine for human capital and national development is crucial and pivotal.
He continued that the Commission has signed multiple Memorandum of Understanding (MoUs) with various educational institutions aimed at continuing to build solid coalitions and partnerships in the ongoing crusade to clean the education sector of corruption. He furthered that whatever they do as school heads they should be reminded that they are guided by various laws of Sierra Leone including not just the ACA, but the National Public Procurement Act (NPPA), Public Financial Management Regulation among others.
He advised that monies such as school fees subsidies, Free Quality Education resources, materials, and others, are expected to be properly managed and adequately accounted for by them. He stated that for any action that is contrary to the law they as authorities will be held squarely responsible. He emphasized that the Anti-Corruption Commission act prohibits certain conduct of public officers and any action that is in contravention of the Act and other corresponding regulations, will attract the full force of the law.
Mr. Jawara however highlighted many of the reports often received from members of the public that includes; soliciting bribes, motived to help certain students pass examinations, having a special room for special candidates to take special WASSCE, creation of WhatsApp groups for the sharing of questions and answers, extortion during admission, among many others.
He noted with utter dismay that these acts are inimical to the progress of Sierra Leone, and do not define the divine nature of the Teaching Profession.
"We as a Commission do not target any specific person or profession, rather where the allegations or evidence of corruption lead us", he stated.
Mr. Jawara equally talked about the preparation and issuance of results, noting strongly that they should be done with the required professionalism and integrity.
Addressing colleague principals, Mrs. Mariatu Isha Mansaray, Principal Kissy Municipal School, who is also the President, CPSS Western Region, earlier in her opening remarks noted that their responsibility as Principals is to work to complement the efforts of the Ministry of Basic and Secondary Education, West African Examination Council, Teaching Service Commission, the ACC, the government and people of Sierra Leone and other relevant stakeholders in the education sector.
She commended the Principals for what she described as continued exemplary leadership irrespective of some unfavorable circumstances. She, therefore, emphasized the importance of maintaining integrity and accountability at all times in the discharge of their responsibilities.
The conference was climaxed with questions and answers.