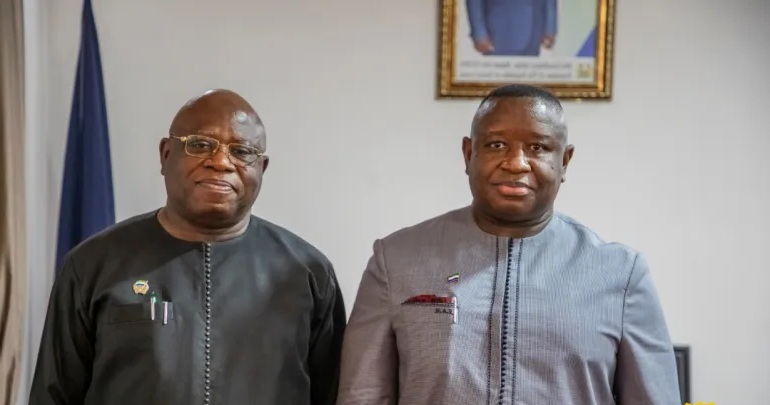 Agriculture Minister Showcases Achievements Under President Bio's Leadership
The Minister of Agriculture Forestry and Food Security Dr. Abu Bakarr Karim, has showcase some of the developments achieved under the President, Julius Maada Bio's leadership.
According to Uncle Sankara Media, Agriculture has being one key area prioritized by the SLPP led Government together with education and health, and since the party came into governance some three years ago, lots have been done so far in agriculture, under the leadership of President Julius Maada Bio, commonly refers to as the "Tok and Do"  President.
The system was shambolic under the previous APC administration, and in order to change the trajectory, the Minister of Agriculture Forestry and Food Security Dr. Abu Bakarr Karim said they reviewed the entire plan of the Ministry of Agriculture in line with their manifesto promises.
And in setting up the pace toward such a trajectory, the National Agriculture Transformation (NAT) was set up with four pillars in key areas such as rice production, which is our staple food.
In excess of $200 million is being spent alone on rice importation that was inherited from the previous administration, which this current leadership is almost changing.
There is abundance of arable land in exercise of 5.4 million hectares, of which only 15% has been utilized, we have an annual rainfall of about 380 millimeters and there is water throughout the country, "We believed that through good policies, it could help to curtail such huge importation that has been the case," Dr Karim said.
The other area the ministry is also looking at is part of the NAT 2023 programme, tree crops such as cashew coffee and oil palm, "We know these are economic trees and it creates source of livelihood for our people. Therefore we believed that we need to diversify and encourage more people into the sector."
Despite COVID-19 effect, lots have been done in the agricultural sector through His Excellency President Julius Maada Bio's wisdom. And as a way of showcasing such, 60, 000 hectares was cultivated this year, since agriculture is in line with our human capital development agenda of which, we are targeting rice self-sufficient of about 86%.  "We were able to increase our production by 10%."
As a result of the policy shift, Dr Karim said they also went into large scale production through mechanized farming with over 410 machines in their mist with 2,410 equipment as well to support those machines.
The hardworking Minister Doctor Abu Bakarr Karim said they were able this year to put thousands of hectares  under cultivation as 8,000 hectares went to the  youth farms in all of the chiefdoms in the country, as well as supporting the traditional farmers with  land preparation , seeds, agricultural chemicals and  fertilizer.
The donor community has also be contributing in their own way in support of the rice value chain, among them are the Africa Development Bank, the Islamic Development Bank and `IFAD as a result of the serious policies of the present Government.
The major challenge of the ministry, according to the minister Doctor Abu Bakarr Karim is inadequate financing, but not withstanding such "Our target of food sufficiency in terms of rice is by 2023, hoping that with the programmes we have  put in place, we should be able `to meet our rice self-sufficiency target."
As we're currently in the` harvesting season, the minister said the projections are showing us good indicator of prosperity and progress with rice production. So if we continue and sustained it with the right amount of investment, we should be able to attain our target of 86% in term of food sufficiency.
As part of the President Bio human capital development drive, agriculture is top priority, and the focus now is to reduce our agricultural importation, which is over $400 million USD.
But with the radical programme His Excellency has instituted, Dr Abu Bakarr Karim minister of Agriculture vividly said they will put such under control plan
He encouraged everybody to trust the process and believed in President Bio, the man he says who can only transform Sierra Leone for now, by giving Sierra Leonean   better opportunities devoid of region, tribe or political party.