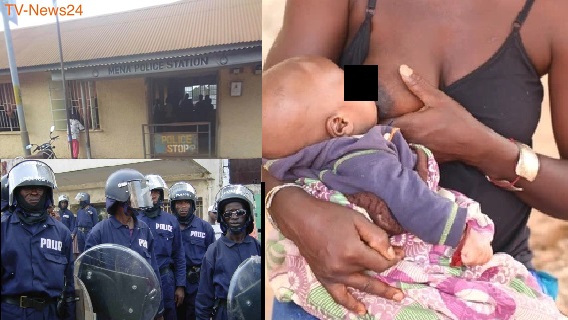 17-Month-Old Baby Dies in Sierra Leone Police Cell After Being Locked Up With Mother
The arrest of the breastfeeding Mother, Kadiatu Koroma has allegedly led to the untimely death of her 17-months old baby girl in Makeni, Northern Sierra Leone.
According to reports from TV-News24, the girl child, Hannah Kanu, died at the Panlap police division in Makeni city, around 9 p.m. local time.
The incident which unfortunately claimed the life of their baby is now under investigation of MENA police station.
It was gathered that Kadiatu Koroma and her daughter was arrested and detained by officers of the Sierra Leone police on allegations of stealing a handbag which reportedly had several items in it worth about Le750,000.
A source told TV-News24 that the mother of the child was crying for help while in the police cell because her child was seriously sick. But police ignored her cries and pleas for help.
"It wasn't until after Sergeant Gibril, a traffic officer, said he heard a female voice in the cell crying out that her child had died, before police eventually went in the cell to check on the woman," the source said. And when they entered the cell, they found the child dead, according to the source.
Deceased Kadiatu's body is currently at the Makeni Government Hospital mortuary.