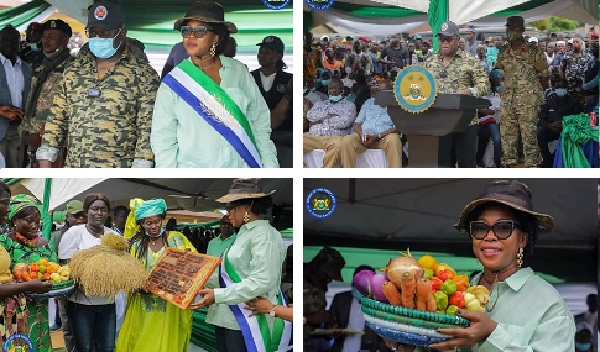 President Bio And First Lady Commission Tomabom Rice Project
President Bio officially launched the tormabum rice project on Friday 11 June in Bum Chiefdom, Bonthe District.
The President of the Republic of Sierra Leone Julius Madda Bio and Her Excellency the first Lady Madam Fatima maada Bio commissioned the project aimed at developing 12,500 acres of land for rice production by small-holder farmers in the riverain grassland area of Torma Bum. The project aims at increasing rice production in the country.
HE the President said he is happy they are celebrating farming and by so doing they are celebrating farmers which is noble. He states that farming is very essential and helps in providing food for people to eat. \
The president renders his appreciation to the group that has decided to supervise the project and assured that his government will do everything in their power to ensure that food sufficiency becomes a reality in Sierra Leone, as the development will only be possible when the people firstly get access to food.
The First Lady of the Republic of Sierra Leone Fatima Maada Bio in her statement said everything about food is also about women as women are the ones responsible for preparing food in the home, stating that when food is available in the home it also brings peace in the home, and as the tormabum rice project is a very good step by HE the president as he always brings his promises to reality as this is the continuation of more good things to follow as we trust process of the new direction.