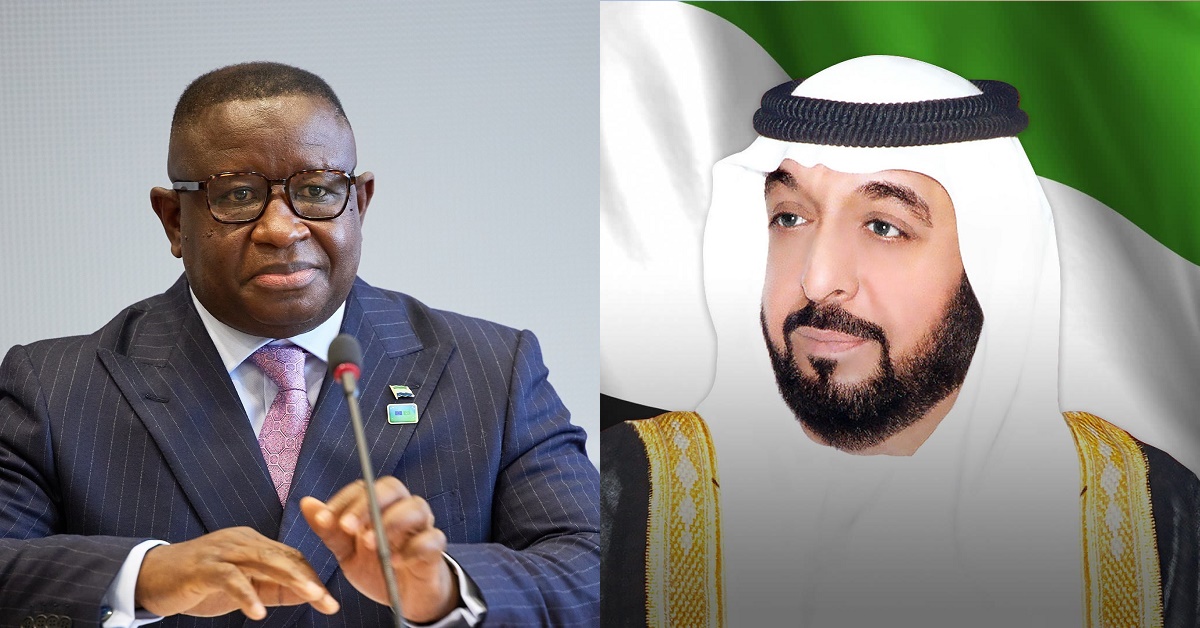 President Bio Sends Message of Sympathy to UAE Over The Loss of Their President
The President of Sierra Leone, Dr Julius Maada Bio, has sent a message of sympathy to the people of the United Arab Emirates over the loss of their President, Sheikh Khalifa bin Zayed Al Nahyan.
In his post on Twitter, the President said; On behalf of the people of Sierra Leone, I send the leadership and the people of UAE our deepest condolences.
"The passing of His Highness Sheikh Khalifa bin Zayed Al Nahyan is a great loss to the people of UAE and the world. May he Rest In Peace" he added.
Khalifa bin Zayed Al Nahyan was the President of the United Arab Emirates, the emir of Abu Dhabi and the supreme commander of the United Arab Emirates Armed Forces between 2004 and 2022. He was also the chairman of the Supreme Petroleum Council from the late 1980s.
As the crown prince, Khalifa carried out some aspects of the presidency in a de facto capacity from the late 1990s when his father Zayed bin Sultan Al Nahyan faced health problems. He succeeded his father as the emir of Abu Dhabi on 2 November 2004 and the presidency of the United Arab Emirates the following day.
During his reign, he was deemed one of the richest monarchs in the world. He controlled 97.8 billion barrels of oil reserves and was chairman of the Abu Dhabi Investment Authority, which manages $875 billion in assets, the largest amount managed by a nation's head of state in the world. Collectively, the Al Nahyan family is believed to hold a fortune of $150 billion. On 4 January 2010, the world's tallest man-made structure, originally known as Burj Dubai, was renamed the Burj Khalifa in his honor, after Abu Dhabi gave Dubai $10 billion to help pay off debts. In 2018, Forbes named Khalifa in its list of the world's most powerful people.
In January 2014, Khalifa suffered a stroke but was in a stable condition. He then assumed a lower profile in state affairs but retained ceremonial presidential powers. His half-brother Mohamed bin Zayed Al Nahyan carried out public affairs of the state and day-to-day decision-making of the Emirate of Abu Dhabi. Khalifa died today, the 13th May 2022.