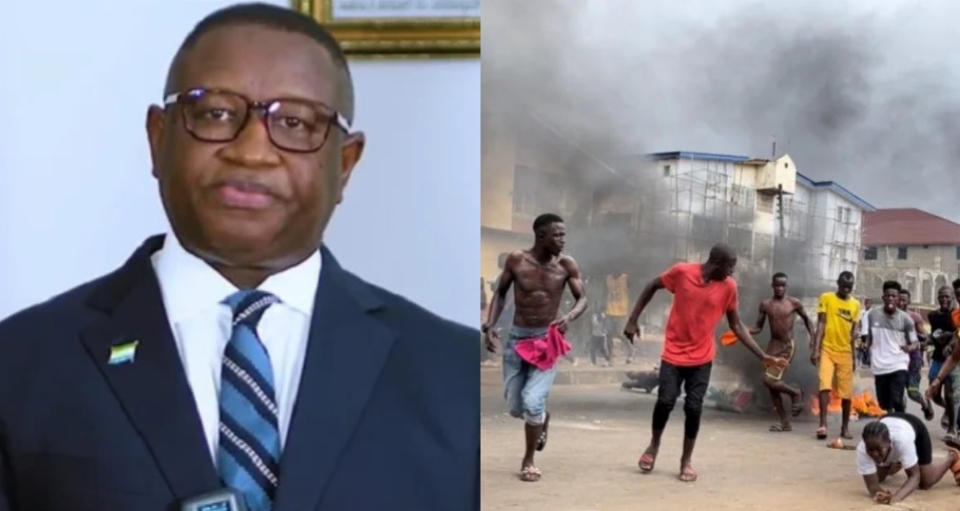 Amidst Public Anger President Bio Vows to Crack Down Violent Protesters
After a day of deadly protests in Sierra Leone's capital and other parts of the country, President Julius Maada Bio has vowed to be tougher on violent protesters who seeks to disturb the peace of the nation.
In a televised address on the 12th August 2022, President Bio spoke on the events of the violent and bloody protest of 10th August 2022.
A massive protests sparked by the public anger towards the high cost of living, which turned deadly as protesters clashed with security forces leaving several dead and wounded.
In delivering his speech, President Bio threatened that in the coming weeks and months, his government will undertake necessary security actions meant to guarantee the peace and security of all citizens, stressing that while these may cause some unavoidable inconveniences, its actions will guarantee all constitutional rights and freedoms of peaceful citizens.
After many precious lives had been lost, the people were hoping for an assurance to improvement and encouragement that the government will try in their powers to do more good for them. But instead they got this:
"My Government will crack down hard on violent insurrectionists, their collaborators, their sponsors, and their supporters. My Government will relentlessly fight those who would rather use terror and gruesome violence to achieve political goals." Said President Bio.
These civilians said they were protesting for better living conditions, peace and for the President to resign for mismanaging the worsening economic crisis.
However, President Bio blamed the whole protest on apposition. According to him, the incident was not a protest against the high cost of living but rather an insurrection pre-meditated, well-planned, financed, and executed by some people called the APC Warriors, PPP.
To prove his point, he made references to areas the protests occurred, saying that those areas are the opposition's strongholds.
He also made mention of the protesters trying to violently overthrow him and to show to the international community that there is no law and order in the country.
He therefore intimated that his government will not sit idly and allow such people to disturb the peace of the citizens and spoil the good name his government has worked hard to build.
"The full force of the law will be brought to bear on all those persons who attacked and killed police officers. They, their sponsors, and their collaborators will not go unpunished. There will also be a full investigation into the deaths of ordinary citizens who lost their lives in this senseless violence incited by these known persons." He said vigorously.
He concluded that all deaths will be investigated as he sympathized with the bereaved families and promised to honor all officers that were murdered, with a civic funeral in respect of their service to the nation.