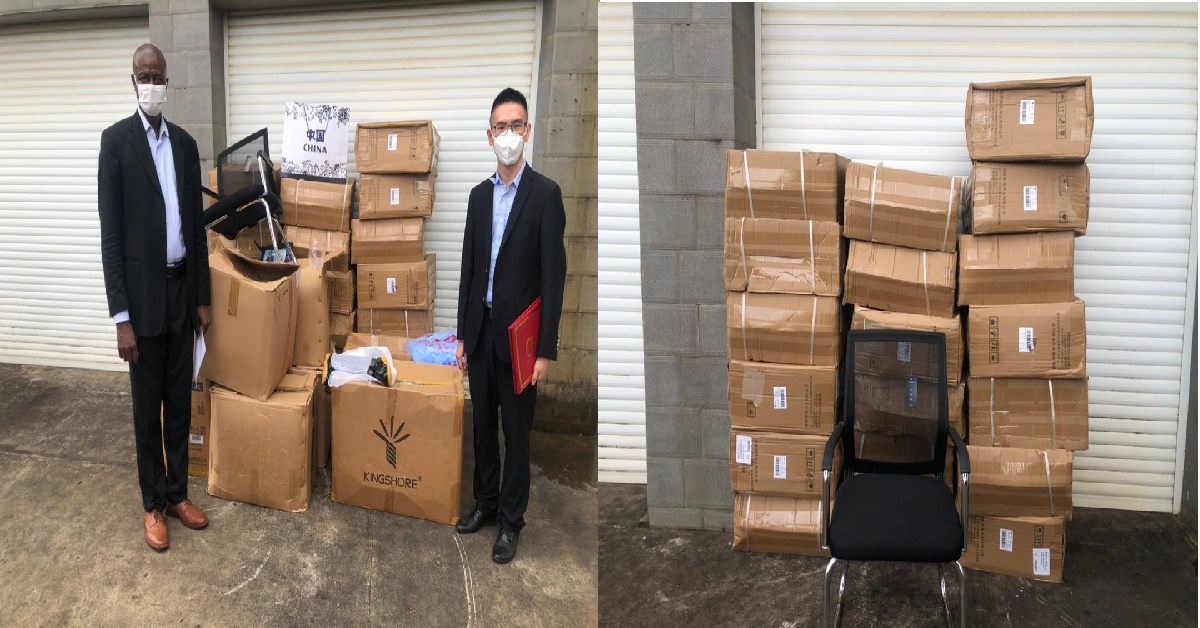 Chinese Embassy Donates Office Equipment to National Disaster Management Agency
The Chinese Embassy in Sierra Leone on Tuesday donated office equipment and rain-gears worth Millions of Leones to the National Disaster Management Agency (NDMA) at its embassy in Freetown.
It could be recalled that on the 1st of September 2021, the management of NDMA paid a courtesy call on the Chinese Ambassador to Sierra Leone Hu Zhangliang, and presented a compelling case of support, effective collaboration and partnership in helping NDMA delivers on its core mandate.
Ambassador Zhangliang pledged his country's support and promised strong collaboration and partnership in supporting the NDMA succeed in terms of managing disaster-related incidents and reduce the vulnerabilities of prone communities; and increase their resilience in responding to natural hazards.
On Tuesday 12th October 2021, the Chinese Embassy responded to NDMA's call by donating twenty (20) office chairs, fifty (50) towel blankets, eighty (80) raincoats, fifty (50) pairs of rain shoes, and four (4) Huawei mobile phones.
Presenting the items, the senior protocol officer attached to the Chinese Embassy, Mr Jing said, China and Sierra Leone have a sustained relation, spanning fifty (50) years. He also expressed his satisfaction at the numerous interventions by NDMA in responding to fire, windstorm and other forms of disaster incidents which have impacted the lives of over 12,000 people across the country.
Mr Jing also assured of his Embassy's continued support to the National Disaster Management Agency, citing that adequate preparedness measures are essential because disaster risk can never be completely eliminated.
"Preparedness through early warning systems save lives and protect livelihoods and is one of the most cost-effective ways to reduce the impact of disasters and that this's exactly what prompted their response", he added.
Receiving the donated items, the Deputy Director-General of NDMA, John Vandi Rogers, demonstrated his Agency's profound gratitude to the Chinese Embassy for the support. He said it is a manifestation of China's long-standing commitment to helping the government and people of Sierra Leone in diverse areas.
The DDG assured Mr. Jing that the donated items will be properly managed, pointing out that the donation was timely and will help to better position NDMA to effectively respond to disaster incidences. Mr. Rogers furthered that the raincoats, phones and rain shoes will make it easier for NDMA's staff and community volunteers access hard to reach areas, especially during the rains.
The DDG concluded by assuring the Chinese Embassy of NDMA's unwavering dedication to addressing disaster-related hazards.