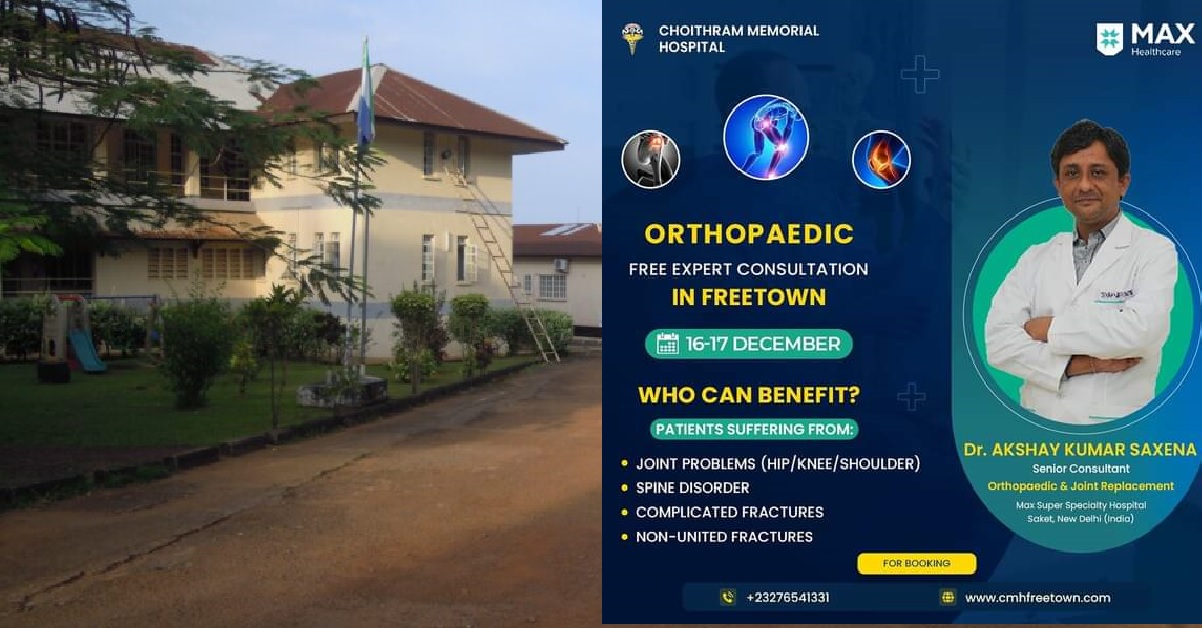 Choithram Memorial Hospital Announces Free Orthopaedic And Cardiology Camp
Choithram Memorial Hospital, one of the hospitals that endeavours to provide comprehensive medicare to residents of Sierra Leone has announced free 2 days Camp on Orthopaedic and Cardiology cases.
This announcement the institution took to their office Facebook handle and posted. Choithram Memorial Hospital was founded in 1993 and has been in operation since then providing comprehensive medicare to Sierra Leoneans.
The hospital is part of Choithram Hospital and Research Centre, India's leading super speciality hospital which provides world class healthcare services and treatment.The journey from the inception till date withered many a storms to reach at the position of the most trusted healthcare provider in the country.
Choithram bringing the good news to the public unveiled the 2 days free camp on Orthopaedic and Cardiology related issues catering from individuals from all works of life in the nation.
Choithram Memorial Hospital continued to unveiled that Sierra Leoneans suffering from joint problems (Hip/Knee/Shoulder), Spine Disorder, Complicated Fractures and Non-United Fractures will highly benefit from this camp, and went on that consultation, Investigations and medical opinion shall be free for all attendees.
The hospital being known for its renowned foreign doctors, Max Smart Super Speciality Hospital, Sakat New Delhi (India) will be on ground to conduct the 2 days free camp scheduled to commence on 16th – 17th December, 2022 at the hospital premises, Hill Station, Freetown.
Meanwhile, in the concluding statements of the notice, Choithram Memorial Hospital added that members of the public must register and book an appointment at the hospital on or before 15th December, 2022 as only limited spaces are available.
To book individuals must call +232-76-541-331 or Choithram Memorial Hospital