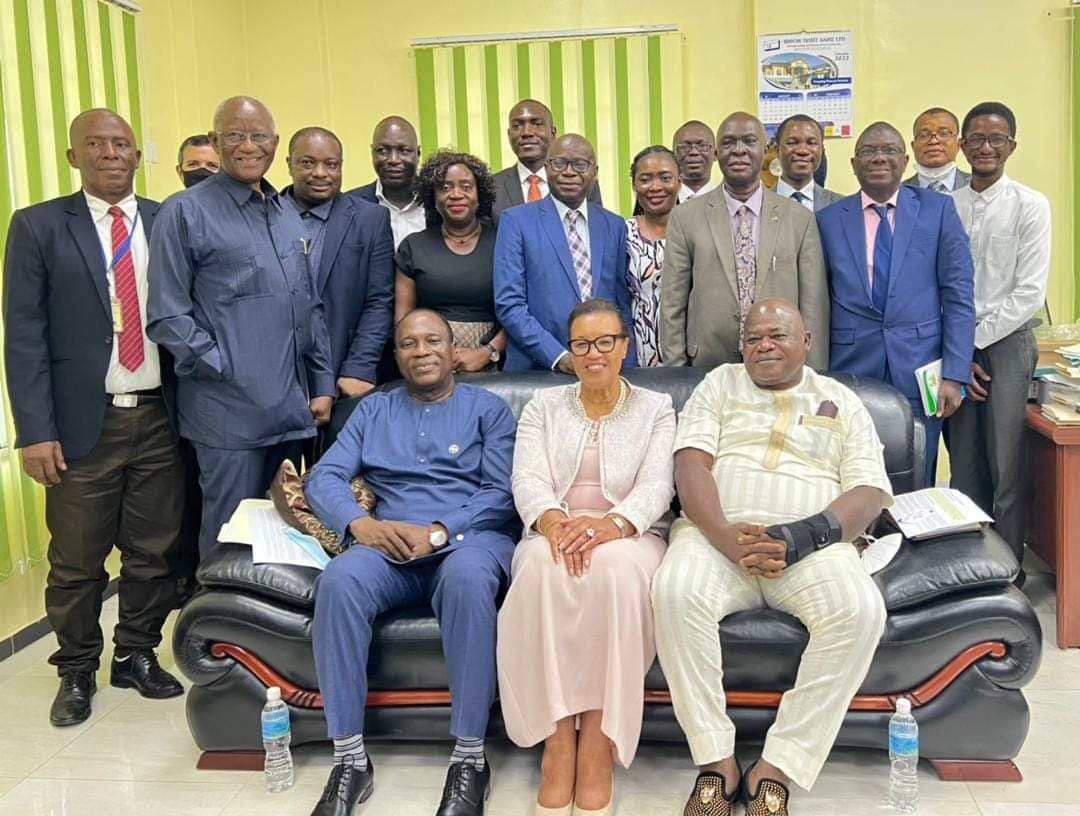 Commonwealth Secretary-General Pays Courtesy Call on Ministers of Finance And Economic Development
The Secretary-General of the Commonwealth, The Rt. Hon. Patricia Scotland QC, today, paid a courtesy visit to the Minister of Finance, Dennis Vandi and his counterpart the Minister of Planning and Economic Development, Dr. Francis Kai-Kai at the office of the Finance Minister on George Street, in Freetown.
In the discussions, the Secretary-General expressed her delight at the visit, commending His Excellency President Dr. Julius Maada Bio for his holistic vision for the country that is clearly demonstrated in the excellent work the Ministers are doing through their respective Ministry's.
She extended the support of the Commonwealth Secretariat towards achieving their shared goals of prosperity, development, democracy and peace.
Secretary-General Scotland also commended the role of the Ministry of Finance for their cooperation towards the launch of the Commonwealth Secretariat's Enterprise Risk Management (ERM) Governance study last year, which examined the ERM implementation in six Commonwealth countries namely: Sierra Leone, Botswana, Ghana, The Gambia, Kenya and Eswatini.
Rt. Hon. Scotland, QC shared some elements of her vast experience with the Ministers, and also highlighted areas the Commonwealth would deepen its cooperation, especially in managing public debt, capacity building, data analytics and creating better trade opportunities.
The Minister of Finance, Dennis Vandi highlighted the work they have done over the past years with the Commonwealth and explained what Sierra Leone sought to achieve, especially in the areas of cooperation.
On his part, the Minister of Planning and Economic Development, Dr. Francis Kai-Kai thanked the Commonwealth Secretariat for their support in providing the necessary expertise in areas that are critical to the development of the country.
Minister Kai-Kai further recommended that the Commonwealth Secretariat re-establishes the Commonwealth Fund for Technical Cooperation (CFTC) to improve on its visibility as well as coordination of all commonwealth assistance support once again.
He assured the Secretary-General that Sierra Leone, under the leadership of President Dr. Julius Maada Bio would continue to uphold and promote the values and principles of the Commonwealth, which provides a platform and an avenue in presenting a common front in dealing with the global challenges on climate change, peace, security, inequality and exclusion among others.
The Secretary-General's delegation comprised the Senior Director of the Governance & Peace Directorate, Prof Luis Franceschi; the Communications Officer, Ms Temitope Kalejaiye and was accompanied by the Sierra Leone High Commissioner to the United Kingdom, Dr. Marie Komba Manyeh.
The Rt. Hon. Patricia Janet Scotland is the 6th Commonwealth Secretary-General and is the first black woman to be appointed a Queen's Council (QC) in 1991.