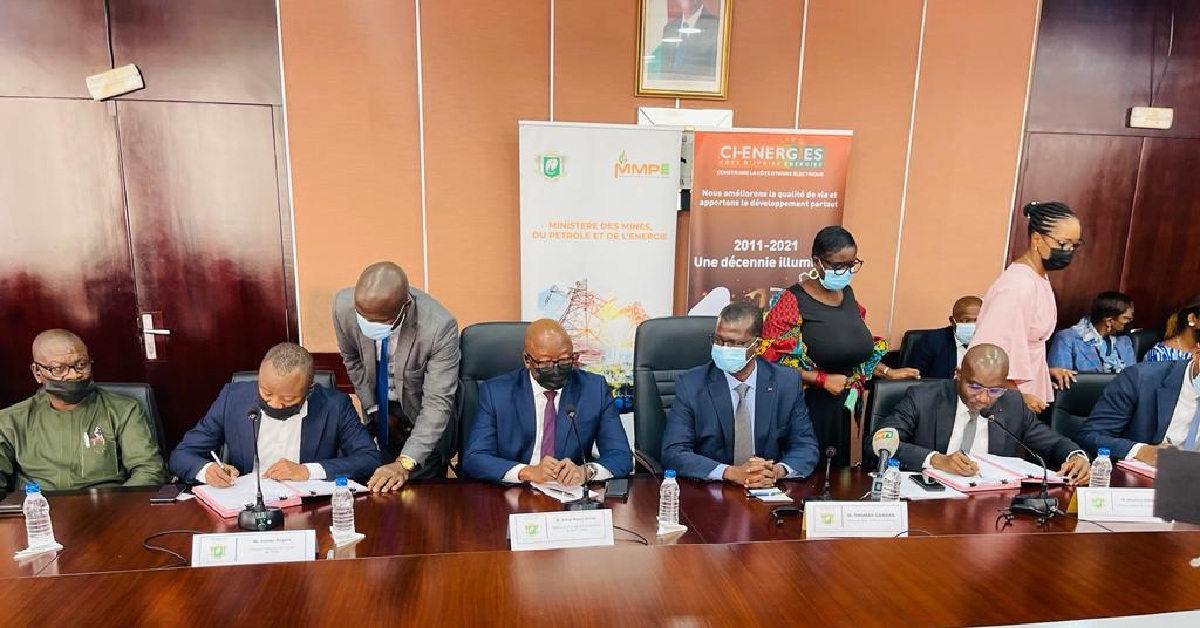 Energy Minister Signs Contract With Côte d'Ivoire For Energy Expansion And Accessibility
Sierra Leone's Minister of Energy, Alhaji Kanja Sesay,has graced the signing ceremony of the Power Purchase Agreement of the CLSG electrification project at an occasion in Côte d'Ivoire, where he  reiterated the commitment of the administration of President Julius Maada Bio to expanding the energy space and increasing access to the basic facility.
While expressing his delight at the signing ceremony, Alhaji Kanja Sesay said that he was at the ceremony with a sense of appreciation and fulfillment, describing the day as historic and commending the people of Sierra Leone for their patience, support and understanding.
"It has been a very long journey; sometimes very frustrating, sometimes very interesting. Today, we are here to witness the actual commitment of all the parties to something that we have all been working on," Mr. Sesay said, while expressing the appreciation of His Excellency President Julius Maada Bio and the people of Sierra Leone to President Alassane Ouattara and the people of Côte d'Ivoire.
He said Côte d'Ivoire had done the sub region proud because it now had the capacity to export electricity to sister countries.
"Today, we have witnessed the signing of the Power Purchase Agreement which has now become the symbol that will bind us together in respect of our utilities -CI Energies and EDSA in the presence of the two Ministers of Energy," Sierra Leone's Minister of Energy said.
He noted that the signing of the Power Purchase Agreement represented a quantum leap in efforts by Sierra Leone to import electricity from Côte d'Ivoire and for Côte d'Ivoire to export same, adding that the ceremony marked the climax of all the discussions that they had had over the last couple of days, months and years.
Mr. Sesay said the presence of Sierra Leone's Vice President and a high-powered delegation in Côte d'Ivoire was enough proof of how serious President Bio had taken the CLSG project.
He said there was a heightened level of expectation in Sierra Leone with regards the CLSG electricity. He praised TRANSCO CLSG and his Ivorian counterpart for their technical and administrative support.
Côte d'Ivoire's Minister of Mining, Oil and Energy, Thomas Camara, reiterated his country's commitment to pursuing the course of regional integration and assured that his country would export electricity to Sierra Leone in line with the agreement.
He said he was pleased with the high-powered delegation from Sierra Leone, while also noting that the CLSG project would cement bilateral relations between Côte d'Ivoire and Sierra Leone.
Present at the signing ceremony were the Directors General of EDSA and EGTC and other officials.
The energy sector reforms continue.