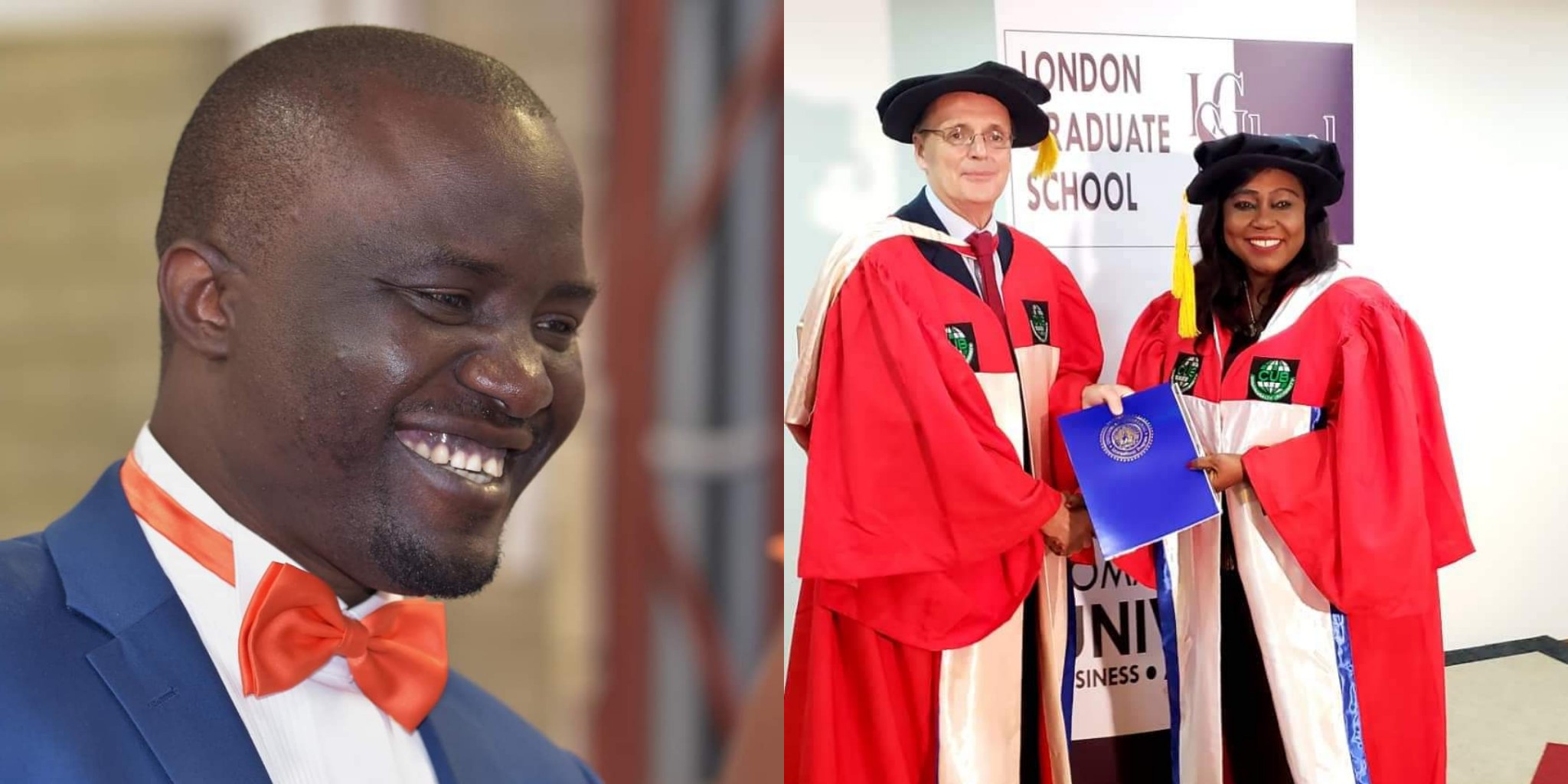 Fake PhD in The Ministry of Tourism And Cultural Affairs
Who is Mrs Memunatu Pratt? (Dear Readers, please read to the end — new facts are included by way of a response to the 2019 argument by Mrs Memunatu Pratt that she deserved/s the degree)
Memunatu Pratt is a cabinet Minister (Minister of Tourism and Cultural Affairs of the Republic of Sierra Leone) in the Administration of President Maada Bio.
Mrs Pratt's story is another case where the awardee was allowed to decide the kind of PhD he/she wants. The Commonwealth University (fake) and the London Graduate School (fake) are known for granting (fake) PhD degrees (honoris causa) in the professional area of leadership studies. However, for the present case (Memunatu Pratt), since she was the Head of the Department of Peace Studies at Fourah Bay College, the University of Sierra Leone, the Commonwealth University and the London Graduate School went against their normal (though abnormal) practice. Instead of granting her a PhD in leadership studies, Mrs Memunatu Pratt asked for an Honorary Doctoral Degree in Peace and Conflict Management — to reflect her long history of working in Peace and conflict studies.
In an unsuccessful attempt to confuse us; and, by doing so, try to prevent people from contacting or ever knowing the truth, her public relations handlers argued that, the awarding institutions, Commonwealth University and the London Graduate School were not the only institutions that participated in awarding this monster of a PhD degree to her. On July 22, 2019, they published a piece in which they contend that what was given to Memunatu Pratt was a joint award between the Commonwealth University, the London Graduate School and the Universidad empresarial de Costa Rica (in English: Business University of Costa Rica). Asked where the award was granted, they said the degree was given to her in Dubai. This piece was published by the Calabash Newspaper – The story headline reads: SIERRA LEONE NEWS: LONDON GRADUATE SCHOOL CONFIRMS IT CONFERRED A HONORARY PHD ON MINISTER OF TOURISM, MADAM MEMUNATU PRATT):
Sierra Leone News: London Graduate School Confirms It Conferred A Honorary PhD On Minister of Tourism, Madam Memunatu Pratt
I contacted (my former) colleagues in Costa Rica for assistance. They returned with the breaking (but not unexpected) news that, as per government rules, except for the United Nations University for Peace (UPEACE) all other universities in Costa Rica were (and are still) not authorized to grant honoris causa PhD degree to anyone outside Costa Rica without the approval of the Government of Costa Rica. This law came into effect in 2013, following an exclusive report by The Costa Rica Star (a leading newspaper in Costa Rica), which tagged the Business University of Costa Rica as Costa Rica's infamous university — "infamous" for its involvement in the sale of fake diplomas (bachelors, masters, and PhDs) to people across the world; people who paid to receive degrees without following a course of study. Here is the link to the report by the Costa Rica Star: https://news.co.cr/quality-of-education-and-cost-of-tuition-increase-in-costa-rica/24568/ Soon after this report, the Costa Rican Government shutdown the Business University of Costa Rica. This, however, did not stop the owners of this criminalised university from selling degrees or working with scammers like the owners of the Commonwealth University and the London Graduate School to attract customers in Africa. A study was conducted later by Der Spiegel. They failed to find any legitimate campus or professors associated with the Business University of Costa Rica inside Costa Rica. Here is the link to the story by Der Spiegel – title of the report: "Umstrittene Titel: Professoren und Doktoren made in Costa Rica" [Controversial Degree: Professors and Doctors Made in Costa Rica]. Der Spiegel (in German). https://www.spiegel.de/lebenundlernen/uni/umstrittene-titel-professoren-und-doktoren-made-in-costa-rica-a-597705.html
Against this backdrop, it Is safe to conclude that Memunatu Pratt lied! She sent us to Costa Rica because she thought nobody in his/her right senses would go that far. Surprise surprise! I lived in Costa Rica for a year and I have many friends (some of them are professors in various universities) in Costa Rica. They made time out of their busy schedules to make inquiries for me. It turned out the Government of Costa Rica (a country located in Latin America) said they have no connections with Mrs Pratt, and no accredited university in Costa Rica has ever awarded an honorary PhD degree to any African (without their approval) and, for the record, no such degree has ever been awarded to a Sierra Leonean in the entire history of Costa Rica (that is, between 1821 (when Costa Rica became part of the independent Mexican Empire) and 2022 (at the time of writing this piece: 25/4/2022).
News reports at the time (in 2019) prompted the Commonwealth University to state that they were accredited in Costa Rica (see the attached document). When, in 2022, I started the campaign aimed at exposing all fake degree holders in Government institutions, the Commonwealth University issued another statement, saying they are now accredited in Belize (a Central American country) (see the attached document). However, the Belizean Government has reiterated to me that the Commonwealth University has no accreditation or right to operate in Belize.
I am still finding it hard to understand why Mrs Memunatu Pratt, who was enrolled in the PhD program in Peace Studies at the University of Bradford, decided to buy a PhD (she paid $5000) from the fake Commonwealth University?? Did she drop out of the real Bradford University PhD program? Or did she buy the PhD in Peace and Conflict Studies to confer an undue advantage that enabled her to retain the position (at the time) of Head of the Department of Peace and Conflict Studies? She knew she was in competition with real PhD Degree holders from the UK and Japan who wanted the position (of Head of Department). To gain undue advantage as the incumbent all she needed was to show that she had a PhD degree! This was how she retained the position. Is this not an issue for the Anti-Corruption Commission?