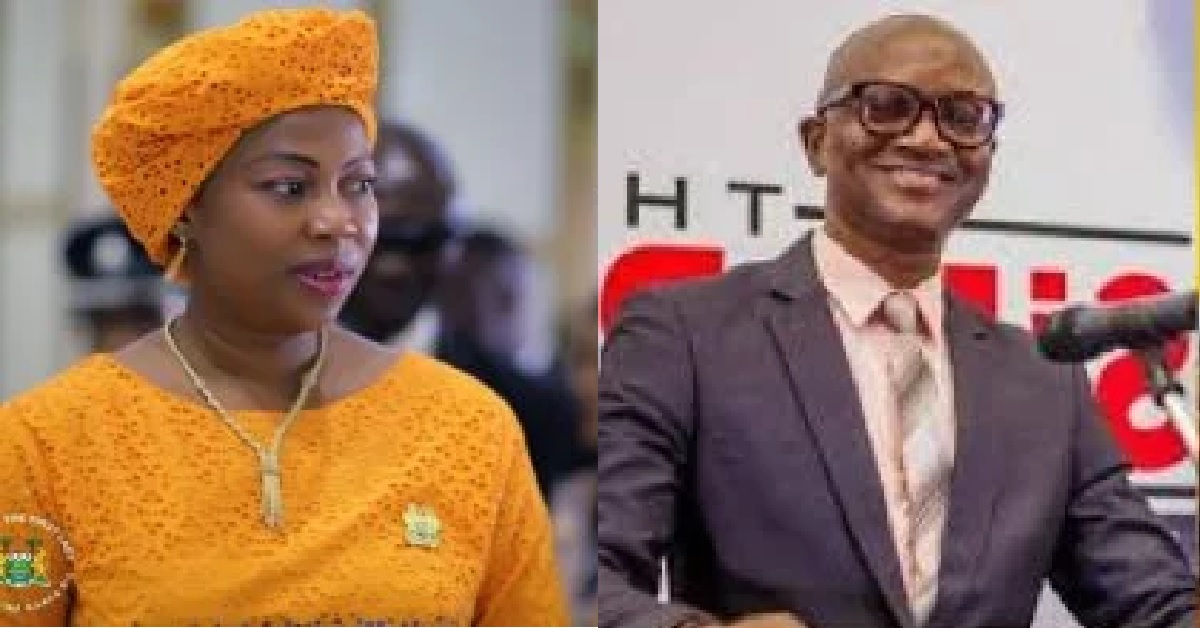 First Lady Madam Fatima Jabbie Bio Blasts Umaru Fofana
Following the report on BBC by Sierra Leone – BBC correspondent Umaru Fofana on a viral video of First Lady, Fatima Bio spotted talking to SLPP supporters about his husband having a PhD in coup d'etat, Fatima Bio has blasted Umaru Fofana to this post and drew his attention to her achievements as a First Lady in Sierra Leone.
If we could go a bit far to the video that went viral, Madam Fatima Jabbie Bio disclosed that his husband, the President of Sierra Leone, H.E Julius Maada Bio has a PhD in coup d'etat and none can remove him from power.
"Maada Bio has a PhD in coup d'état, can you remove him?" she asked rhetorically, before reiterating: "The man has a PhD in [staging] coups, how can you remove someone who teaches people how to stage a coup?," the first lady said in a video shared on Facebook.
With these words coming from the First Lady interest Umaru Fofana as something worthy as a news that he published it to the world. There have been reactions from Sierra Leoneans hearing these words coming from the First Lady which to the extent is creating fear in the minds of many, and this is not good for the country as a whole.
The First with dismay responded considered the news to be stale news. In the media world news is about timeliness. Current news has more impact than something that happened yesterday or last week. The news media loses interest quickly, and past events become stale when there's always fresh news somewhere.
Fatima who has been in several projects which she was yet to hear in news feeds was angry when she discovered her brief talk to SLPP supporters could reach BBC leaving her major projects unheard to the public and the world.
As disappointed as she could, The First Lady Fatima Bio took to her official Facebook handle and send this message to Umaru Fofana:
"Someone please tell my big brother to look for news elsewhere. His latest report against me is what we call STALE NEWS in Journalism. 
Does he know that Sierra Leone sponsored a stand-alone Resolution (International Cooperation on Access to Justice and Remedies for Survivors of Sexual Violence) that was successfully ADOPTED by the UN for the first time since independence?
Does he know that this unprecedented move to enhance Justice for rape victims across the world was initiated by President Bio and championed by my humble self? 
Is the major international goal not news worthy?
That aside, does he know that I am also championing the initiative for a UN RESOLUTION TO DECLARE NOVEMBER 18 AS WORLD DAY FOR CHILD SEXUAL ABUSE PREVENTION AND HEALING, with support from Islamic Relief, Harvard University and the Catholic Church? Is that also not News. 
My brother, all of these and more happened before your expired news, sir. 
Check VOA with Peter Clottey and you will see and understand what is really news worthy about First Lady Fatima Maada Bio's UN trip.
No hard feelings sir but I will like you to know that because Manchester and Arsenal are cladded in red jerseys doesn't make them the same team. 😜😜😜😜"