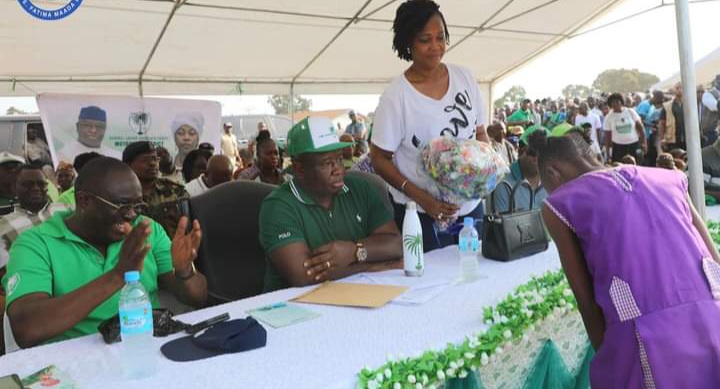 First Lady Fatima Bio Appreciates President Bio Support to Women
The First Lady of Sierra Leone on Monday 23rd January 2023 at Lower Banta and Mokele Upper Banta Chiefdoms in Moyamba District expressed appreciation to the people of Moyamba District for voting for President Dr Julius Maada Bio 2018, while praising the President for initiating and supporting the 'Hands Off Our Girls' campaign.
The First Lady extended her appreciation to all Sierra Leoneans for supporting the development strides being spearheaded by the President.
She said the success of the 'Hands Off Our Girls' Campaign was a result of the selfless support of His Excellency.
"It's because you all voted for President Julius Maada Bio that has empowered me to seek the welfare of girls and women in the country," adding that "the days of girls getting pregnant or raped are over."
She disclosed that President Bio is laying a solid foundation for Sierra Leone through the free quality education initiative and appealed to all to continue to support their children in school so that they will enjoy the free quality education and finish school.
The First Lady went on to say that the President invested in education for the benefit of parents and the country at large. She concluded that "A country cannot develop if it does not educate its population,"
Credit: Strategic Communications Division, Office of The First Lady.