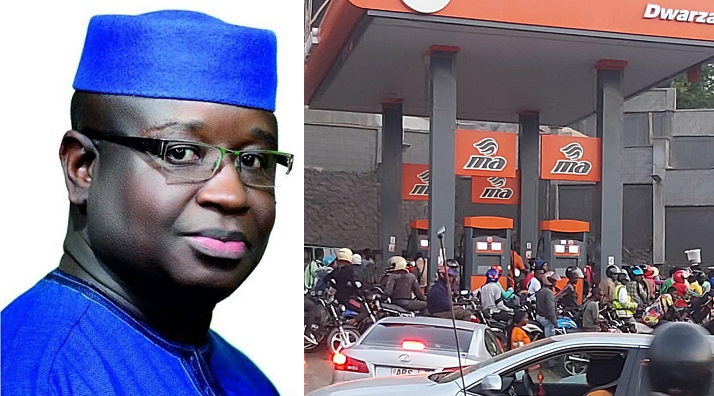 As Fuel Crisis Lingers on… US Embassy Officials Assure PRA Boss
The Executive Chairman of the Petroleum Regulatory Agency, Brima Baluma Koroma, has on Monday 21st March 2022, hosted officials from the United States Embassy in Freetown at his Tower Hill Office.
The courtesy call visit by Frisco McDonald, Counselor for Commercial and Economic Affairs, Commercial and Economic Affairs section, and Karmoh Allieu Lahai, Economic Assistant of the Embassy, was to have an insight in the downstream petroleum sector, and to identify possible areas of intervention that might be needed amidst the current global fuel crisis.
In his welcome address, Chairman Baluwa Koroma thanked the Embassy and the Government of the United States, for following developments in the downstream petroleum sector, as it demonstrates the strong bilateral relationship between Sierra Leone and the United States.
Chairman Baluwa Koroma said that, despite Sierra Leone being a net importing country and the current non-participation of government in the petroleum value chain, government has been able to ensure product availability even when the world is currently going through a global crisis.
"Sierra Leone is currently using less than 40% of its 198,000 metric tons storage capacity due to major refurbishment ongoing. He noted that the largest market player, the NP SL is currently refurbishing its gantry and storage facilities. Due to limited number of importers and storage companies, there is always a two-week replenishment period of products. Our focus is to open the sector and have more players including government participation in the value chain.
The strategic plan is for government to maintain strategic stock level for months to mitigate any external stock," he said.
Chairman Baluwa Koroma underscored the vital role the agency has been playing in boosting government's revenue as it has been punching above its weight.
Another area of intervention Chairman Baluwa Koroma seeks, was the issue of foreign currency to boost the Trade finance of the Oil marketing companies. This he said has been putting government under intense pressure to meet the demand of importers. the average weekly demand for forex is USD$20,000,000 of which the government has been supporting under difficult circumstances.
"There are investment opportunities in Sierra Leone, as we only have one working petroleum Jetty, and their importers to meet the growing 1.5 million liters per day consumption. The investment climate is attractive, and this government is ready to promote and protect investment in the industry," he said.
In his responses, Frisco McDonald, said that Sierra Leone has the potential to attract foreign direct investors, and they as development partners will assess key areas that might be of interest to investors, but certainly the petroleum downstream sector in Sierra Leone is a possible destination.
He said with critical intervention, he believes Sierra Leone can be able to change its narration in ten years like Ghana and other developing countries, and that there should be more assurance and PRA must continue with it open-door policies to protect investment.
According to the Orator Newspaper, He assured the agency of a continuous collaboration an engagement to see how best the sector can benefit the relationship particularly in the areas identified.