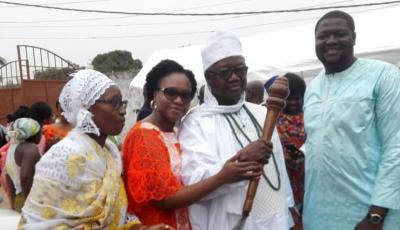 Tribal Heads to be Represented in Local Councils
The Minister of Local Government and Community Affairs, Tamba Lamima has confirmed to the public that the new Local Government Act provides a platform for Tribal Heads to be represented in Local Councils.
The Minister made this clarification after staff from the Ministry of Local Government and Community crowned Kandeh Sorie Kandoh Kamara as the new tribal Head for the Loko tribe.
He said that the role of tribal Heads in Sierra Leone is very crucial, as they are the heads of their various tribes at the local level and that they have a tremendous duty in settling issues in their respective localities.
Minister Lamina further disclosed that tribal heads from all 16 Districts in Sierra Leone will now be represented in local councils with immediate effect.
He continued that tribal heads serve as the link between the people and the central government.
He asserted that the tribal heads are the people who know all the challenges within their communities, adding that, tribal heads are well respected in their various tribal groups and communities.
"Tribal leadership has been there for ages and we must make sure that traditional leaders are treated according to the dignity they deserve," the Minister asserted.